Citizen Journalism makes big news at SIMC event
CNN-IBN Editor-in-Chief Rajdeep Sardesai said citizen journalism was a way to break away from clutter.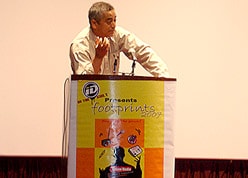 CNN-IBN Editor-in-Chief Rajdeep Sardesai said citizen journalism was a way to break away from clutter.
'Footprints' is the annual city centric media event organised by SIMC Media Trainees across the country. The event has been organised successfully for the past 7 years across 12 cities nationwide.
'Footprints' is an avenue for the Indian media industry and aspiring media professionals to interact during the course of a daylong seminar. The seminar comprises of sessions with prominent speakers who are pioneers in their fields of expertise, who act as guides to media aspirants participating in this event.
This year, the capital saw a mind boggling discussion on 'Citizen Media – Audience Empowered' at Siri Fort auditorium on November 25 at Delhi chapter of SIMC Footprints 2007. Entirely managed, conceptualized and organized by junior media trainees of SIMC, Pune the seminar saw known faces of the media industry like Rajdeep Sardesai, Pankaj Pachauri, Anurag Batra & Vipul Kant Upadhyaye discuss and debate issues of Citizen Media. What followed the seminar was also a student debate on 'Media is Driven by Business, Not Content' for 20 top colleges of the city.
A day long seminar, it was sponsored by M&B footwear, Café coffee day, ABN Amro, DRS Group, Indus Enviro with Radio one and exchange4media group as media partners.
"It was our first step into the professional industry while organizing FOOTPRINTS on a national level at 12 different cities. Meeting media professionals, sponsors, speakers and getting them to make your event a success is the first and certainly the best internship any institute can ever make their students do. We're proud we pulled it off well" – Pinky Nigam, Co-ordinator, Delhi Footprints 07, SIMC PUNE.
Rajdeep Sardesai, editor in chief, CNN-IBN, opined that journalism was all about telling stories of the ordinary people, of people fighting the system. "Though citizen journalism will not replace the traditional media but it has arrived at the right time to expand the realms of the profession", he said, adding that no one in this country had a monopoly over content. "My belief has been that in a cluttered market like ours, it is the big idea which will survive. All of last year's major films like Rang De Basanti, Lage Raho Munnabhai have survived on one big idea." According to him, in times like these when there was a lot of hue and cry about the kind of content aired in the name of news, citizen journalism was a way to break away from that clutter. "Citizen journalism' is complementary to current journalism. It is not a substitute. With news being sold today, and political parties buying space in channels and papers, it is essential for citizen journalism to evolve," he said.
While welcoming the arrival of citizen journalism, eminent journalist, Pankaj Pachauri from NDTV, said that this idea was still in its infantile stage in the country. "We are not getting enough response from the citizens and whatever comes is concentrated from urban pockets", he said. He further stated that internet connectivity, mobile users as well as television audience was primarily concentrated in roughly forty cities in the country. "The telecom revolution is still to reach the villages of India and this has kept a major portion of population out of the democratic loop", he added. Talking about the quality of content on television, Pankaj Pachauri, also, highlighted the fact that these days the success of media depended on how much money it made. He said that there was a need to draw a new conduct for media. "Today, everyone knows about SRK's six-packs, but no one knows about what is happening with the nuclear deal. We are living in a country where 74 per cent population lives in rural areas, yet their issues are not covered by the media," said Pachauri.
The second panel discussion began on an interesting note with top media honcho, Anurag Batra, CEO and MD of Exchange4Media, making observations, which had the audience in spills. Anurag Batra, MD and Editor-in-Chief, exchange4media Group, defined citizen journalism as inclusive or participatory journalism. "Citizen journalism is all about issues. 'Letters to the Editor' is a form of citizen journalism. We are moving into an era of localisation of news. Citizens should not turn into journalists. They should however increase their participation," he averred. He went on to add that citizen journalism was latched upon as a buzzword as news channels' biggest challenge was to differentiate. He said, "I hope it carries forward and it's not just a fad. I hope citizen journalism is seen as a serious concern to involve people." Batra opined that nowadays media has become very competitive and newspapers and TV channels are latching on to latest buzzwords. Citizen journalism, he said, was not a new idea, "what the newspaper industry is trying to do is to put old wine in a new bottle". He however admitted that the time had come for democratization of the content and expansion of its reach in all parts of the country. He opined that the right to information act had changed the way information was controlled in the country, adding, "regionalization and localization of news content would be an important factor in the future.
Emphasising the fact that citizen journalism had a deeper meaning, Vipul Kant Upadhyaya, CEO and editor-in-chief, merinews.com, said that that it was very important that it was not considered a mere source of information by the mainstream media. "Citizen journalism" has arrived as a reaction to the failure of mainstream media which has not been able to meet the expectations of the common man", said Upadhyay, adding that if an organization had conviction and belief, it would be successful both as a true media and a sensible business. It is not about creating a parallel media but it is the reflection of the perception of the people and the society, which drives the citizen journalism, he stated. Questioning the fourth estate, he also questioned whether the media was deviating from its path. "Citizen journalists are not here to replace media journalists. Citizen journalism is not about creating parallel journalism. It is about what should be in media and the perception of people about it."
Another panelist, Geeta Malhotra, who has vast experience on developmental issues, spoke about her experience of using community radio as tool to empower the people in far-flung and rural areas. She said that people in Nepal, Sri Lanka and India were benefiting from the community radio initiative taken up by One World South Asia. She said, ""Policy decisions for designing communication strategy must recognise the challenges at grass root level. Mass media institutes should network with NGOs and provide a platform to youngsters to understand community issues."
The panel discussion was followed by an interactive session where a number of important issues concerning citizen journalism were discussed by the panelists and the audience, including students of SIMC, Pune.
Summing up the first panel discussion, Ujjwal K Choudhary, director, SIMC, Dean SIU said that the citizen journalism could be a potent tool for the media industry to expand the reach and depth of journalistic endeavours. He opined that the advent of technology had facilitated the convergence of various media and this will boost the phenomenon of citizen journalism.
(PRESS RELEASE)
Get the best of News18 delivered to your inbox - subscribe to News18 Daybreak. Follow News18.com on Twitter, Instagram, Facebook, Telegram, TikTok and on YouTube, and stay in the know with what's happening in the world around you – in real time.
Read full article