CJI, 7 Other SC Judges 'Sentenced' to 5 Years in Jail by Justice Karnan
Chief Justice of India J S Khehar and seven other judges of the Supreme Court were sentenced to five years rigorous imprisonment by embattled Calcutta High Court judge Justice C S Karna, who is facing contempt charges.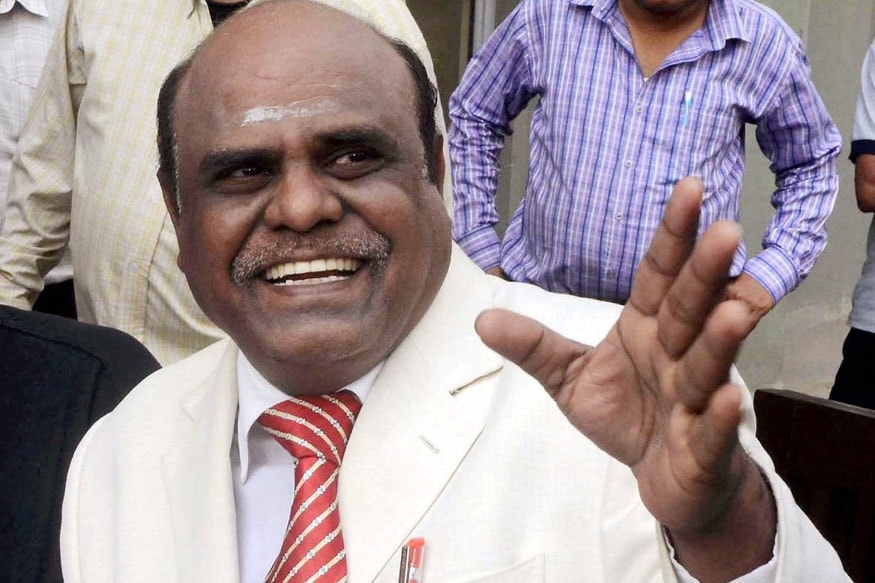 File image of Justice CS Karnan. (Image: PTI)
New Delhi: Chief Justice of India J S Khehar and seven other judges of the Supreme Court were sentenced to five years rigorous imprisonment by embattled Calcutta High Court judge Justice C S Karnan, who is facing contempt charges.
While announcing the decision, Justice Karnan said the judges have "jointly committed the offences punishable under the SC/ST Atrocities Act of 1989 and amended Act of 2015.
According to PTI, he named members of the apex court's seven-judge bench, comprising the Chief Justice of India, Justice Dipak Misra, Justice J Chelameswar, Justice Ranjan Gogoi, Justice Madan B Lokur, Justice Pinaki Chandra Ghose and Justice Kurian Joseph.
The bench had initiated suo motu(on its own) contempt proceedings against Justice Karnan and restrained him from performing judicial and administrative work.
Justice Karnan also added another supreme court judge Justice R Banumathi in the list against whom the order was passed for having restrained his judicial and administrative work along with CJI Khehar.
Justice Karnan had on May 4 declined to undergo a mental health checkup as ordered by the supreme court, telling a team of doctors he is "absolutely normal" and has a "stable mind".
Stating that the eight judges of the apex court have committed caste discrimination, Justice Karnan said they "shall be punished under the Scheduled Caste and Scheduled Tribes Atrocities Act, 1989".
He alleged that the eight judges "have operated judicial and adminstrative power and harassed a dalit judge besides insulting me at a public institution. The same has been proved beyond all the reasonable doubt from their orders.
"Hence, an adjudication is not required in the instant case," Justice Karnan said in his order from his makeshift court at his home in Rosedale towers, New Town here. In his order, Justice Karnan imposed 'sentences' of five years each and a fine of Rs one lakh on three counts, under sub-sections (1)(m), (1)(r) and (1)(u) of Section 3 of the SC/ST Atrocities Act.
Justice Karnan directed that all the three 'sentences' would run concurrently and said that if the fines were not paid, they would "undergo further six months of imprisonment."
He directed that the fine amount be "paid within a period of one week to the National Commission, Scheduled Caste and Scheduled Tribe Constitutional body, Khan Market, New Delhi from date of receipt of the order."
Justice Karnan also said that an order passed by him on April 13 directing the member judges of the seven-judge bench to pay a fine of Rs 14 crore was in force and ordered "the Registrar General attached to the Supreme Court to recover the said amount from the salary of each."
He also directed Justice Banumathi to pay a compensation of Rs two crore. The apex court has taken suo motu cognisance of various letters written by Justice Karnan against judges of the Madras high court and the supreme court and restrained him from exercising administrative and judicial power from February 8.
Justice Karnan appeared before the supreme court on March 31 in connection with the contempt proceeding, becoming the first high court judge to do so in the history of Indian judiciary.
(With PTI inputs)
Get the best of News18 delivered to your inbox - subscribe to News18 Daybreak. Follow News18.com on Twitter, Instagram, Facebook, Telegram, TikTok and on YouTube, and stay in the know with what's happening in the world around you – in real time.
| Edited by: Ashish Yechury
Read full article