Clashes Reported Amid Eid-ul-Fitr Celebrations in Kashmir
Clashes between protesters and law enforcement agencies were also reported from Sopore, Anantnag, Rajpora and Shopian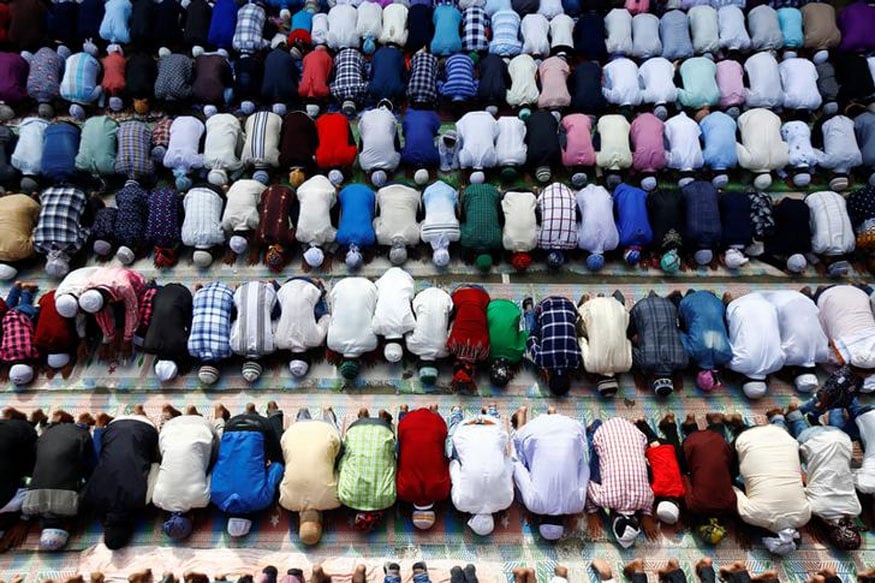 Muslims attend Eid ul-Fitr prayers to mark the end of the holy fasting month of Ramzan (Photo courtesy: Reuters)
Srinagar: Clashes between security personnel and stone pelters broke out during Eid celebrations in Srinagar. The police have resorted to tear gas in the area.
Clashes between protesters and law enforcement agencies were reported from Sopore, Anantnag, Rajpora, Shopian towns and Safakadal area of the city.
The number of those injured in the clashes is yet to be ascertained.
The authorities have placed top separatist leaders, including Syed Ali Geelani and Mirwaiz Umar Farooq, under house arrest, fearing that their presence at large Eid gatherings could spark violence, officials said.
JKLF chairman Mohammad Yasin Malik has been taken into preventive custody and lodged at Central Jail, Srinagar.
There were also reports of ISIS flags being allegedly waved in Pulwama.
Talking about the clashes and stone pelting during Eid, MoS PMO Jitendra Singh said, "It is condemnable. This exposes those who claim to be fighting for azadi in the name of Kashmir and Islam. Neither Islam, nor any big leader of India allows for this kind of azadi. In the name of Kashmir, the leaders – separatists or mainstream – are betraying their own people, the term azadi and also Islam. There is no justification or any answer to such kind of things."
"The answer to raising of flags should be given by those so called leaders who say that in the month of Ramzan ceasefire violation should be announced and then provoke innocents so that they may come out in violence during the auspicious occasion of Eid," added Singh.
Get the best of News18 delivered to your inbox - subscribe to News18 Daybreak. Follow News18.com on Twitter, Instagram, Facebook, Telegram, TikTok and on YouTube, and stay in the know with what's happening in the world around you – in real time.
| Edited by: Swati Sharma
Read full article