Inspired By Water, Performance Artist Atul Bhalla is Making People Notice Environmental Issues
Bhalla, through his art, has drawn up a strong polemic against climate change.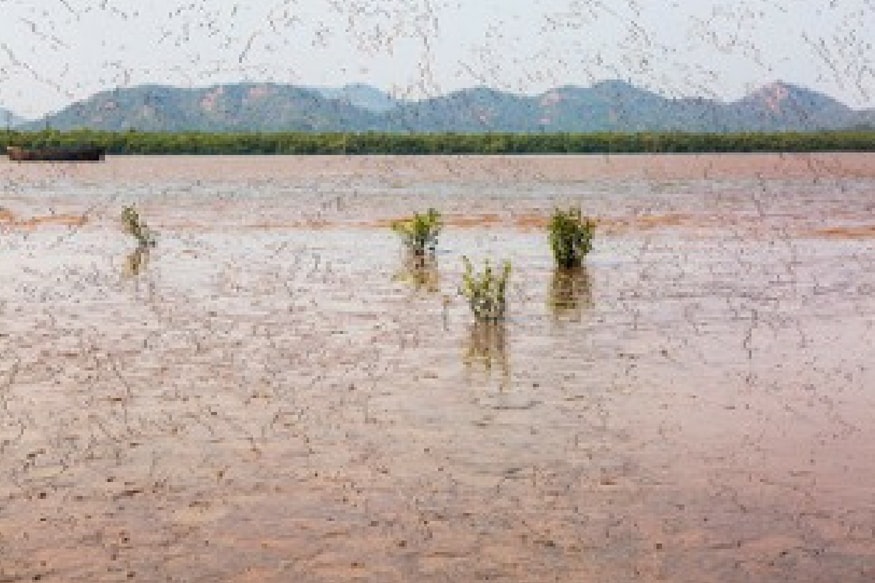 Bhalla, through his art, has drawn up a strong polemic against climate change.
The oeuvres of Atul Bhalla, a Delhi based conceptual and performance artist, are inquisitions of our relationship with water -- the spaces it occupies, the history it carries in its depths and especially, how it affects human lives and how humans affect water bodies around them.
What makes Bhalla's work unique is that the artist through his visual representations, as well as performance photography has managed to inspire public to make inquiries about climate change. And, know that it is no mean feat, especially at a time when world leaders dismiss climate change as a hoax, despite repeated warnings from the academic and scientific communities of the impending dangers of the phenomenon. However, Bhalla claimed, that he is no environmental activist. The term he used to describe himself is an 'environmental artist.'
"One doesn't just hop onto the environmental bandwagon," observed Bhalla."I have been working on water since 1998 and the whole movement on environment started in the last five years," the artist added.
Back in the 90's when eco-art or climate art was hardly a thing in India what made Bhalla interested in it was his strong cathartic connection with the element, water. Through that, by extension, he could understand and appreciate the environment at large.
"In the beginning, one does not think in terms of the environment (or the need to save it), one does think about it because one feels deeply connected to an element in it," said Bhalla. The artist revealed that his travels through the pilgrimage routes of Gangotri, Rishikesh, and Haridwar, as well as a scenic Mumbai monsoon moment at Virar creek, compelled him to think about water as an inspiration and incorporate it in his art. It has been a personal journey to understand the element and all its aspects, which has evolved into a conceptual exploration of water bodies, he said.
Bhalla, through his art, has drawn up a strong polemic against climate change and since his works aren't abstract or hard to understand, they also have a quality of drawing people's attention towards the issue of climate change. Instead of preaching about the environment, through his works, the artist brings questions about the environment in public domain and leaves it open for discussions.
"It's is very important for me to know people's reactions. However, I do not want to be didactic with my work. I don't want to thrash people and accuse them of not cleaning up the Yamuna or of not being environmentally conscious." said Bhalla, whose major work has been to make people aware of river pollution.
"If you are didactic, no one wants to listen. People never come back to a work once they have understood it, so a work has to appeal on several levels -- personal, political, as well as structural. It has to have aesthetics too. All these things combined will make people think about what I am trying to convey," he added.
Bhalla's visuals are powerful but not in a way that hits you in the gut but in a reflective, meditative way; which makes you ponder. One of his most successful performance photography projects is 'I Am Not Waving But Drowning'. The title has been taken from a poem by the same name. In one of the photos of the project, we see Bhalla praying in the river. Although outlining a spiritual practice in India, through this image and many others in the series, Bhalla raises questions about the water quality of the river.
"There was a strong psychological impact to these images," said Bhalla. "A lot of people accused me; they asked me where is the dirt in Yamuna that I have shown? Why am I showing the Yamuna as polluted? The thing is, there is a difference between pollution and litter. Things on top may not seem polluted but that doesn't mean they are not." Despite the accusations that came his way, Bhalla said that he was happy that the photographs raised so many questions about water pollution. The truth of the matter is, According to a report by WaterAid, more than 163 million people in India do not have access to clean water, however, the problem is hardly discussed in public domain.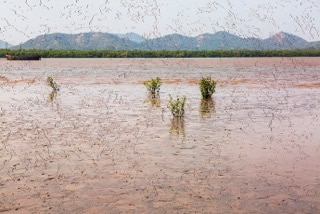 The pollution of Yamuna, however, has also been a heavily debated topic in the political sphere but Bhalla isn't one to shy away from politics. "I don't have to make my art political; they are mostly autobiographical. But, all the questions that my work raises by default makes it political. It is not an activist approach, my approach is that of an artist."
Another interesting photography project of Bhalla is called piaus (public water taps) in which the artist captures all those spots in old Delhi where drinking water taps used to be in the past. He recounts how in Delhi's scorching summers the water from these piaus would rejuvenate many rickshaw drivers and laborers and how during his project he realized that slowly these public water drinking facilities are going extinct.
Bhalla, through his works, re-examines our personal as well as societal relationships with water, especially large freshwater bodies like rivers which often forms the lifeline of cities. The artist is aware that like his muse, i.e. water, time also has a way of slipping away from our hands. Therefore, through his works (like Piaus or Dwipayana), he gives a comparable narrative that helps us measure the changes that the waterbodies have undergone over the years. Bhalla's works don't scream for attention, neither does it underline how urgent the issue of climate change is. However, the artist invites the public to see things as they are at the present moment, and acknowledge it. After all, to begin fighting an issue, one has to first acknowledge its presence.
At a time when world leaders are still denying climate change, it is not only important for scientists to remind people of the magnitude of threat that looms on entire humanity but also for writers, painters, dancing and musicians to help people understand this threat, and provoke them to take actions. They are painting the picture that hits hard.
#ClimateChangeArt is our series to discover how art, music and literature have the potential of changing opinions and beliefs about climate change.
Read full article
Countdown To
Elections Results
To Assembly Elections 2018 Results