Artist Asim Waqif Makes Rich People Decorate Their Living Rooms with Trash
Asim Waqif, through projects which he makes out of trash, sets a wonderful example of recycling and sustainability.
Asim Waqif, through projects which he makes out of trash, sets a wonderful example of recycling and sustainability.
Asim Waqif isn't your regular artist; he doesn't have a hubris about his works, neither does he like to intellectualize about them. But, each of his work is a product of a creative and original idea, designed intricately and meticulously.
His works often have the profound simplicity that can easily engage a layman who knows nothing about art, as well as pique the interest of an art connoisseur. The material he often uses for his work, however, happens to be trash. Literally.
"I want to put trash into rich people's drawing room and climate controlled art gallery," said Waqif.
"I take things that have been given zero value in the economic chain and reconsider the shapes and sizes of those materials, which suddenly makes them very desirable. People, who will never think about handling trash, buy them," he added.
Waqif's subtleties are limited to his aesthetic sensibilities while talking about environmental issues that he feels should be addressed, he is bold and to the point.
"Our environment is pretty screwed up right now, and a lot of it has to do with the consumption model we are following," said the artist.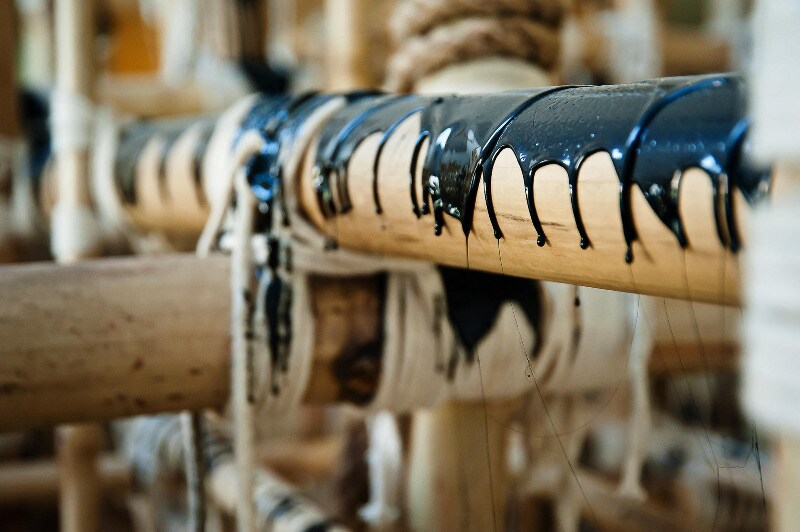 Venu: Bamboo, rope, tar and interactive electronics at the Kiran Nadar Museum of Art, Noida
"Profitability has become the most important thing. No one considers whether it is good for society or environment. If something can sell, it's preferred above everything else. It is something we need to deal with, otherwise, we are hurtling towards too little resources per capita, because the number of resources we feel we are entitled to are limited," he added.
Waqif, through projects which he makes out of trash, sets a wonderful example of recycling and sustainability. In fact, he has worked on several other projects that were on the environment and climate change. However, for his environmental activism is 'too prescriptive.'
"My approach is to use secondary tactics, like humor and other more subtle ways... My objective is to make people wonder why an installation or an object has come there, and in that process, make them think about the site where it is located in, or about the ecological situation that installation site is in, at the moment," said the artist, who hesitantly embraced the tag of being an 'artist' in recent years.
CONTROL, No fly zone. Helium-filled balloons, cane, and thread. Momentary installation for the Dhaka Art Summit
Before becoming an artist, Waqif had earned a degree in architecture, which gives him a good sense of designing and an in-depth understanding of different materials used for installations. He has also done several stints of set designing before becoming an 'artist' and while he enjoys creating new things, he doesn't feel that making art is his only calling in life.
"I don't feel the compulsion to make art for the rest of my life," confessed Waqif.
"I am interested in certain subjects and certain issues and right now, I feel art is providing me with opportunities to explore these ideas," he added.
Waqif has done a variety of work on environment. Salvage (2017-2018) was the last site-specific interactive installation he made at Vancouver Art Gallery using materials from demolition sites. At Your Own Risk (2014) was another site-specific installation at Famous Studios, Mumbai, using tarafa materials, reused wood and nails. Wasted (2011) was a project he worked on, in which he built installation from aluminum junk.
Apart from debris and trash, Waqif also prefers making installations with natural objects like bamboo. In fact, he prefers the material so much that he has started cultivating it in Assam, and will soon do so in Bangladesh. Bamboo was used in projects like Fall from Slab (2016), Solo at Nature Morte (2013) and Venu (2012) and several others.
The obvious muse of all Delhi based artist, Yamuna was also a site and part of Waqif's installation. While the pollution of the river has become a highly politicised issue over the years and have also inspired many artists to work on it, Waqif's installation was simple and engaging enough for all the passerby of ISBT and Metro bridges to understand.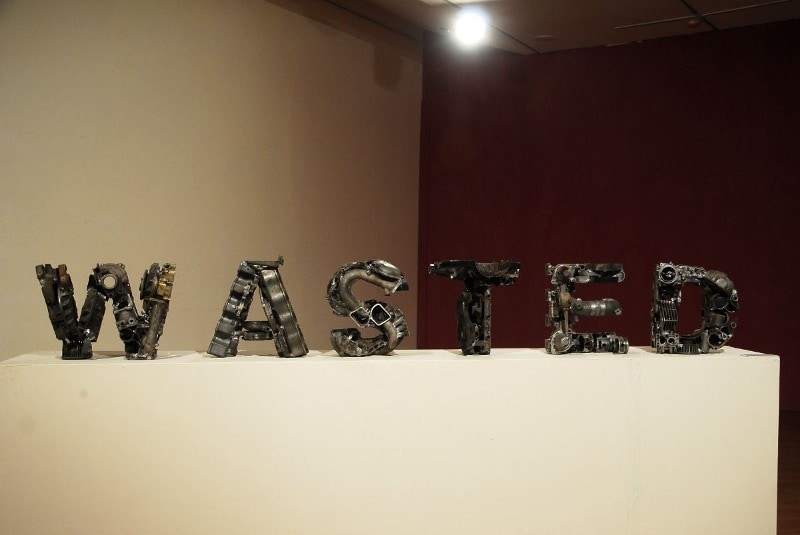 WASTED: Automotive aluminum junk, 2011. Art by Asim Waqif
With the help of plastic bottles, metal frame and LED lights, he made a site-specific floating installation on the river, that said 'HELP' in bold capital letters, and can be viewed from a distance. He cleverly used the surface of the river, as a billboard, and with minimum words, tried to create maximum impact.
According to him, art provides a wonderful space for ambiguity, where one is not necessarily criticising somebody when he is talking about an issue. It allows for a perspective that's not possible for hardcore environmentalist, or government to show the audiences.
While people are very cognizant of environmental impact these days, the problem is, they do not think it is their responsibility to do something about it, said the artist.
Waqif knows that it is indeed a challenge to engage people in a dialogue on climate change. Therefore, despite being an artist, he takes a very scientific approach when he begins his work on environmental (as well as any other) issues.
"I usually like to do a very research-based practice," he confessed. Once his research is in place, he proceeds to find ways to engage the audience, often mixing technology with traditional natural sustainable materials and inviting the audience to engage with his installations.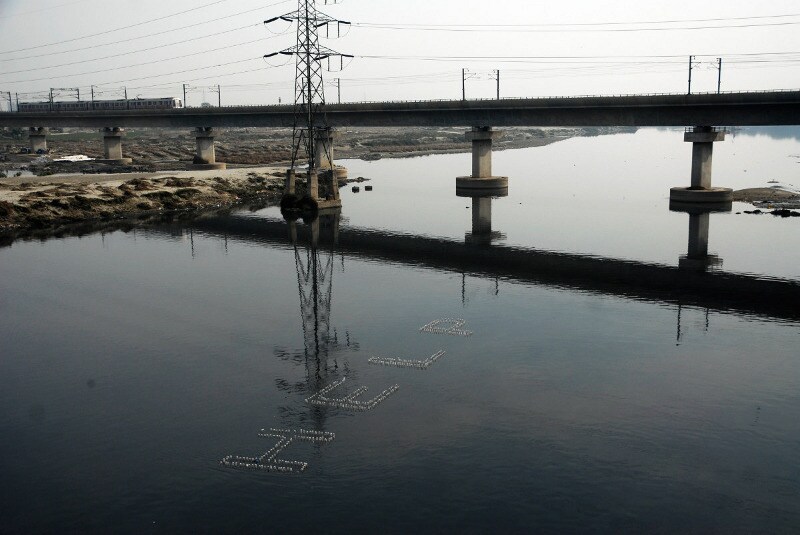 HELP, Jamna's protest: A protest on behalf of the river Jumna. Plastic bottles, metal frame, and LED lights; site-specific floating installation on the Yamuna in Delhi ISBT and Metro bridges.
"Usually when I am asked to work at a new space or somebody has invited me to do a project somewhere, I start by looking at issues, in the local context. I try to understand the people who inhabit that space, who will encounter the installation art. I am very particular about identifying my perspective viewer, and actually, catering the project according to their sensibility in some way," he added.
#ClimateArt is our series to discover how art, music, and literature have the potential of changing opinions and beliefs about climate change.
Read full article
Countdown To
Elections Results
To Assembly Elections 2018 Results