How Chhau Dancers of Purulia are Creating Environmental Awareness
Ekonama begins on a somber note, almost reminiscent of all the dystopia one gets to watch these days. However, this dance drama draws a more vivid and lasting image of a world drained of all its natural resources.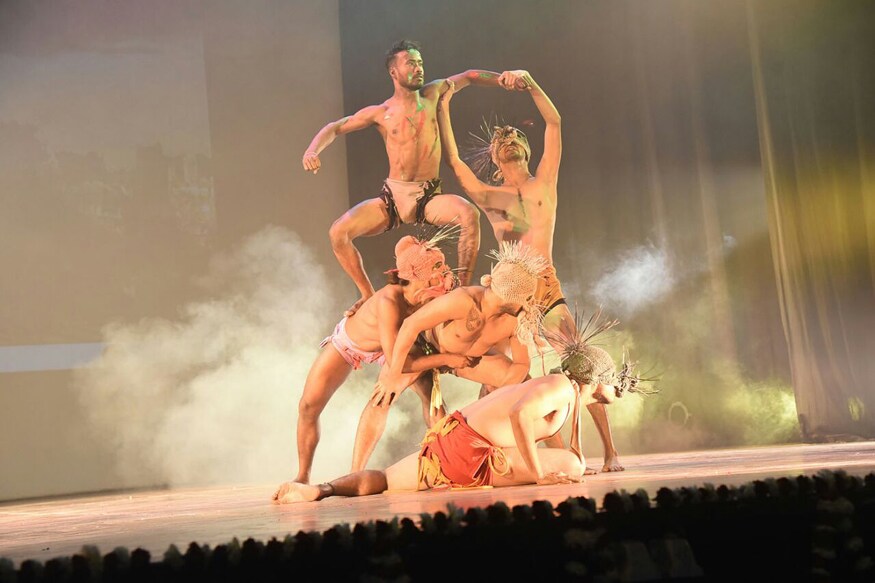 Sapphire Creations artistes perform chhau dance.
At a time when all rhetoric on climate change is failing, a great way to put this issue on centrestage is through dance. Surprising at may sound, but this is exactly what a dance troupe, Sapphire Creations, is doing with their most popular production — Ekonama, The Beginning at the End.
What is also unique about this production is that it is an eclectic blend of Chhau dance from Purulia with contemporary moves performed by the students of the dance company.
Conceptualized by Sudarshan Chakravorty and Paramita Saha, Ekonama is a world-class production that has brought together a group of local and international artists co-choreographed by Selcuk Gikdere from Turkey with Philip Tan from Singapore working on the music, Dinesh Poddar on light arrangements and Swarup Dutta on scenography. The collaboration aims at creating awareness on global warming and ecological imbalance across the world.
The production's international debut happened at the Seattle International Dance Festival following which it toured across several cities in India, including Kolkata, Mumbai, and Jaipur. It has also been featured at the UN climate change newsroom for raising awareness about environmental issues. Talking about the production, Chakrovorty said, "The concept of global warming was always on my mind."
"My dance company has been engaged in using dance as a vehicle of social consciousness. Through dance, we try to sensitize the young generation about various topics like politics, sexuality, society, consumerism, HIV as well as climate change," he added.
Chakravorty pointed out that it is easier to understand climate change if it's put forth in front of the public with a correct perspective. "People are so busy with their lives that they don't even have time for their families. Hence, they don't notice how the sea levels are rising or glaciers are melting," said Chakravorty, who is also the choreographer of Ekonama.
Therefore, he noted that it important to give context to people in terms of the challenges of the 2016 Paris agreement or how developing nations are being affected due to environmental issues. Once the public has some context about how climate change is an immediate threat, it is easier for them to understand.
Ekonama begins on a somber note, almost reminiscent of all the dystopia one gets to watch these days. However, this dance drama draws a more vivid and lasting image of a world drained of all its natural resources. It shows Earth personified as a woman in red, writhing in pain because of the destruction of the planet.
Ekonama begins with the story of a tribal community that lives in seclusion and depends on their masked gods for protection. On a fateful day, a catastrophic storm brought about by climate change hits the Earth, followed by bouts of hurricanes, floods and droughts. Forests are wiped out off Earth and as the sea level continues to rise, it brings about the end of humanity, including the tribal community, whose gods fail to protect them.
"There are no more lands to live in, humanity falls... and the gods also become hopeless. Their masks come off and we see their thin fragile bodies," said Chakravorty.
It is the dance of the masked and unmasked Chhau dancers that mime the rhythm of nature. As the show draws to an end, we see the woman in red (Mother Earth), the sole survivor of natural destruction, trying to give birth to new life.
"I feel that the emotional context of the production is quite strong and stirring," said Chakravorty, adding, "A pregnant woman crying and almost dying is bound to be visually and emotionally impactful."
Ekonama and the troupe are leading by example when it comes to climate change. "All the costumes for the production designed by Debaditya Das Burman were made out of recycled goods like discarded fabrics from industries," noted Chakravorty.
Burman's designs are very interesting and abstract and show that this tribal community can belong to any part of the world. Not just Burman, every other aspect of the dance drama — from music to choreography — is an amalgamation of contemporary and traditional, local and global.
The main dance style used in Ekonama is an 800-year-old tribal, martial art dance form known as Chhau dance from Purulia. The distinguishing feature of Chhau dance is the colorful masks that dancers wear during their performances. They perform to rhythmic folk songs based on mohuri, shehnai and dhol. However, in Ekonama, there is a fusion of traditional folk tunes and contemporary musical instruments. The acrobatic Chhau dance movements have been mellowed by more fluid routines of modern dance.
Although Ekonama has evolved as a world-class production, it started out as an initiative by a student of the Sapphire Creations for 'Microsoft Create to Inspire' 2015 fellowship.
It was performed across the country in school and college campuses in a bid to sensitize students about climate change. Even after it became a well-known production, the students of Sapphire Creations did not stop performing it in public spaces because they wanted to reach out to as many people as possible through their work.
"We often perform in public spaces like cafes, stores and open-air banquets. Our main aim is to reach out to the audience and connect with them. Not just by showing them through dance the issues our world is dealing with but also by making them feel about the issues, through our art," said Chakravorty.
While climate change is yet to become a point of conversation among young children, Chhau dance is another rare form of art that most people in India are oblivious to. When Chakravorty was asked why he chose such a rare traditional dance to talk about climate change, he replied, "We try and depict things that the audience will not see on television. Of course there are many reality-based dance shows nowadays, but beyond these shows, each dance form has its own history and journey."
"Alienation from one's cultural identity shouldn't happen, so we connect and remind people of important issues through dance forms that are culturally and historically Indian," he added.
#ClimateChangeArt is our series to discover how art, music, and literature have the potential of changing opinions and beliefs about climate change.
| Edited by: Sanchari Chatterjee
Read full article
Countdown To
Elections Results
To Assembly Elections 2018 Results