Closure or Chargesheet? Delhi Police to File Final Report in Sunanda Pushkar Death Case
Pushkar was found dead in a luxury hotel room on January 17, 2014, days after being embroiled in a Twitter war with Pakistani journalist Mehr Tarar over the latter's alleged closeness with Tharoor.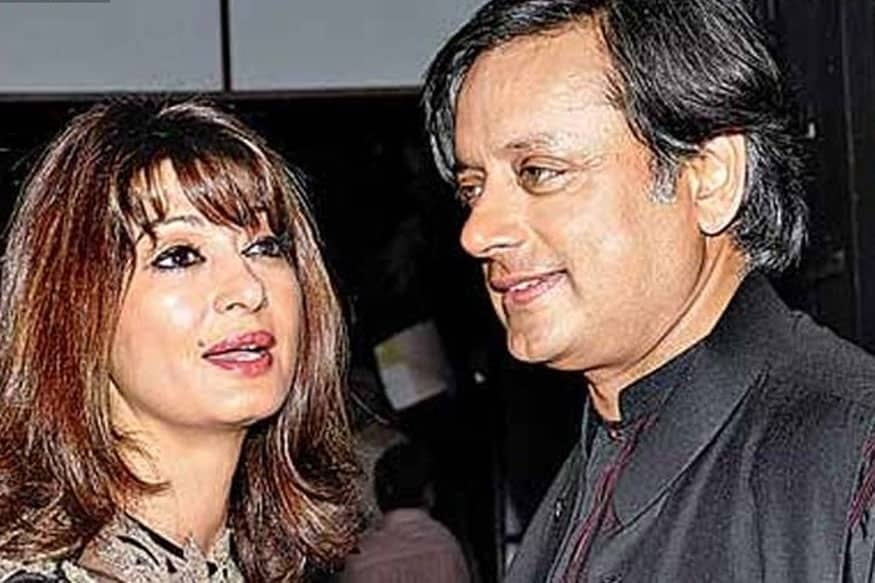 File photo of Congress MP Shashi Tharoor and wife Sunanda Pushkar.
New Delhi: The Delhi Police are set to submit their final report into the Sunanda Pushkar death case before the Patiala House Courts on Monday, more than four years after Congress leader Shashi Tharoor's wife was found dead under mysterious circumstances in a Delhi hotel room.
It remains to be seen if the police file a closure report or a chargesheet in the sensational case. Sources said that if a chargesheet is filed, Tharoor may either be charged with destruction of evidence or it could be a case of abetment to suicide. Sources said that it is unlikely that anyone would be charged for murder under Section 302 of IPC.
Pushkar was found dead in a luxury hotel room on January 17, 2014, days after being embroiled in a Twitter war with Pakistani journalist Mehr Tarar over the latter's alleged closeness with Tharoor.
The initial post mortem said her death was due to poisoning. While traces of Alzolam was found in her body and a strip of the sleeping pills found in her room, the actual poison couldn't be confirmed.
Inquest proceedings were conducted under the supervision of a Sub-Divisional Magistrate (SDM) as the marriage was less than seven years old. The SDM report asked police to further investigate the death. SDM Alok Sharma asked the police to find out the nature of poisoning and also to specifically probe whether this was a murder or a suicide.
Sunanda's autopsy was done at AIIMS by a board of doctors headed by Dr Sudhir Gupta, who in his report had said that she had 15 injury marks on her body, most of which did not contribute to death. But there were two injury marks — an injection mark and some bite marks. The autopsy report also said that there was presence of excess amount of alprazolam drug in her stomach.
The board later examined Pushkar's viscera and concluded that she was completely fit before her death without any ailments or diseases and did not need any medicines. The board also said that the death was unnatural and caused due to poisoning.
Based on this report, the police registered a murder case which refrained from naming any accused.
A year after Sunanda's death, a formal police probe began. Soon the viscera samples were sent to FBI labs to determine the poison. The FBI report mentioned that Aprazolam and Hydroxy Chloroquine were detected in the samples, but it also said on radio-chemistry examination of viscera samples received that levels of possible contamination were found less than the values specified in IATA.
When the AIIMS report was inconclusive on the cause of the death, Sunanda's son Shiv Menon wrote to the then Delhi Police chief BS Bassi, saying if AIIMS couldn't confirm the cause of his mother's death, why can't other doctors be consulted. That's when the wider medical board was constituted. The final report will be based on the opinion given by this independent board.
The political heat in this case increased when the government at the Centre changed from Congress-led UPA to BJP-led NDA.
BJP MP Subramanian Swamy filed a PIL in Delhi High Court, wherein he first sought a CBI probe into the death of Sunanda Pushkar and then asked for a joint multi-agency team to investigate the case. Earlier, he had asked the Home Ministry to hand over the case to CBI, but the Home Ministry had then replied to him saying that the Delhi Police SIT is at an advanced stage of investigation and if the case is transferred to CBI at this stage, it would only lead to further delay.
But when High Court dismissed his petition, Swamy moved Supreme Court. The top court had in February sought the response of the Delhi Police on a plea filed by BJP leader Subramanian Swamy seeking a court-monitored SIT probe into Sunanda's death.
Get the best of News18 delivered to your inbox - subscribe to News18 Daybreak. Follow News18.com on Twitter, Instagram, Facebook, Telegram, TikTok and on YouTube, and stay in the know with what's happening in the world around you – in real time.
| Edited by: Nitya Thirumalai
Read full article