GET Stock

Quotes


Common Theme Among Cabinet Reshuffles, Demonetisation and GST: PM Modi's Foreign Trips
The close proximity between momentous national decision and historic foreign tours may give an idea about how Modi juggles between his roles as the master political puppeteer, and Modi the international statesman.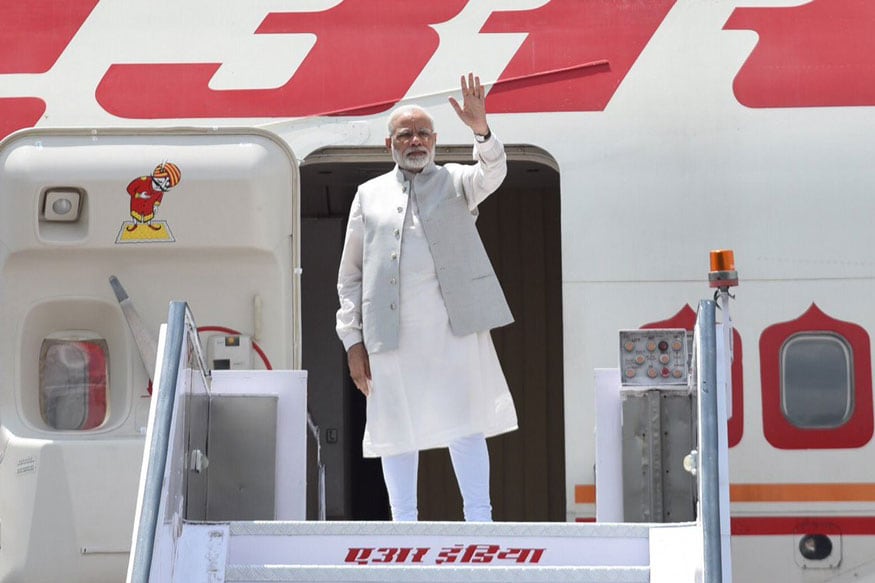 PM Narendra Modi emplanes for China to attend the 9th BRICS Summit in Xiamen, China.
New Delhi:
Prime Minister Narendra Modi seems to have a habit of making most significant political decisions just before embarking on foreign trips. Whether it be Cabinet reshuffles or huge economic reforms like introducing demonetisation and implementing GST.
The close proximity between momentous national decision and historic foreign tours may give an idea about how Modi juggles between his roles as the master political puppeteer, and Modi the international statesman.
Let's begin from November 2014. The first big Cabinet reshuffle had just happened on November 9 within six months of BJP assuming power at the Centre.
A total of 21 ministers, including four Cabinet Ministers, three ministers of state (Independent Charge) and 14 ministers of state were sworn in, taking the total of Union Cabinet from 45 to 61. Decisions were taken considering key elections like Bihar, which were due in a few months.
Just two days later Modi left on a 10-day visit to Myanmar, Australia and Fiji. He visited Myanmar to attend ASEAN-India summit and the East Asia Summit. In Australia, he attended the annual G20 Summit. He was also the first Indian Prime Minister to visit Australia since Rajiv Gandhi did in 1986. As an Indian premier to Fiji, Modi was the first to visit in 33 years.
Then in July 5, 2016, Modi reshuffled his Cabinet for the second time. It was more of an expansion than a reshuffle. The July 2016 reshuffle was done, according to Modi, to reflect the focus of the 2016 Budget, which was centered around agriculture and development of women and weaker sections.
Coming near the halfway mark, the second cabinet reshuffle was important also keeping in mind the crucial elections in Gujarat, Rajasthan and Uttar Pradesh. BJP later went on to win UP elections. East UP leaders like Anupriya Patel and Krishna Raj were inducted, and Prakash Javadekar was elevated to Cabinet rank minister in charge of HRD ministry.
And again, 48 hours after his new ministers were administered oath, Modi was off to a four-nation tour in Africa beginning from July 7. He visited Mozambique, South Africa, Tanzania and Kenya over the next five days.
Then on the eve of November 8, 2016 Modi made a surprise announcement on television. Rs 500 and Rs 1,000 currency notes were banned from midnight. "These notes are just papers from tomorrow," said the prime minister, beginning one of the most audacious currency overhauls in the world. The move created a lot of chaos in informal and unorganised sectors, in agriculture and transportation sectors, caused a huge cash crunch and a six-month low in stock markets.
Hardly two days had passed and the then spokesperson for External Affairs Ministry, Vikas Swarup, tweeted 'An eastward sojourn begins, this time for the Annual Summit with Japan. PM @narendramodi departs for Tokyo.'
Modi had left for an annual bilateral summit in Tokyo. This was his second visit to the country in as many years. During his three day visit India and Japan signed a landmark civil nuclear agreement. In statements released later Modi said he had gone to develop a 'Special Strategic and Global Partnership' with Japan.
Six months later, on June 30 this year, Modi rolled out, in a special midnight session, the biggest tax reform in the country — Goods and Services Tax or as Modi described it in his speech 'Good and Simple Tax'.
Scores of taxes like central excise, service tax, CVD, SAD, CST and state taxes like VAT, CST, entry tax, luxury tax were replaced with one GST, which brought over 1000 items within a single tax regime for the entire country under four tax slabs 5%, 12%, 18% and 28%.
Not four days had passed, while his ministers were admitting that there were 'teething problems' in the implementation of GST, when Modi was hugging his Israel counterpart Benjamin Netanyahu at Ben Gurion airport in Tel Aviv. He became the first Indian Prime Minister to visit Israel, 25 years after India and Israel established diplomatic relations in 1992.
After spending three days in Israel, during which Modi and Netanyahu released several photos together, Modi left on a two day visit to Hamburg to attend the annual G 20 summit.
Finally Modi presided over the third reshuffle in his cabinet, which may be the last time he moves around ministers in key portfolios in union cabinet in this term. Although a smaller such exercise to accommodate some key allies like JD (U) and AIADMK, is expected in days to come. The main logic behind the Sunday's reshuffle, apart from performance of cabinet ministers, is said to be the upcoming assembly polls in Himachal Pradesh, Gujarat, Karnataka, Rajasthan, and Maharashtra.
And as happened right after he took major national decisions, Modi is embarking on another major international trip now.
Modi will visit Xiamen in Fujian province from September 3 to 5 to attend the 9th BRICS (Brazil, Russia, India, China, South Africa) Summit. And will pay a state visit to Myanmar from September 5 to 7 on the invitation of Myanmar President U Htin Kyaw.
The trip to China is important in context of the 70 day long standoff between Indian and Chinese troops at Dokalam, which was recently resolved. And in his first ever visit to Myanmar he is expected to talk about the Rohingya migrant issue. India plans to deport some 40,000 Rohingyas from the country.
Also Watch
| Edited by: Suhas Munshi
Read full article