News18
»
News
»
India
»
Complaint Lodged With Delhi Police Against Indian Who Waved Tricolour During US Capitol Riots
2-MIN READ
Complaint Lodged With Delhi Police Against Indian Who Waved Tricolour During US Capitol Riots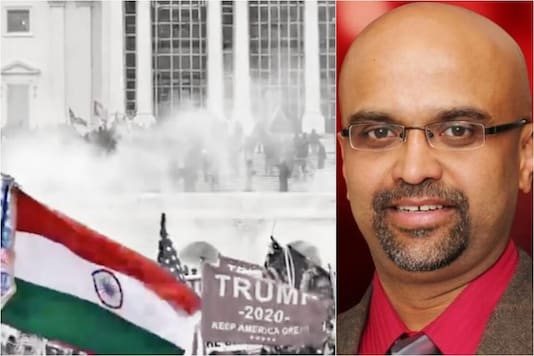 Vincent Xavier was part of the Trump supporters protesting outside the US Capitol before the violence broke out.
Vincent Xavier, a Virginia resident who traces his roots to Kochi in Kerala, had denied any role in the riots and said he was present at the Capitol Hill to protest against "election fraud".
Last Updated: January 09, 2021, 14:16 IST
FOLLOW US ON:
A complaint has been filed at Delhi's Kalkaji Police Station against Vincent Xavier, an Indian-origin resident of Virginia who stood out amidst the pro-Donald Trump mob outside US Capitol for carrying an Indian flag.
"I request Facebook and Twitter to suspend the account of Vincent Xavier. I request the government of India to take note of this development," said complainant Deepak K Singh.
Xavier traces his roots to Kochi in Kerala and had earlier been picked by Trump to be a member in the President's Export Council. Speaking to News18 on Friday, 54-year-old Xavier said he was at Capitol Hill to protest against the "election fraud" that led Joe Biden to victory and had no role in the riots and siege of the US Congress that followed. He added that he wanted to show the pro-Trump demonstration wasn't racist. "I would not be able to hold an Indian flag and walk around if it was a racist movement," he told News18.
ALSO READ: 'Held Tricolour to Show Trump Loyalists Not Racists': Vincent Xavier, the Indian-Origin Man at Capitol Hill Riot
According to Xavier, 10 other Indians were part of the mob, including five from Kerala. "Whenever I have been at a Trump rally, I've seen people of Vietnamese, Korean, even Pakistani origin, carrying their flags. This is also to show that such rallies are not a racist movement," he had said.
ALSO READ: How Donald Trump Could Be Impeached Again, But Faster as Pelosi Moves to Strike
Downplaying the scale of violence and vandalism, he also alleged that members of the Left-wing Antifa and the Black Lives Matter racial justice movement posed as Trump supporters to spark the riots. "They appear to be trained, professional thugs. They were either from our side or from the other side who tried to infiltrate our side. There isn't clarity about their identity. However, if you see the way they climbed the walls, etc. it appears that they were trained very well. Only people in the military can do it. They appear to be Antifa, BLM (Black Lives Matter) thugs who support the Democratic Party who infiltrated into our side."
A crowd of pro-Trump demonstrators stormed the Capitol on Wednesday, interrupting lawmakers' certification of Joe Biden's election win by both houses of Congress. The death toll rose to five dead on Friday, after a police officer succumbed to injuries sustained in the clashes.
Next Story