INDIA
Confident of GST Passage in Monsoon Session: Santosh Gangwar
New Minister of State for Finance Santosh Gangwar said the government is confident that the GST Bill will be passed in the upcoming Monsoon session of Parliament, beginning later in July,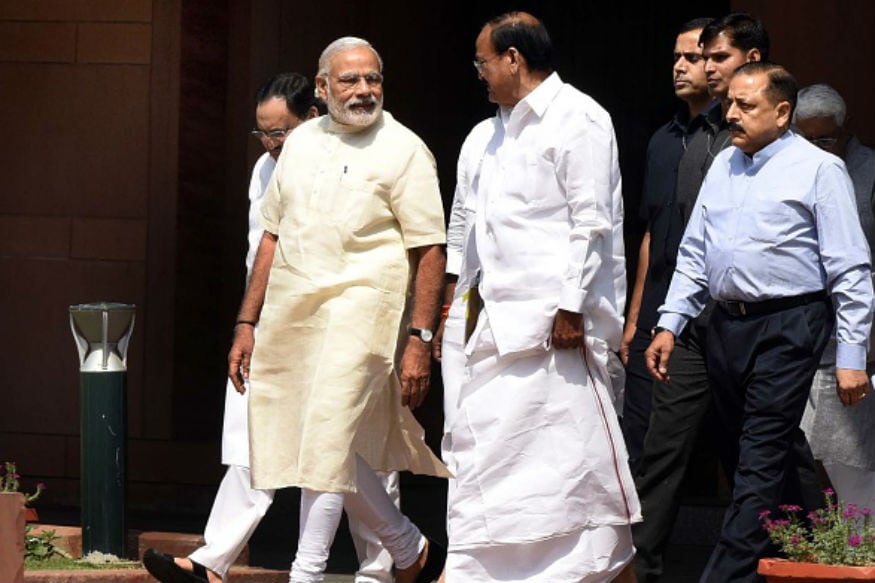 Prime Minister Narendra Modi along with Finance Minister p. Chidambaram.
New Delhi: Government is confident of getting the much-delayed Goods and Services Tax Bill passed in the upcoming Monsoon session of Parliament, beginning later in July, new Minister of State for Finance Santosh Gangwar said on Wednesday.
Gangwar, who was on Tuesday shifted from the Textile Ministry to the all important Finance Ministry, assumed charge on Wednesday along with Arjun Ram Meghwal, who has also been made a Minister of State in the Finance Ministry.
Before assuming charge, both of them met Finance Minister Arun Jaitley.
The two took charge in the presence of Jaitley and senior ministry officials, including Finance Secretary Ashok Lavasa and Economic Affairs Secretary Shaktikanta Das.
Talking to reporters soon after, Gangwar said there was no real opposition by any political party to the Goods and Services Tax (GST) Bill outside Parliament.
"The entire world... is looking at how India will act. I feel Goods and Services Tax will certainly be passed by Parliament in the Monsoon session," he said. The session is scheduled to begin on July 18.
"The world is following India's growth story," said Gangwar, who had also served as a minister in the previous NDA government led by Atal Bihari Vajpayee from 1999 to 2004.
Asked about Congress' opposition to GST, he said, "No party opposes GST outside Parliament. All parties are for Goods and Services Tax, but they put some hurdle or the other (in Parliament). I think all parties (will support) in getting GST passed in the monsoon session."
Prior to taking charge, Meghwal went to Jaitley's residence for a brief meeting.
Meghwal, an MBA from the University of Philippines, is known for cycling to Parliament during sessions and rode a bicyle on Tuesday as well while going for the swearing-in ceremony to the Rashtrapati Bhawan.
A former bureaucrat-turned-politician, 61 year old Meghwal was first elected to the Lok Sabha in 2009 from Bikaner constituency.
He was re-elected in 2014 elections.
Among other changes in Tuesday's reshuffle, Jayant Sinha was shifted from the Ministry of Finance to Civil Aviation as a Minister of State.
Gangwar, 68, has won all Lok Sabha elections since 1991 except in 2009.
A representative of the farming community of Kurmis that holds influence between Bareilly and Pilibhit, Gangwar's shift to the crucial Finance Ministry is important in view of the upcoming elections in Uttar Pradesh.
"India offers huge opportunity. I was in Textiles before this. Textile industry has got a very good package," Gangwar said while referring to the Rs 6,000 crore package approved by the Cabinet in June. "The world is looking at us with a positive attitude," he added.
Support the daily wage earners who have been hit the hardest by the COVID-19 crisis. Click here to contribute to the cause. #IndiaGives
The daily News18 Coronavirus COVID-19 newsletter - Get your copy here.
Subscribe to News18 Daybreak. Follow us on Twitter, Instagram, Facebook, Telegram, TikTok and on YouTube
Read full article