Congress Says Grand Alliance Strong, Differences Now a Closed Chapter
Congress spokesperson Abhishek Singhvi said the issues that arose between the Congress and JD(U) were restricted to the choice of a presidential candidate, and it was now a closed chapter.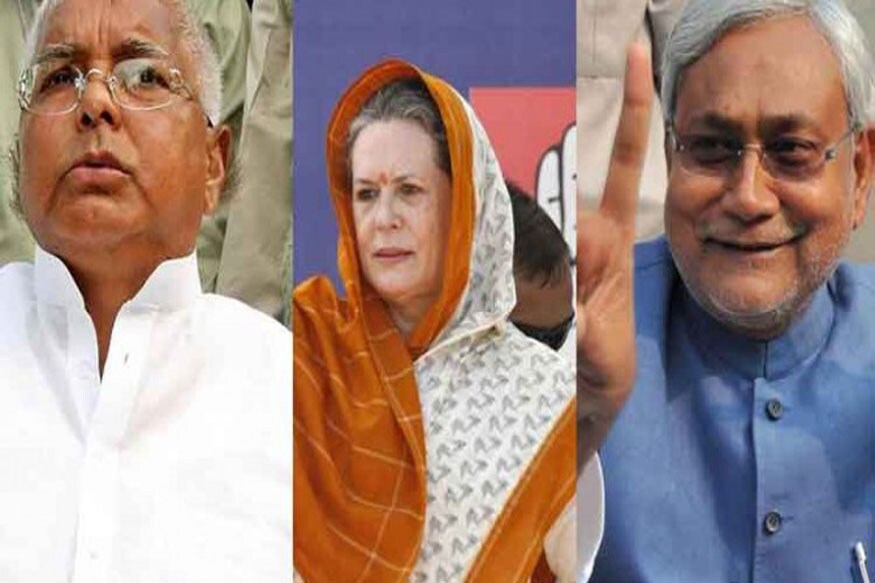 (L-R) Lalu Prasad Yadav, Sonia Gandhi and Nitish Kumar. The three bigwigs joined hands to form a Grand Alliance in Bihar in 2015.
New Delhi: Soon after Nitish Kumar took potshots at Congress, the grand old party tried to downplay reports of a rift in the Mahagathbandhan in Bihar, saying that its alliance with JD(U) and the RJD is "strong and intact."

Congress spokesperson Abhishek Singhvi on Monday said the issues that arose between the Congress and JD(U) were restricted to the choice of a presidential candidate, which, he added, was now a closed chapter.

He also said one should not attach much importance to Nitish Kumar's remarks in which he had blamed the Congress for the "ongoing mess" in the opposition and for not forming an alliance in Uttar Pradesh and Assam.

"Whatever had to happen has happened, as far as presidential election is concerned. It has absolutely no effect on our relationship as far as the JD-U and Congress and other parties are concerned in Bihar," Singhvi said, adding that the coalition is strong and stable, and everybody stands by each other.

There has been speculation about a rift in the state government - a coalition of the JD(U), RJD and the Congress - after Nitish Kumar decided to support the NDA presidential candidate Ram Nath Kovind instead of the opposition's nominee from the Congress.

Nitish, earlier on Monday, again took a dig at the Congress and the RJD, saying the opposition should not object to all government moves just for the sake of opposition unity. "We should not oppose everything the NDA government does just to keep opposition unity. People are looking for alternative agenda. The GST is an example. I openly welcomed it as this tax reform will be very beneficial for the state," Nitish said.

The Bihar Chief Minister added that he would continue to take decisions independently. When asked about the future of the alliance, he gave a cryptic answer, saying
"I can't say what will happen."

Singhvi, however, said questions that arose on the alliance related merely to the presidential poll. "That now is a chapter which is over," he said. Singhvi said on the question of presidential candidates, Congress president Sonia Gandhi had said a few days ago that these decisions were taken "entirely" by individual parties.

"The decision is that party's alone and there is complete autonomy in such decision-making, unless the parties chose to agree with each other," he quoted Gandhi as saying.

Meanwhile, Kumar in Patna also dismissed reports about becoming the opposition's prime ministerial candidate and stressed the need for "alternative narratives" against the NDA.

The JD(U) president, who asked the opposition to move beyond "reactive narratives", also dispelled fears about fissures in Bihar's coalition government and said it would fulfil its commitment to the people in time by providing them with "good governance".

Dismissing reports that he could be pitched as a prime ministerial candidate in the 2019 Lok Sabha poll, Kumar said, "We are a small party and very well know the futility of nourishing prime ministerial ambitions."

He added, "It is seen that the candidate whose name is in circulation never gets to the post."
More than focusing on a face, the opposition should have "alternative narratives" against the ruling party at the Centre on key issues such as farmers' problems, he told reporters.

(With inputs from PTI)
Read full article
Next Story
Next Story
Also Watch

India's Drying Rivers: How can we Save our Rivers from Drying Up feat. Sunderlal Bahuguna
Countdown To
Elections Results
To Assembly Elections 2018 Results