Congress stages walkout in the state Assembly over death of 22 deer
<p>The principal opposition Congress on Monday staged a walkout in the Chhattisgarh Assembly demanding a probe into the mysterious death of 22 spotted deer in a zoo of Bilaspur district by a committee of the members of the house.</p>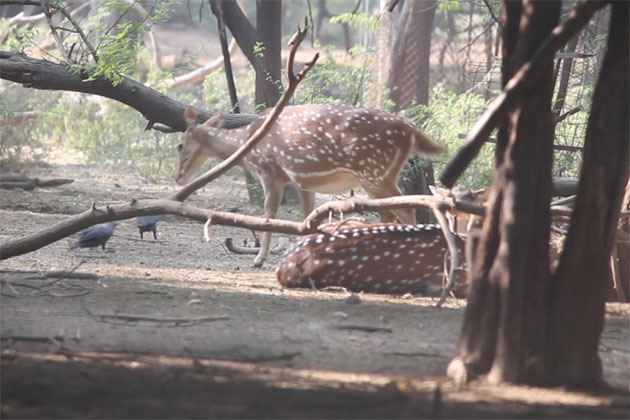 <p>The principal opposition Congress on Monday staged a walkout in the Chhattisgarh Assembly demanding a probe into the mysterious death of 22 spotted deer in a zoo of Bilaspur district by a committee of the members of the house.</p>
The principal opposition Congress on Monday staged a walkout in the Chhattisgarh Assembly demanding a probe into the mysterious death of 22 spotted deer in a zoo of Bilaspur district by a committee of the members of the house.
Raising the issue through a calling attention notice in the assembly, Congress legislator Umesh Patel said, "22 spotted deer, including female, most of whom were pregnant, died on January 15 at Kanan Pendari Zoo at Bilaspur. The forest officials were unaware of the incident and refrained from taking the responsibility of the incident."
He further alleged that some people associated with the ruling BJP had 'partied' at the zoo a night before the deer were found dead.
"Instead of taking care of the wild animal, the forest machinery was engaged in the hospitality of prominent people. The failure of government on the part of ensuring security to the wildlife in zoos and sanctuaries and create a favourable niche for them costing lives of the wild animals," he said.
In the reply Chief Minister Raman Singh claimed that no feast was held in the zoo.
Soon after the incident came to light, Joint Director, Veterinary Services Bilaspur and Dean, College of Veterinary Science and Animal Husbandry Anjora Durg were asked to constitute committees to probe the case.
After the analysis of the sample of the body parts of the dead herbivores, both the probe committees indicated that the animals were infected by bacteria called Bacillus.
One of the committees also suspected that the animals could have died of anthrax, Singh said.
Get the best of News18 delivered to your inbox - subscribe to News18 Daybreak. Follow News18.com on Twitter, Instagram, Facebook, Telegram, TikTok and on YouTube, and stay in the know with what's happening in the world around you – in real time.
Read full article