INDIA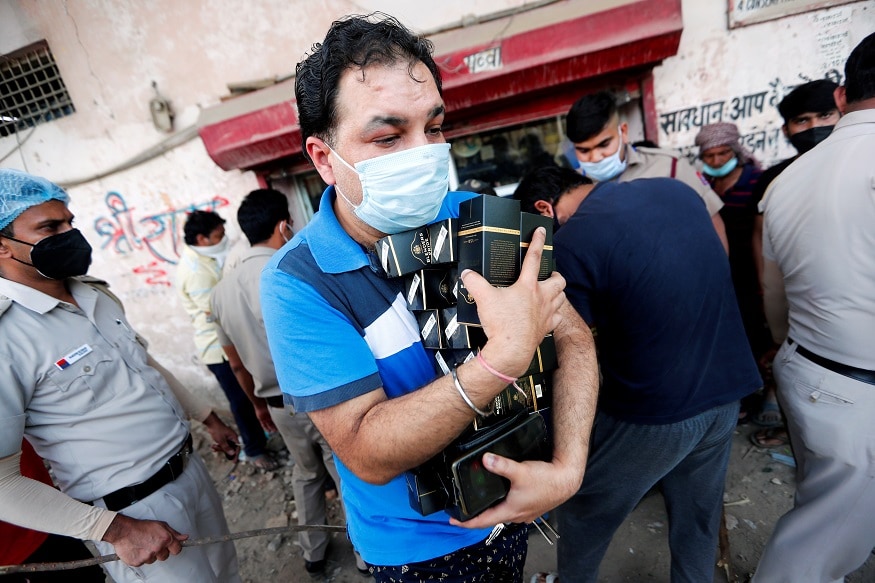 A man carries liquor after buying it at a wine store in New Delhi. (Reuters)

The Supreme Court on Friday stayed the Madras high court order on closure of liquor vends in Tamil Nadu, and said it was for the state government to take these calls, paving the way for the shops to reopen. The HC had allowed sale of liquor only through online system and home delivery and noted that there were huge crowds before shops and no social distancing was maintained.

Finance minister Nirmala Sitharaman will announce the third tranche of the economic package today that will focus on providing relief to the agriculture and fisheries sectors. The FM will address a press conference at 4pm to share details of the measures.

The death toll due to COVID-19 rose to 2,649 and the number of cases climbed to 81,970 on Friday, registering an increase of 100 deaths and 3,967 cases in the last 24 hours since Thursday 8 AM, according to the Union Health Ministry.

Of the 100 deaths reported since Thursday morning, 44 were in Maharashtra, 20 in Gujarat, 9 in Delhi, 8 in West Bengal, five each in Uttar Pradesh and Madhya Pradesh, four in Rajasthan, two each in Tamil Nadu and Karnataka and one in Andhra Pradesh.

The Maharashtra government is in favour of extending the lockdown in cities like Mumbai, Pune, Malegaon and Aurangabad, which fall in the red zone category, till May 31, but will leave a final decision on the Centre. Chief Minister Uddhav Thackeray, sources told News18, has also asked the state administration to submit a report on what activities can be allowed outside containment zones in cities that fall in the red zone.

The government is also looking to redraw zonal details such that within orange zones, if some remote areas or tribal areas have zero cases, movement in that area should be allowed. Maharashtra has been the worst affected state and the number of cases have crossed 25,000 with 975 confirmed deaths due to coronavirus.

The global death toll from the novel coronavirus reached more than 300,000 worldwide, with most deaths in Europe and the United States, since the virus emerged in China late last year, according to an AFP tally of official figures on Thursday at 2030 GMT.

A total of 300,140 people have died across the globe from 4,403,714 officially registered cases. The United States has registered the most deaths at 85,194 followed by Britain with 33,614, Italy at 31,368, France at 27,425 and Spain with 27,321 fatalities.