The number of people infected with the novel coronavirus is nearing 1.4 million in India as 48,661 new cases were recorded in the last 24 hours. The disease has claimed 32,063 lives in the country as 705 people died in the last one day, according to the ministry of health and family welfare data.
India is the world's third worst hit country by the virus, after United States and Brazil and the three countries together account for 50 per cent of covid-19 cases across the globe.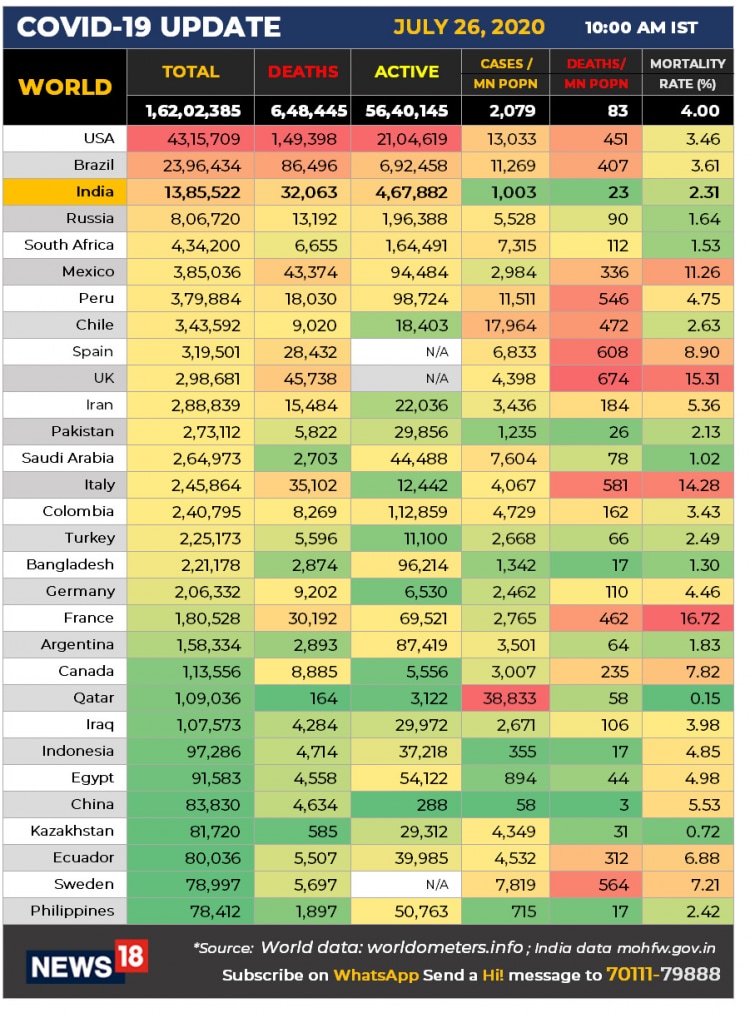 Today's Data Highlights
- Goa on Sunday reported 175 new COVID-19 cases, taking the total count to 4,861, a Health official said.
-Odisha's COVID-19 tally crossed the 25,000-mark on Sunday with 1,376 new infections, while the toll mounted to 140 as 10 more patients succumbed to the disease, a Health department official said.
-The national capital has recorded a 44 per cent decline in the number of COVID-19 deaths in early July as compared to early June, the Delhi government said on Sunday.
-Delhi's COVID-19 recovery rate reached nearly 88 per cent on Sunday, with Chief Minister Arvind Kejriwal saying the national capital is now in the 10th position among states and union territories as the number of active cases are "steadily" going down.
-Kerala reported 927 new COVID-19 cases, including 16 health workers on Sunday, taking the infection tally to 18,140.
- Uttar Pradesh reported its highest single-day spike of 3,246 COVID-19 cases on Sunday, taking the tally to 66,988 as 39 new fatalities pushed the death toll in the state to 1,426.
- Highest ever single day tests yesterday 4.42 lakh, 21,400 more than on Friday. Total tests conducted rise to 1.63 crore
- Number of daily tests have doubled in the last 30 days. India conducted 2.2 lakh tests on June 26.
- Three countries: USA, Brazil and India account for 50 per cent of total cases in the world.
- Global mortality rate is now 4 per cent. India's mortality rate is 2.31 per cent (down from 2.35%).
- Karnataka moves up to No. 2 in India in total active cases, overtaking Tamil Nadu. Karnataka now has 55,396 active cases, Tamil Nadu has 52,273 and Maharashtra 1,45,785.
- Maharashtra recoveries now over 2 lakh (2.07 lakh). Tamil Nadu recoveries now over 1.5 lakh.
- Delhi's recovery rate improves further to 87.3 per cent. Delhi goes down to No.8 in India in total active cases
- Total cases per million population crosses the 1000 mark for India (1,003 cases/million population). World average is 2,079.
Unlock Phase 3 Plan
An inter-ministerial panel is holding consultations to review restrictions on cinema halls, gymnasiums, schools, colleges and metro services. According to sources, there is a chance that cinema halls may reopen in the Unlock 3.0, but metro services are unlikely to restart immediately.
Over 3,300 Patients Untraceable in Bengaluru
Amid a surge in Covid-19 cases in Karntaka, more than 3,000 infected people are untraceable in Bengaluru. Health authorities say they have not been able to trace the missing coronavirus patients, who account for 7 per cent of the total patients in the city, despite best efforts.
"We could trace some of the positive patients with the help of police but 3,338 are still untraceable. Some of them provided wrong mobile number and address at the time of giving samples. They disappeared after getting positive results," said N Manjunath Prasad, commissioner of the city's civic body Bruhat Bengaluru Mahanagara Palike (BBMP).
Karnataka reported 5,072 new coronavirus cases in a 24- hour period, taking the state's total tally to 90,942, even as 72 more patients succumbed to the virus, an official said on Saturday.
Bengaluru continued to be a coronavirus hotspot, recording the highest number of cases daily in the southern state. On Saturday, the city witnessed 2,036 new cases, increasing Bengaluru Urban's total tally to 43,503, including 31,882 active cases.
Testing High
Slowly but steadily, India has ramped-up its testing capacity for COVID-19 and conducted over 4.20 lakh tests in a day, the highest ever, the Union Health Ministry said Saturday, crediting the rise in number of labs for the achievement.
India had only one testing lab for Covid-19 in January but it has now increased the number to 1,301, including private labs. The Health Ministry said revised guidelines by ICMR and efforts put in by the states also helped in widespread testing. Till Friday, a total of 1,58,49,068 tests for COVID-19 had been done in the country. India did 3.50 lakh tests every day over the last one week, the ministry said. With 4,20,898 samples tested in the last 24 hours, the Tests Per Million (TPM) has increased to 11,485 and continue to maintain an upward trend.
Global Tally
The global tally for coronavirus is about to touch 16 million. As many as 15,980,425 people across the world have so far contracted the coronvairus disease. The United States with 4,174,437 cases and Brazil with 2,394,513 continue to be the worst hit.
Tripura Lockdown
A total lockdown will be imposed in Tripura Monday 5 am onwards till 5 am on July 30. This will be in continuation of the night curfew to be imposed from 9 pm on 26th July, the state government said on Saturday. The lockdown would have 21 exemptions, including that to emergency and essential services as well as to print and electronic media.
According to the latest report, Tripura has reported a total of 3,778 COVID-19 cases of which 2,131 people have recovered. Eleven people have died due to virus.