The Curious Case of Missing Women in Indian Polity
In order to ensure adequate representation of women in the local bodies, the Parliament of India passed the 73rd and 74th Constitutional Amendment in 1993, which reserves a minimum of one third of the seats for women in all local bodies.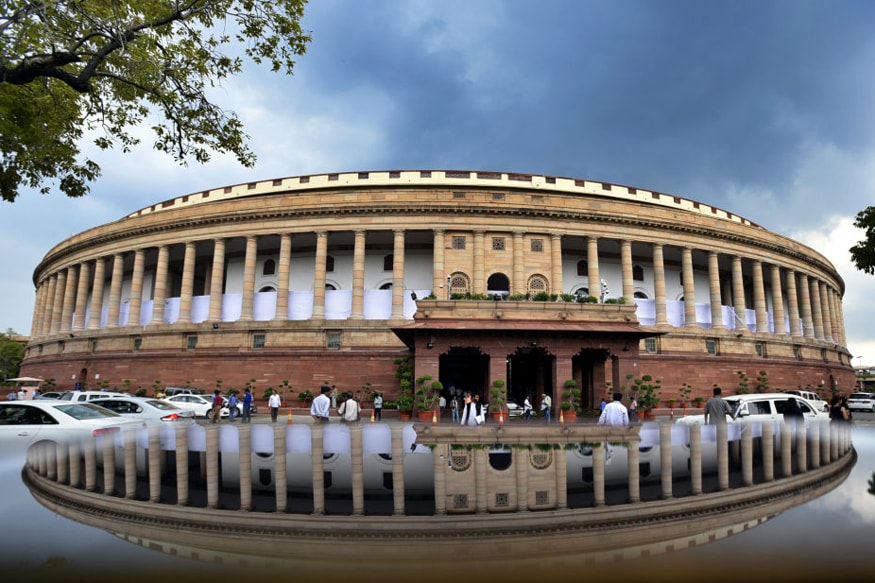 File photo of Parliament.
"If Liberty and equality, as is thought by some, are chiefly to be found in democracy, they can be best attained when all persons alike share in the government to the utmost." ~ Aristotle
Democratic representation, a vital limb in the struggle for gender justice, is fundamentally an amalgamation of political consciousness, activism and involvement in decision-making process. The Constitution of India from its Preamble to its text aptly reflects the significance of representation.
The expressions, 'JUSTICE, social, economic and political' as well as 'EQUALITY of status and of opportunity' testifies the constitutional acceptance of inclusive, just and fair democratic representation.
But is the representation really fair? While our country is obsessed with the idea of 'motherhood', is the political class tolerant enough to share power with women?
Legislative and intra-party representation
According to a study conducted by Inter-Parliamentary Union, India ranks 148th in the list of 193 countries in terms of women's representation in the lower or single house of parliament, as of 1st February 2018. The world average percentage of women representation stands at about 22%, whereas in case of India it is mere 11.8%.
Noticeably, countries like Burundi, Rwanda, Zimbabwe, Iraq, Saudi Arabia, Somalia, Fiji and Ghana rank better than India. In South Asia, countries like Nepal (48), Afghanistan (54), Pakistan (89) and Bangladesh (91) rank much higher than India. Even in the case of Upper house i.e. Rajya Sabha, the representation of women stands at meagre 11.1%.
An empirical study of the members of legislative assemblies of States reveals that the situation is much more horrendous, wherein out of 4128 legislative constituencies only 358 are represented by women legislators.
The figures on representation of women leaders highlight a tragic fact-- the chasm between the myth of empowerment and the ground reality. Even within parties, women have been conveniently ignored which gets testified through both, the constituent instruments of the parties and the empirical data gathered. Of the seven national parties recognised by Election Commission of India, the constituent instrument of only four parties (namely INC, BJP, TMC and CPI) talk about reservation to women in some form or the other at different decision making platforms. However, some of these provisions appear to be mere elephant's teeth because the effect of the provisions pertaining to 'reservation' often gets diluted and nullified by the discretion given to the party's president. For instance, Article VI-A of the constitution of the Indian National Congress provides for 33% reservation of seats at different Committees for women. However, a subsequent clause provides that "Notwithstanding anything contained in the above provision in the Article VI(A) (a), the Congress President shall have the authority to relax the percentage of sectoral representations for the categories stated above." A similar camouflaged provision is present in TMC's constituent instrument as well. The number of women in the apex decision making body of the parties narrates the entire story.
Although the Bharatiya Janata Party (BJP) offers specific reservation to women in its National Executive body without any caveat, it fails to fulfill the required mandate of its own constitution. The BJP's constitution provides for reservation in 40 out of 120 seats, i.e. 33% in its National Executive. However, in the current scenario, only 8 out of 95 members (8.4%) are women.
The Aam Aadmi Party (AAP), though not a national party, had promised 'alternate politics'. And yet, it has only one female member in its nine-member Political Affairs Committee and not a single female minister in its government in Delhi.
The dismal state of affairs is replicated even in the ticket distribution system of these political parties. During the 16th Lok Sabha elections, the largest party—BJP-- gave only 38/428 tickets to women candidates while Congress gave 60/464 tickets. Similarly, other national parties like BSP gave 21/503 tickets, CPI gave 6/67, CPI (M) gave 11/93 tickets and NCP gave 4/36 tickets to women candidates.
Quite surprisingly, the political parties led by women leaders display a similar outlook. During the Legislative Assembly Elections, in Uttar Pradesh, BSP gave only 21 tickets out of 403 to women; whereas in West Bengal, TMC gave 43 tickets to women out of 293; and in Tamil Nadu, AIADMK gave 29 out of 234 tickets to women candidates. Given the apparent centrality of political parties in Indian politics, it becomes immensely strenuous for independent candidates to contest successfully, especially for female candidates. None of the 206 women candidates, who contested the 16th general elections independently, won.
In order to ensure adequate representation of women in the local bodies, the Parliament of India passed the 73rd and 74th Constitutional Amendment in 1993, which reserves a minimum of one third of the seats for women in all local bodies. Some legislatures like Delhi and Bihar have reserved more than one-third of the total seats for women. Notwithstanding the pious objective of the above-mentioned amendments, the ground reality has hardly improved. It is aptly reflected in the recently held local bodies' elections in Mumbai and Delhi. In the BMC elections, only 15 out of 113 unreserved constituencies were won by women. Similarly, in the MCD elections out of the 272 constituencies, 138 were reserved for women. As a tokenism, the major political parties of Delhi like BJP, Congress and AAP offered 2, 6 and 7 tickets respectively to women in unreserved constituencies. Arguably, most of the tickets offered to women candidates even in reserved constituencies were not based on their own personal endeavours or recognition, rather on the affiliation of their husband or other relatives.
Representation in the Executive organ
Even in the case of the second limb of government, i.e. executive, we can find quite a grim situation. A survey of the various executive posts created by the Constitution of India revealed the following. In the present Union government, out of total 82 ministers, 9 are women (6 out of 28 cabinet ministers and 3 out of 54 other ministers). Since independence, India has had 1 woman as President, 1 woman as Prime minister and no woman as Vice President. There have been only 30 women governors and 16 women chief ministers till now. No woman has ever held the position of Chairman of Finance Commission, Cabinet secretary or, the Attorney General of India. Out of 22 there has been only one Chief Election Commissioner, whereas three women have chaired the UPSC out of 28. Even an institution like RBI has never witnessed a woman as Governor. Presently, out of 35 there are 5 women serving as chief secretary in states and Union territories. There is no woman advocate general in any of the states.
Representation in Judicial set-up
While there has been much debate on the issue of judicial reforms in India, little ink has been spilt in understanding the interconnected issue of skewed gender dynamics of the system. The Supreme Court of India has not witnessed a single woman as chief justice. It has had only 7 woman judges on the bench till now. As per the report published by Vidhi Centre for Legal Policy which covers data till November 2017, across India's 24 High Courts, slightly over 10% judges are women, with not even a single woman judge in eight High Courts. (Vidhi 2018:2) Further, 86 women have occupied the post of a High Court judge. Even in the case of lower judiciary, out of 15,959 judges, only 4,409 (27%) are women. The data pertaining to promotion within the lower judiciary depicts widening gender imbalances. These are appalling figures despite the existence of women-reservation in lower judiciary of some states.
India's Constitutional and International law obligations
The obligation to provide a level playing field in terms of opportunities finds its place both under the Constitution of India as well as India's International Law obligations.
In furtherance of the aspirations expressed in the Preamble of our Constitution, Article 14 ensures 'right to equality' to be a fundamental right, inevitably mandates for equal opportunity which even gets reflected in Article 15(3). Article 39A obliges the state to ensure that opportunities for securing justice are not denied to any citizen by reason of economic or other disabilities. In addition to it, Article 46 imposes a duty on the state to protect the weaker sections from social injustice and all forms of exploitation.
The Convention for Elimination of Discrimination Against Women, of which India is a signatory, obliges the state parties under article 7, to take appropriate measure to eliminate discrimination against women in the political and public life of the country and, in particular, to ensure to women, on equal terms with men, the right to vote in all elections and to be eligible for election to all publicly elected bodies as well as the 'right to participate' in the formulation of government policy and the implementation thereof and to hold public office and perform all public functions at all levels of government.
In addition to it, Article 25 of the International Covenant on Civil and Political Rights, which binds the state parties including India, provides that "every citizen shall have the right and the opportunity, without any of the distinctions mentioned in article 2 and without unreasonable restrictions [...] to vote and to be elected at genuine periodic elections which shall be by universal and equal suffrage and shall be held by secret ballot, guaranteeing the free expression of the will of the electors."
It is immensely perplexing to witness the parochial and discriminatory approach of the political class on issues of representation. While on one hand they appear to be apostles of representational inclusiveness on criteria like caste or region, quite paradoxically on the other hand there is a conspicuous apathy among the political class on the issue of women's representation, despite the fact that in all the cases the underlying issue remains 'discrimination' only. It can be attributed, inter alia, to the understanding of the political class that unlike other sections of the society, women don't exist as an exclusive 'political class' or a 'unified vote bank' in itself. There can be manifold reasons for poor representations of women in India, ranging from 'socio-historic forces inherited from nationalist movements' to 'the inherent masculinity of popular politics' to 'clandestine institutional hurdles like family and marriage' to 'current socio-economic and political policies'.
The need for more women in governance
An effective representation of women in the decision-making structures will have a bearing on the policies, vision and structure of institutions.
A multi-pronged strategy is required to ensure adequate representation of women at different platforms of governance. Owing to the peculiarities of the institutions, no straightjacket formula can exhaustively serve the purpose. On the legislative and political front, clue can be taken from global experiences and adapted accordingly. For instance, nearly half of the top fifty countries in the IPU list have 'voluntary party quotas' system which have been applied in different ways.
In some European countries like Sweden, the 'zipper' system requires party candidate lists to alternate between one male and one female candidate or that every three candidates must include one woman. Liberal democracies like United States, Australia and New Zealand offer 'Soft quota' system which is based on the rationale that gender parity will occur in a piece meal manner without the need for rules. Reserved seats are the most popular gender quota system adopted in many Sub-Saharan countries, South Asia and in the Arab region.
Legal candidate quotas are the preferred system in Latin America and the Balkans. In addition to ensuring women's reservation at all legislative levels, the Parliament and Election Commission should promote mechanism for clear and transparent rules to ensure internal democracy, with specific focus on gender equality. Even the political parties should consider special measures to ensure women's participation in decision-making positions within the organisation. On the executive front, women's participation can be ensured through some form of 'effective' reservation in both the permanent and political executive.
​
In addition to it, training of both men and women might help to sensitise them towards this issue. Judiciary presents a typical case altogether due to huge disparity between the women's enrolment in law courses and bar.
The absence of infrastructural amenities and existence of socio-economic hardships act as barriers to women participation. In addition to reservation for women at educational and institutional levels of at least 33%, revamp of working conditions is also needful. Equal participation of men and women is not only a prerequisite of justice and democracy, but an inevitable condition for human existence as well.
Anmolam is a lawyer and runs a non-profit organisation BDLAAAW.
Farheen Ahmad is a research scholar at South Asian University, New Delhi.
Get the best of News18 delivered to your inbox - subscribe to News18 Daybreak. Follow News18.com on Twitter, Instagram, Facebook, Telegram, TikTok and on YouTube, and stay in the know with what's happening in the world around you – in real time.
Read full article