Court Extends Karti's Custody by 3 Days After CBI Presents 'Concrete' Evidence in Sealed Envelope
Additional Solicitor General Tushar Mehta, who is appearing for the CBI, said the new evidence brings a "new company into the picture" and shows "global transactions in dollars and not rupees."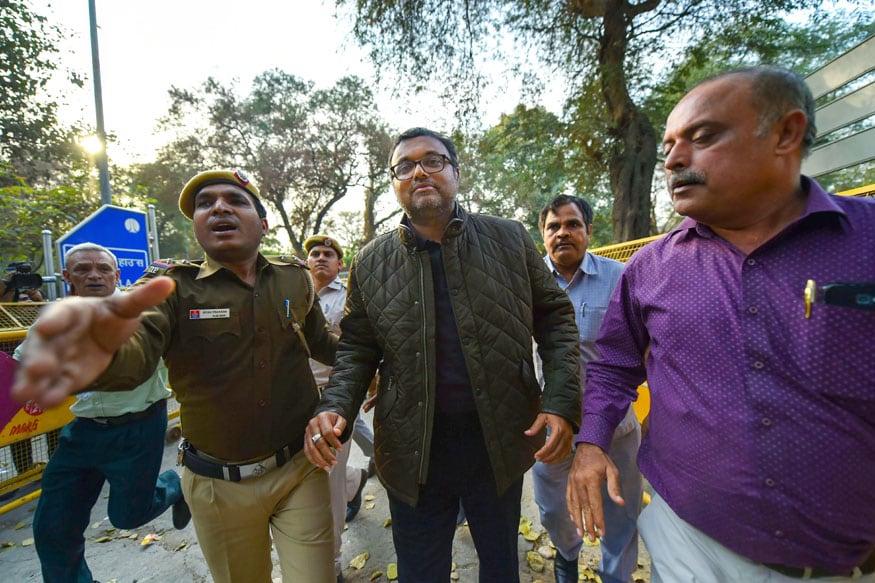 Karti Chidambaram, son of former union minister P Chidambaram, escorted by police personnel to the Patiala House court in New Delhi. (PTI photo)
New Delhi:
A Delhi court on Tuesday extended the custody of Karti Chidambaram by three more days after a fresh round of heated courtroom exchanges between the CBI and Karti's counsels.
The matter has now been posted for March 9. Karti, son of former finance minister P Chidambaram, has been in CBI custody since February 28. The extension of custody came after additional Solicitor General Tushar Mehta, who is appearing for the CBI, submitted fresh evidence to the court in a sealed envelope.
He said it brings a "new company into the picture" and shows "global transactions in dollars and not rupees."
Mehta said the evidence was "concrete" and it would satisfy the court to grant a further nine days custody of Karti to the investigating agency. "We have made substantial, concrete progress due to the custody given to us and now we need further more nine more days to confront him with such evidences," said Mehta.
Mehta also claimed that though Karti remained evasive during questioning, the only reply that the agency could elicit from Karti was that "I am being politically targeted."
One of the prime arguments at the previous hearing by ASG Mehta was that the agency had recovered wills from the hard disk of the chartered accountant of Karti Chidambaram showing that shares of Advantage Strategic Private Limited were bequeathed to Karti's daughter. However, Karti has maintained that he has no relationship with Advantage Strategic Private Limited.
During the last hearing, CBI had also submitted the confession of Indrani Mukherjee under Section 164 of Criminal Procedure Code, in which she had stated that she and her husband, Peter Mukherjee, had met Karti to discuss FIPB approval to INX media and thereby paid a bribe of 7 lakh dollars.
However, now CBI strongly refuted that their argument for Karti's custody was not entirely based on Indrani's statement and that it was "only a part of other evidences."
"There is a wrong picture that is being put out claiming that the CBI is only relying on Indrani Mukherjee's statements. But it is not true. This new evidence which was unearthed just yesterday clearly shows that Karti needs to be confronted with such materials," submitted the CBI counsel.
Karti's lawyer, Abhishek Manu Singhvi, countered the argument stating that the "shifting sands of evidences" discovered by the CBI cannot be the sole reason for keeping Karti in custody and called it "CBI's thirst for blood".
Singhvi also attempted to demolish the argument of Mehta citing a new evidence by stating that "only materials and documents can be given confidentially to the court and not subjective notes by the arguing counsel."
Singhvi argued that custodial interrogation of Karti was not needed if the agency calls him every day from 9 am to 6 pm for interrogation.
"Karti is not a terrorist with a bomb that he cannot be interrogated without keeping him in custody," argued Karti's counsel, who had also moved a bail application in the court on Tuesday.
He further stated that concept of being evasive was not present in criminal law as the accused can choose to say "to hell with your questions" and that would not mean that "accused was not cooperating."
"If an accused says to hell with your question when he is being questioned, then can it be said that the accused is not cooperating? We must check the privilege of testimonial compulsion. Content test cannot be applied by the prosecution and it is codified under Article 20 of the Constitution. Plus, there is no concept of being "evasive" in criminal law," said Singhvi.
| Edited by: Aakarshuk Sarna
Read full article
Countdown To
Elections Results
To Assembly Elections 2018 Results