New Delhi:
The Yogi Adityanath government claims to be keeping a tight check on law and order in the state. But by its own admission in the Assembly, crime against women has gone up.
According to the government's reply to a question by Samajwadi Party MLA Naheed Hasan, crime against women has gone up in every segment in comparison with 2016-2017.
There have been 761 more rapes in the state, while molestation cases shot up by over 3,000. Close to 3,400 kidnappings were reported, while cases of sexual harassment doubled.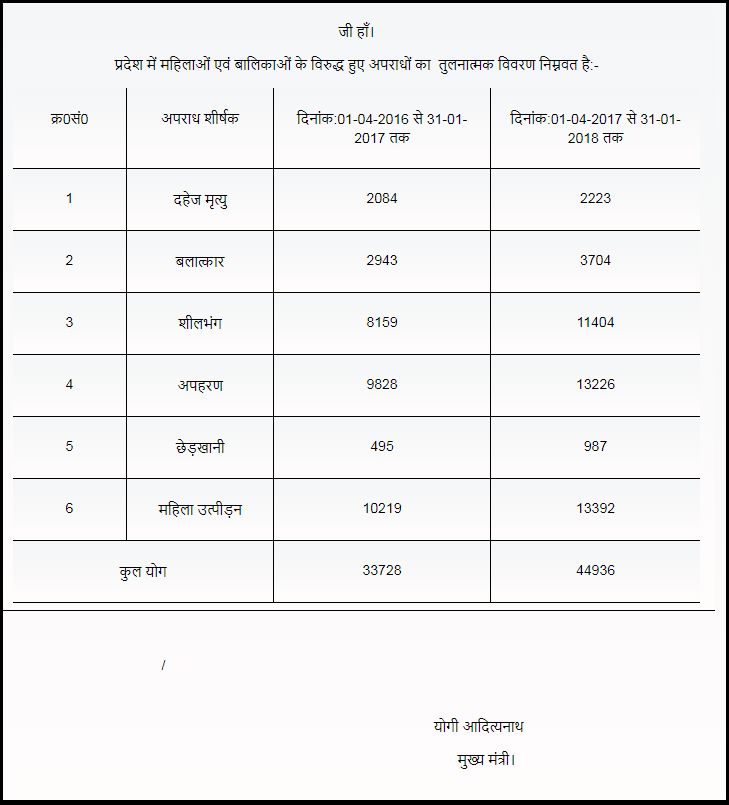 A year on year comparison of crimes reported against women in Uttar Pradesh. (Source: uplegisassembly.gov.in)
The data comes in the wake of rape charges against BJP MLA Kuldeep Singh Sengar and opposition allegations of the government "shielding" the accused.
The data also counters Chief Minister Yogi Adityanath's defence of the recent encounter spree in the state.
Countering Opposition criticism over the unusually high rate of encounters, the CM had said in the Assembly that it is "unfortunate that some people are showing sympathy for criminals. This is dangerous for democracy."
Close to 1,200 encounters in a year have led to the death of 34 alleged criminals, left 265 injured and got 2744 history-sheeters arrested.
The highest numbers of encounters were reported from Meerut zone — 449. This was followed by Agra zone which reported 210 encounters. Third on the list was Bareilly zone with 196 encounters and then came Kanpur zone with 91 shootouts. The least number of police encounters were in the CM's constituency of Gorakhpur.
Apart from this, the police have imposed National Security Act (NSA) against 167 criminals and seized assets worth nearly Rs 150 crore.