Curfew Relaxed in Violence-Hit Kasganj, But Many Don't Dare to Step Out of Their Homes
Residents are only now beginning to realize the full extent of arson and looting that took place here over the past two days.
A team of Rapid Action Force (RAF) personnel patrol a street in violence-hit Kasganj on Sunday. (Photo: News18)
Kasganj: Shakir Ali grew up in Kasganj, a small town in western Uttar Pradesh. In 58 years, he had never witnessed a communal riot. The only time a curfew was imposed here, he tells, was for some days in 1992, when the rest of the country was burning. "But even then, this area never suffered one violent episode," he says.
All that changed on Friday, when Ali saw communal tensions flare first-hand and became its victim. Rioters broke into his house and set it and his car on fire. Since then, he, along with his family, has been holed up in his brother's house.
Along with Ali's house, half a dozen other houses and shops belonging to Muslims have been vandalized in violence in the last two days. And accounting of the damage hasn't even begun.
On Sunday afternoon, the administration relaxed the curfew in the area for the first time since Friday's clashes in which one young boy had died. More than 80 persons have been arrested, vigil has been intensified and politicians have started trading blame.
The shop that was set on fire by rioters in Kasganj. (Photo: News 18)
Residents, on the other hand, are only now beginning to realize the full extent of arson and looting that took place over the past two days.
Several families, living in areas like Baddu Nagar that bore the brunt of the riots, have fled the area fearing for their lives and many haven't stepped out of their homes at all.
"I along with my wife and children, saw the rioters come here on the morning of January 26, when our neighbours were celebrating Republic Day. We saw that the road was full of a mob on around 50-60 motorcycles," says Asif Khan, who runs an NGO on HIV awareness.
Khan said that soon, the mob started beating everyone up. "Then we heard about the death of a Hindu boy. We haven't stepped out of our house since," he says.
He says that local residents always hold two small ceremonies – one on Republic Day and the other on Independence Day - to salute the national flag and honour some children studying in a government school. They distribute sweets to the kids and go home.
"We saw these mobsters last Independence Day too. But that time they had made their rounds before we had even started preparations, so nothing untoward happened that day," he says.
Hashim, who lives in Baddu Nagar, eagerly shows the way to his bedroom from where he scanned video footage from CCTVs he had installed to check theft in the area. "Some people have been trying to pour petrol on communal fire by claiming that we had raised Pakistani flag. Look at this footage and see for yourself," he says.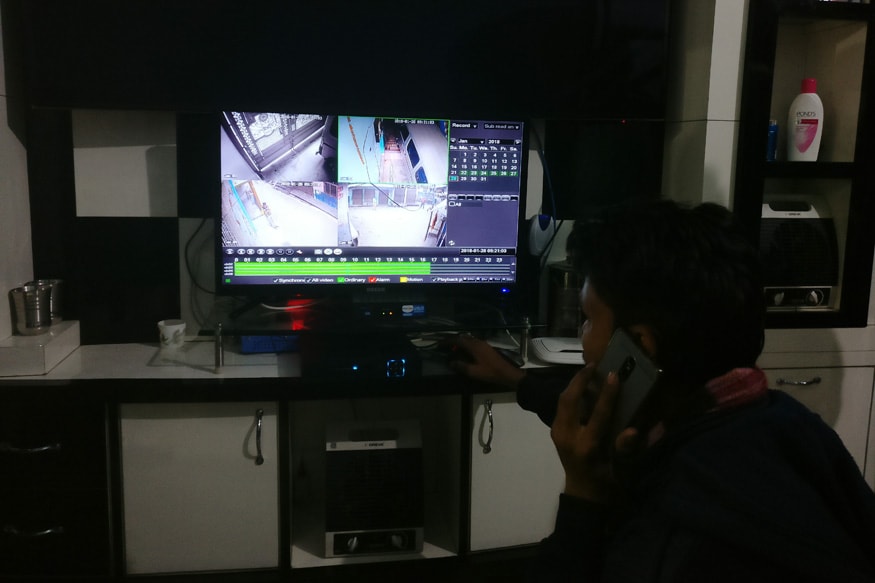 Hashim says footage from CCTVs installed outside his house can prove they did not raise Pakistani flags. (Photo: News 18)
For now, Kasganj is buzzing with talks, in hushed tones, at grocery stores and at tea stalls, about what transpired here as workers of various political parties made rounds of the main market.
Police and paramilitary forces also conducted flag marches, but the general public, not used to curfew, was still trying to make up its mind on the sort of liberty they can take with temporary suspension of curfew.
"Don't get the whole crowd outside the shop, section 144 is still in place," an owner of a tea shop says while berating his assistant.
At another place down the main market road, a boy was immediately shut up by his mother when he, looking at smoke coming out of a shop asks, "Is this the shop that was set on fire?"
On Kasganj's Dhan Mill Road, Rampal Singh, a teacher took stock of his neighbourhood. His is the only Hindu house in the area.
"Around here things aren't bad. It is good that nobody around here is hurt. I was scared initially while coming to my house on Friday. But a lot of neighbours came to check after us. For me nothing much has changed," he says standing next to his friend, Mohammad Amaruddin.
@media only screen and (max-width:740px) {
.quote-box{font-size:18px; line-height:30px; color:#505050; margin-top:30px; padding:22px 20px 20px 70px; position:relative; font-style:italic; font-weight:bold}
.special-text{font-size:24px; line-height:32px; color:#505050; margin:20px 40px 20px 20px; border-left:8px solid #ee1b24; padding:10px 10px 10px 15px; font-style:italic; font-weight:bold}
.quote-box img{width:60px; left:6px}
.quote-box .quote-nam{font-size:16px; color:#5f5f5f; padding-top:30px; text-align:right; font-weight:normal}
.quote-box .quote-nam span{font-weight:bold; color:#ee1b24}
}
| Edited by: Bijaya Das
Read full article
Countdown To
Elections Results
To Assembly Elections 2018 Results