Eight Killed as Cyclone Fani Batters Odisha, Expected to Hit West Bengal Early Today
The cyclone also brought torrential rainfall to coastal Andhra Pradesh, particularly in Srikakulam district, but no casualties were reported there.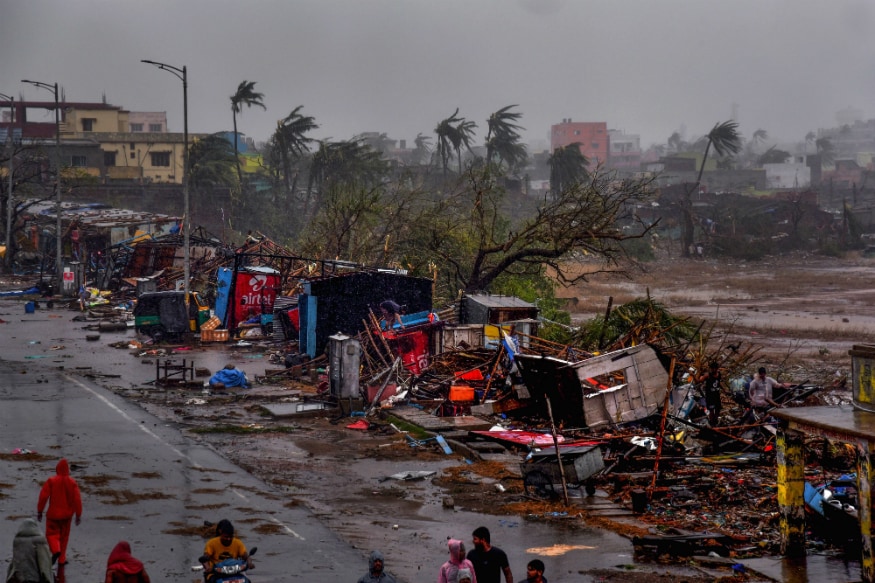 Puri: A view of the destruction caused by Cyclone Fani after its landfall, in Puri, Friday, May 3, 2019. (PTI Photo) (PTI5_3_2019_000174B)
New Delhi: At least eight people were killed in Odisha after cyclone Fani, the worst of its kind in India in two decades, tore through the state on Friday.
Though the 'extremely severe' cyclone unexpectedly weakened into 'very severe' cyclonic storm in a few hours, it left behind a trail of devastation in large parts of coastal Odisha.
Cyclone Fani is now expected to hit West Bengal in the early hours of May 4. The West Bengal government has already shifted around 45,000 people to shelter camps in the districts of Nadia, Midnapore, North 24 Parganas, South 24 Parganas and Howrah.
The cyclone, which made landfall around 8 am in Puri, brought forth copious rain and winds gusting up to 175 kmph. It blew away thatched houses, swamped towns and villages, and flattened huts, enveloping the pilgrim town in sheets of rain.
Odisha Chief Minister Naveen Patnaik, who reviewed the situation, said Puri district suffered huge damage.
"Energy infrastructure has been completely destroyed. Restoration of electricity is a challenging task," he said.
Hundreds of engineers and technicians were working on a war footing to restore power supply. Work is on to restore road communication, thrown into disarray with thousands of uprooted trees blocking the way in innumerable places, he added.
National Disaster Response Force (NDRF) DIG Randeep Rana said not many casualties were reported so far as precautionary measures were in place.
Patnaik said nearly 12 lakh people were evacuated and shifted to safer locations within 24 hours ahead of the cyclone from about 10,000 villages and 52 urban agglomerations in probably the largest such exercise at the time of a natural calamity in the country.
The evacuees have been accommodated in over 4,000 shelters, including 880 specially designed cyclone centres where free cooked food is being served to them, he said.
After the landfall, the system passed through Khurda, Cuttack, Jajpur, Bhadrak and Balasore before it is expected to enter West Bengal, said Special Relief Commissioner (SRC) BP Sethi said.
With state capital Bhubaneswar being hit by high-velocity winds of around 140 kmph, telecommunication lines were snapped in several parts, mobile towers were damaged, and power supply was disconnected.
Road communication in Ganjam and Gajapati have been completely restored. Road clearance and restoration work in other districts, including Bhubaneswar, is on.
While flights at Bhubaneswar airport remained suspended on Friday, the Ministry of Civil Aviation later announced that operations would resume at 1 pm on Saturday. Operations at Paradip and Gopalpur ports were also closed as a precautionary measure.
Around 220 trains on the Howrah-Chennai route were cancelled as well.
According to a bulletin issued by the India Meteorological Department (IMD) at 8.30 pm on Friday, the storm was centred 120 km west-southwest of Midnapore and 200 km west-southwest of Kolkata. It is expected to hit West Bengal in the early hours of Saturday, after which it will weaken.
"The eye of the storm is likely to weaken when it enters West Bengal. The wind speed will be around 100 kmph to 110 kmph," an official of the meteorological department said.
Operations at the Kolkata airport were suspended from Friday afternoon until 8 am on Saturday.
A red alert has been issued in coastal areas and fishermen have been asked not to venture into the sea.
The cyclone also brought torrential rainfall to coastal Andhra Pradesh, particularly in Srikakulam district, but no casualties were reported there, said officials.
Nine head of cattle and 12 sheep were killed in rain-related incidents, while over 2,000 electricity poles were uprooted because of high-velocity winds and 218 cellular phone towers damaged, they added.​
(With inputs from agencies)
Get the best of News18 delivered to your inbox - subscribe to News18 Daybreak. Follow News18.com on Twitter, Instagram, Facebook, Telegram, TikTok and on YouTube, and stay in the know with what's happening in the world around you – in real time.
Read full article