Dandiya Raas at Kingdom of Dreams evokes mixed response from people
People showcased their talent by performing on Dandiya music which was judged by Saroj Khan.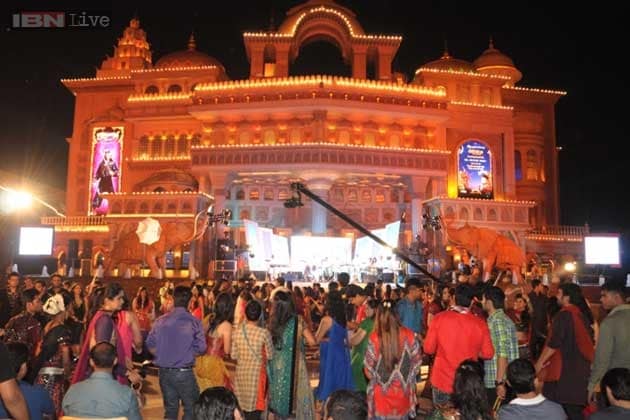 People showcased their talent by performing on Dandiya music which was judged by Saroj Khan.
Gurgaon: Gurgaon's Kingdom of Dreams, known for offering theme-based entertainment experiences to its audience and promoting Indian culture, celebrated Navratri with Dandiya Raas on 10, 11 and 12 October, 2013.
Well known Bollywood choreographer, Saroj Khan graced the occasion on the second day of the event- the day when people enjoyed the most. Beautiful lights, colourful sets, scintillating music and ultimately dandiya fever took over the crowd.
The evening kicked off with a live performance by Indian idol participants Pinky and Brijesh. These guests among others, showcased their talent by performing on Dandiya music.
Saroj Khan judged their dancing skills and bestowed upon them titles such as Best Dancer, Best Couple dance, Best Group Dance, Best Comic Dancer and Best Kids Dance.
"It was a delight to see Saroj Khan dance. She made this day so special. Because of her the energy is so high. I can dance the entire night," said 35-year-old Aastha Bhattacharya, who donned a heavy red Ghagra-choli for the event.
To add up to the larger-than-life feel of the festival, Danse Gurukool team, mentored by Saroj Khan entertained the audience with their energetic performance.
"I was pleased to see Delhi Gurgaon dandiya lovers move and groove to the tunes of Gujarat. I was indeed happy to receive all the love and respect from the audience," said Saroj Khan.
Proud to see her 'Danse Gurukool' perform, she said "they are stepping up new milestone to entertain and educate people on real dancing "
The fun continued as the senior citizens raised the entertainment quotient by showcasing their talent on stage and enthralled the audience with their exceptional dance performance.
"My grandfather is 82 years old. It's his birthday. He danced on the stage today and people clapped. What better gift could he get," said Shahenshah Zafar, a Muslim, who turned up for Garba night with his family.
However, the stalls in one corner selling a pair of dandiya sticks for Rs 200 was an expensive deal after buying tickets worth Rs 1000- Rs 15000 (except if it was bought via Groupon which gave Rs 200 off on the ticket amount).
As the three-day event came to a close on Saturday, IBNLive caught up with a few people to gauge a sense of how they liked the event and would they come back for it next year.
For 24-year-old shy boy Venkat Rao Bandaru from Nellore, Andhra Pradesh and 22-year-old Mithun Jagannath from Karnataka, attending Daandiya Raas was one-of-its-kind experience.
"I have no knowledge of Garba. I didn't dance too much. But I liked the way people enjoyed their cultural festival," said Bandaru.
On the other hand Jagannath didn't miss the opportunity to shake a leg. "I danced with my friends even though I had no idea what I was doing. In South, we do not celebrate these festivals with the enthusiasm with which Delhiites celebrate it," he said.
Like Jagannath, 23-year-old Monica Bhardwaj from Delhi, also a contemporary dancer, seemed quite excited after the event.
"Over the years Garba has adapted to the predominant Punjabi culture. Kingdom of Dreams Dandiya Raas lacked the original folk flavour but still there was so much positive energy. Dance is a form of activity that gets everyone to come together. People bond with each over dance. Strangers became friends here, it was complete fun," she said.
However, 23-year-old Gotit Singh from Allahabad, first timer at Dandiya festival, was critical of the event. "Wish the event was more organised. Mimicry artists and dance teams from Delhi were a big disappointment. It made no sense to have them at a dandiya festival," he said.
On being asked if he would come back next year, Gotit's answer was 'it depends'. "If I have big group to accompany me, I will," he said.
Mahima Singh, from Jaipur, joined Gotit in highlighting some things she didn't like. "It was good in parts. They stopped the music in between many times and local artistes performed on the stage. Also, they played sad songs like Tum Hi Ho. How can someone do Garba on this song," she said.
"In Gujarat, first people gather for their folk dance followed by Dandiya. But in Kingdom of Dreams, half of the people didn't know what they were doing. They just picked up the dandiyas from the beginning and danced randomly," said Mahima, who has stayed in Gujarat for over 20 years and is well aware of Gujarati folk culture.
As Dandiya Raas evoked mixed response, the evening witnessed the presence of people from across different religions and regions who gathered to celebrate the festive season together.
In case you couldn't become a part of it, you haven't yet missed out on Dandiya fun this Navratra season. Tap your feet to non-stop beats in and around Delhi:
1) Venue: Garba Dandiya Raas @ Zorba the Buddha, Mehrauli Gurgaon Road
Timings: October 13, 6:30 pm
Contact: 9311902235, 9311902245, 9250361903
2) Venue: Golden Paris, Raja Garden, Near Wave Cinema (Live Performance by Honey with raskaan musical band Dandiya Dance troupe)
Timings : October 13, 7:00 pm onwards
Contact - 9311971115
3) Venue: Dandiya Nights, Spasso Saket
Timings: October 16 -24, 8 pm onwards
Reservations call: 9654257050
Get the best of News18 delivered to your inbox - subscribe to News18 Daybreak. Follow News18.com on Twitter, Instagram, Facebook, Telegram, TikTok and on YouTube, and stay in the know with what's happening in the world around you – in real time.
Read full article