Days After Hug, Pak Army Chief 'Vows to Avenge Soldiers' Deaths', Sidhu Says No Comments
The Congress leader, while refusing to comment on the issue, said the only way forward for both the countries was through talks.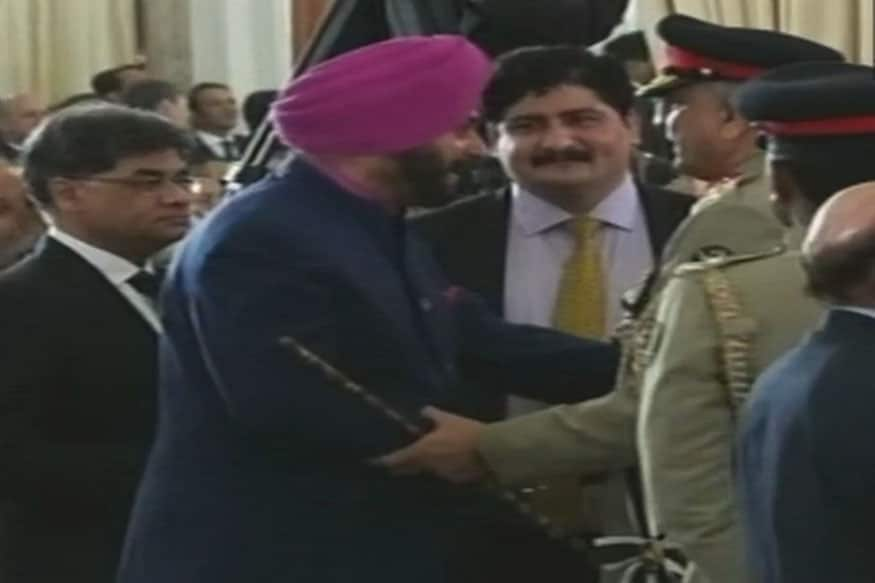 File photo of Navjot Singh Sindhu meeting Pakistan Army Chief at Imran Khan's oath-taking ceremony. (ANI)
Congress leader Navjot Singh Sidhu, who stirred a hornet's nest by embracing Pakistan Army chief Qamar Javed Bajwa during the swearing-in ceremony of his "friend" and Prime Minister Imran Khan, on Friday refused to comment on Bajwa's statement vowing to "avenge the blood being shed on the border of the country".
Speaking on the occasion of Pakistan's Defence and Martyrs' Day on Thursday, the army chief said the nation had "learned a lot from the wars of 1965 and 1971", while also paying tribute to "Kashmiri brethren for their just struggle for right to self-determination".
Sidhu, who created a row back home with his demeanour on his visit to Pakistan, spoke to the media on Friday about that government's decision to open the corridor of the Kartarpur Sahib pilgrimage for the 550th birth anniversary of Guru Nanak. "There can be no bigger happiness than this for the people of Punjab," he said, according to ANI.
However, he refused to comment on Bajwa's speech, saying the only way forward was through talks.
No comments. The only way forward is talks. The only way forward is peace: Punjab Minister Navjot Singh Sidhu on Pakistan Army Chief General Qamar Bajwa's recent statement against India pic.twitter.com/KIrFVNld3P

— ANI (@ANI) 7 September 2018
The Congress leader's hug to the Pakistan Army Chief had also led to political bickering, with the Bharatiya Janata Party (BJP) demanding his suspension from the party.
In the press conference on Friday, Sidhu thanked Khan for the "noble gesture" of making the corridor available for the pilgrimage. "He has not only taken steps, he has walked miles. I am indebted forever," Sidhu said. "Gurunanakji is revered around the world," he added.
Sidhu also said nobody could object to the goodwill gesture by Khan, and made a "heartfelt request" to external affairs minister Sushma Swaraj and the Centre to "take a step" towards peace between the two neighbours.
The Congress leader reiterated that he had gone to Pakistan "with only a message of love", adding that he "did not interfere with the government's policy on Pakistan" in any way.
Get the best of News18 delivered to your inbox - subscribe to News18 Daybreak. Follow News18.com on Twitter, Instagram, Facebook, Telegram, TikTok and on YouTube, and stay in the know with what's happening in the world around you – in real time.
Read full article