Death by harassment: 12 ragging deaths in 12 months
Voluntary group's report says 88 cases of harassment in education institutes.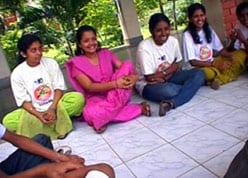 Voluntary group's report says 88 cases of harassment in education institutes.
New Delhi: A new report released on Monday revealed that during the past 12 months the country witnessed 88 cases of ragging of which 12 were fatal. Andhra Pradesh is the worst affected.
"The number of ragging cases reported (between July 2008-June 2009) are 88, number of ragging deaths are 12 and number of attempted suicides (due to ragging) are five," said the report of the Coalition to Uproot Ragging from Education (CURE), a voluntary organisation in Delhi.
The previous year had 89 cases out of which 11 resulted in deaths and there were 5 attempted suicides.
"This clearly indicates that despite the tall claims made by the Human Resource Development Ministry, University Grants Commission (UGC) and various regulatory bodies, the situation hasn't improved a bit," Harsh Agarwal, a senior functionary of CURE told IANS.
Among the states, Andhra Pradesh is the worst hit state with 12 cases of which four were fatal. While West Bengal and Uttar Pradesh have reported 10 cases each, Punjab has reported eight case, followed by Rajasthan with seven cases.
In Himachal Pradesh, six cases were reported of which two ended in casualties.
"Just saying ragging is banned is not helping the situation. What we need to do is tell students why you should not rag? Awareness is a key issue," Agarwal said, adding that he is going to give a presentation in a Bangalore college next week on the subject.
"Andhra banned ragging in 1997 but the state is worst hit by the menace."
The eight-year-old CURE has met several members of the Raghavan committee, which suggested to the Supreme Court measures to ban ragging in the country. Analyzing the ragging incidents in last five years, the organisation came to the conclusion that with 33 cases each in the last five years, Andhra Pradesh and West Bengal are joint number one on the infamous table.
Agarwal said he feared the numbers could be much more as many students and their families do not come out in the open and their report was complied just on media reports from across the country.
"The numbers could be just the tip of the iceberg," he said.
Get the best of News18 delivered to your inbox - subscribe to News18 Daybreak. Follow News18.com on Twitter, Instagram, Facebook, Telegram, TikTok and on YouTube, and stay in the know with what's happening in the world around you – in real time.
Read full article