Death of Rajaji Tigress Was Revenge Killing for Attack on Livestock, Reveals Report
The report said the killing could not be attributed to poaching as the skin, claws and teeth of the animal were left untouched, thus pointing towards a man-animal conflict.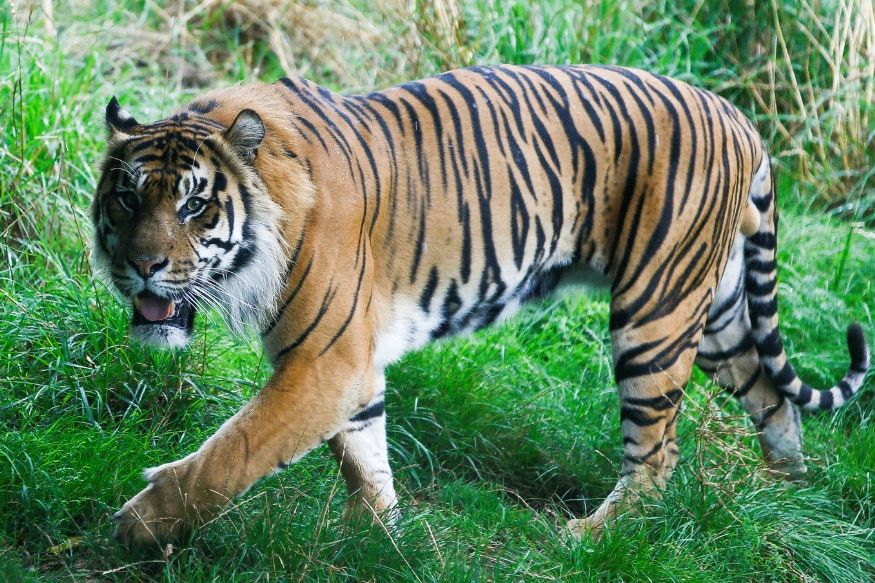 Image for representative purpose only. (Image : Reuters)
A two-year-old tigress that was found dead in the buffer zone of the Rajaji Tiger Reserve in May 2018 was killed in retaliation for lost livestock, a report has found.
The report by Indian Forest Services officer Sanjeev Chaturvedi ruled out infighting or poaching as the cause of death. "It appears that this is a case of man-animal conflict in a case of revenge killing," he said. From June 2017 to January 2018, there were at least 17 cases of domesticated animals being preyed on by tigers, the report revealed.
The post-mortem report of the tigress had found that she suffered a compound fracture on her skull due to trauma from a blunt instrument. She had wounds on her neck and front feet, a deep puncture wound below her left ear and other bruises, including a wound on the left leg. The cause of death was "hypovolumic shock (due to loss of blood) and neurogenic shock (damage to central nervous system)".
Chaturvedi noted in his report that the animal's corpse was left as it was — its skin, claws and teeth untouched. The report said, "It is clear that the death of the tigress was not due to a fight with another wild animal, since there were no injuries on her skin, claws...there are two possibilities here, one that she was hunted or man-animal conflict."
Noting that a half-eaten corpse of a buffalo was found a mere 150 metres from where the tigress lay dead, the report concludes that "had she been hunted, then her skin, teeth and claws wouldn't have been left untouched... in these circumstances, it appears that this case of man-animal conflict is a case of revenge killing".
The report noted that the day before the death of the tigress, the accused in the case had lost two buffaloes, while five others were severely injured. "Although this wasn't the tiger who had killed his livestock, this a constant issue, especially in the bordering areas of Uttar Pradesh and Uttarakhand. There are also delays in receipt of compensation from the government, which is another reason why people rather take matters in their own hands," Chaturvedi told News18.com.
He added that there was a need to empower the forest department in order to ensure a long-term solution. "Even for something like putting phones on surveillance to track suspects, I had to coordinate repeatedly with the Haldwani superintendent of police. Even if we are the ones investigating, there is very little money to pay informers and that's why, we hardly get any ground intel," he said.
The IFS officer added that the legal framework was in place but the issue was about the government's will. "The legal framework exists. For instance, the chief wildlife warden is empowered to give rewards. So why not utilise that? The legal framework is there and if used, then such situation can be avoided before a case of man-animal conflict takes place," he said.
Get the best of News18 delivered to your inbox - subscribe to News18 Daybreak. Follow News18.com on Twitter, Instagram, Facebook, Telegram, TikTok and on YouTube, and stay in the know with what's happening in the world around you – in real time.
Read full article