Debt-ridden Man Tries to Enter Tiger Enclosure at Indore Zoo in Suicide Bid
Two tigers and a tigress were present in the enclosure at the time. The man seems mentally disturbed and may have been under the influence of drugs, the zoo incharge said.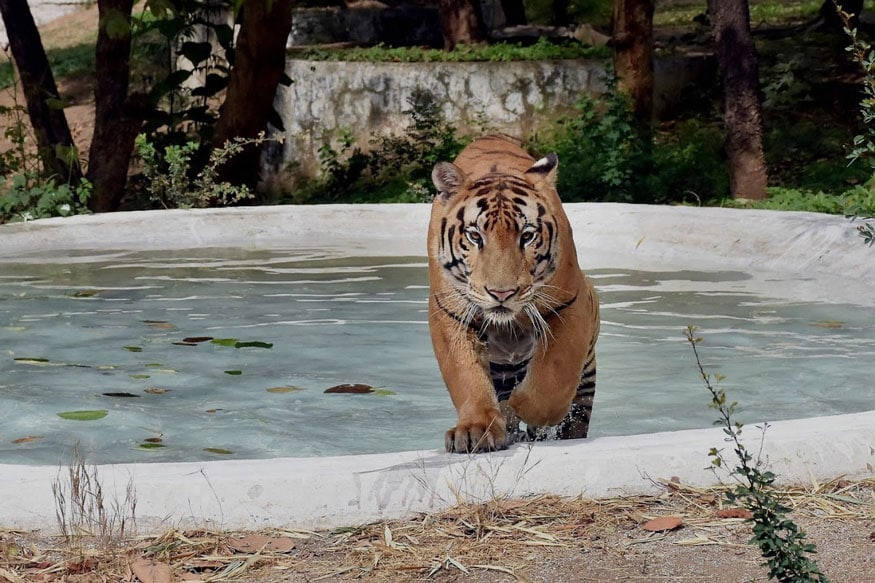 A tiger at its enclosure. (Image: PTI)
Indore: In a bid to commit suicide, a 43-year-old man tried to enter a tiger enclosure at Kamla Nehru Zoo in Madhya Pradesh's Indore city on Friday, and was saved by the alert zoo staff.
Vijay Jhala climbed a 25-feet-high fence around the tiger enclosure, but was immediately brought down by alert zoo staffers before he could enter it, zoo in-charge Uttam Yadav said.
Two tigers and a tigress were present in the enclosure at the time, he said. On interrogation, Jhala claimed he was severely debt-ridden and wanted to kill himself, Yadav said.
Panic struck the zoo when the visitors saw a man climbing the fence of the tiger enclosure and soon the zoo keepers rushed to the spot and convinced him to climb down. Jhala had entered the zoo around noon and after roaming around for 30 minutes, he started scaling the fence of the enclosure.
The zoo administration later handed him over to Sanyogitaganj police and Jhala confessed to the cops that he was facing financial issues and has been unemployed for a long time. The man was inebriated and seemed mentally unstable, said Inspector Akshay Mishra.
Get the best of News18 delivered to your inbox - subscribe to News18 Daybreak. Follow News18.com on Twitter, Instagram, Facebook, Telegram, TikTok and on YouTube, and stay in the know with what's happening in the world around you – in real time.
Read full article