Delhi hit-and-run victim succumbs to injuries
BMW 2 accused, Utsav Bhasin faces tougher charges post victim's death.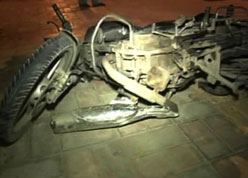 BMW 2 accused, Utsav Bhasin faces tougher charges post victim's death.
New Delhi: BMW hit-and-run case accused Utsav Bhasin will now be charged under Indian Penal Code (IPC) section 304 (A), for causing death to a victim due to rash and negligent driving. The offence is bailable and can get him a maximum punishment up to two years.
One of the two victims — Anuj Singh who was hit by a BMW car in south Delhi — died on Saturday morning at All India Institute of Medical Sciences (AIIMS), where they were undergoing treatment.
A relative of Singh, Tejas Singh said the accused is planning to go abroad.
"One of our well wishers told us Bhasin is going abroad as he's been given bail. Such rich people should be punished and not let off the hook," He said.
Twenty five-year-old Singh was a BPO employee. He suffered injuries on
his cervical spine and slipped into a coma on Friday.
Singh was accompanied by the other victim, TV journalist Mrigank Srivastav, 29, were on their motorcycle when the BMW, driven by a man and a woman sitting next to them, hit them near Moolchand flyover in south Delhi around 2.30 am on Thursday.
A family member of one of the victims, Rahul Gupta, said, "We will fight tooth and nail till the last to get justice for our boy, come what may... Police should do everything to get culprit the maximum punishment, that is available in the IPC."
Delhi Police arrested Bhasin on Friday on suspicion of being behind the wheel of the BMW that ran over two people on Thursday morning.
A case of rash and negligent driving had been registered against him.
He was later released on bail after giving two sureties of Rs 20,000 each. A case under sections 279 (rash and negligent driving) and 337 (causing hurt and endangering life) of the IPC was registered against him.
After the death of the victim, police have pressed more charges on Utsav which included Section 304(a) - causing death due to rash driving.
Bhasin, who fled the scene along with one of his friends who was in the car at the time of accident, was arrested from Kashmere Gate, said the police. He has been taken to the AIIMS for tests.
After hitting the victims, Bhasin panicked and broke open the windowpanes of the car to escape as the vehicle got locked from inside, said an eyewitness.
They abandoned the BMW — bearing a VIP number plate — at a petrol station 300 m from the accident spot and fled in another car.
Twenty-year-old Bhasin is a resident of Punjabi Bagh and an alumnus of a prominent Delhi school, while the girl travelling with him is a class XII student at the same school.
Bhasin's father is an industrialist based out of Bahadurgarh in Haryana and is presently in China on a business tour.
The car bears a VIP registration number from Haryana, said a police official.
Get the best of News18 delivered to your inbox - subscribe to News18 Daybreak. Follow News18.com on Twitter, Instagram, Facebook, Telegram, TikTok and on YouTube, and stay in the know with what's happening in the world around you – in real time.
Read full article