Delhi polls: Chandni Chowk lacks basic amenities
Traffic jams, lack of drinking water, loose overhead electrical wires and poor state of footpaths are some of the problems.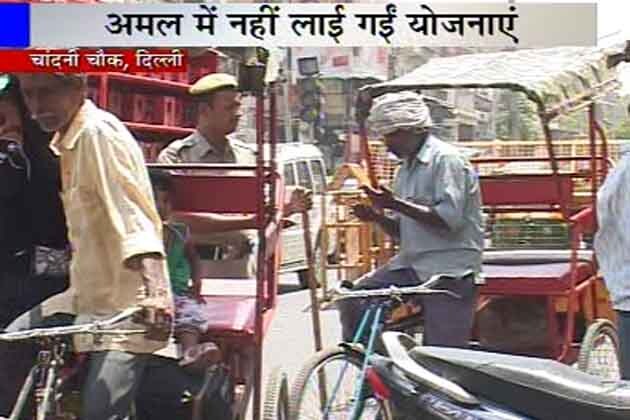 Traffic jams, lack of drinking water, loose overhead electrical wires and poor state of footpaths are some of the problems.
New Delhi: In the run-up to the Delhi Assembly elections IBN7's campaign New Delhi Banano continues to raise awareness among the people about the state of affairs in their city. Chandni Chowk is a prominent landmark of Delhi and is the Lok Sabha constituency of Union Minister Kapil Sibal.
Despite being the oldest and one of the biggest wholesale markets, Chandni Chowk is slowly losing its charm due to lack of basic amenities. The area was developed by Mughal emperor Shah Jahan in the 17th century and several films like Chandni Chowk to China and Delhi-6 have been shot here.
The area has been neglected by the leaders and loose overhead electrical wires are strewn all over the area. Footpaths are missing, making the life very difficult for pedestrians. The entire are from the Red Fort to Sunehri Masjid and the narrow bylanes is full of loose wires endangering the life of the residents and resulting in accidents.
Trader Brijmohan Gupta said that wires are a cause of fire in the area. Even drinking water is in short supply in the area.
The government may have made several plans to develop the area, but all of them have remained on paper. One such plan was to lay underground power cables and install new transformers. Plans were also made to repair and make new footpaths, install lights and streamline the traffic in the area which witnesses perpetual jams. But till now not much has been done and the area continues to face several problems.
Delhi Hindustani Mercantile Association chief Suresh Bindal say that traders also presents several plans to develop Chandni Chowk to the government band even decided to spent their money to do so, but all such moves were rejected by the administration. Bindal blamed senior IAS officers of not taking aby interest in developing the area even as he claimed that all plans were shared with Delhi Chief Minister Sheila Dikshit and Sibal.
While Sibal represents Chandni Chowk in the Lok Sabha, Prahlad Singh Sahni has been the area MLA for the last 15 years and the councilor is BJP's Surekha Gupta. Surekha Gupta blamed the Congress government for not developing the area, saying Shahjahanabad Development Plan has been left in the limbo for over 10 years and the state government has done nothing to implement it.
Get the best of News18 delivered to your inbox - subscribe to News18 Daybreak. Follow News18.com on Twitter, Instagram, Facebook, Telegram, TikTok and on YouTube, and stay in the know with what's happening in the world around you – in real time.
Read full article