Delhi Sewer Death: Boy Seen in Viral Pic Not Victim's 'Son'; Sister Says He Never Married
Anil's sister, Geeta, said that he never married and was in a live-in relationship with his maternal aunt. The boy in the viral picture was her son. The deceased's and his aunt's biological son had died of pneumonia four months ago.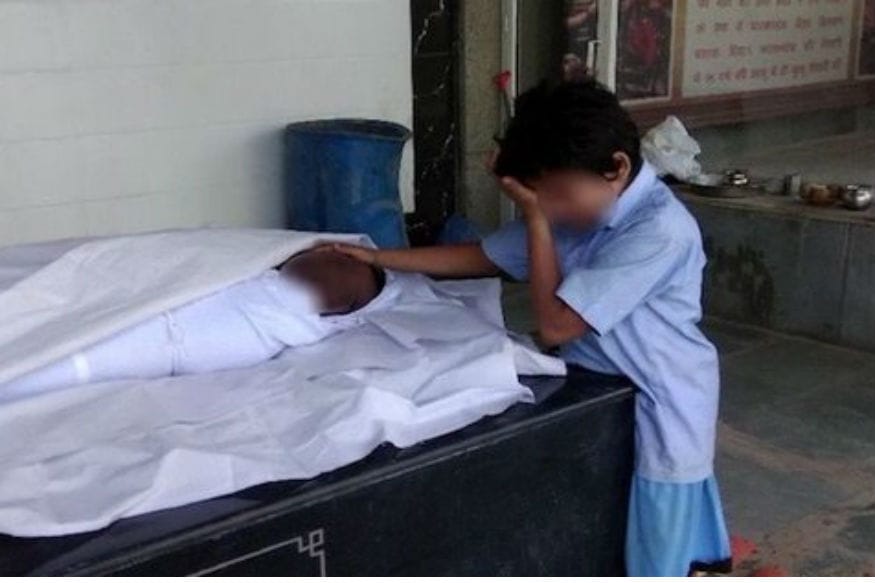 Seen here is the dead body of Anil and his child standing by. (Photo Courtesy: Ketto)
New Delhi: A photo of a wailing 'son' standing next to one of the deceased in Dwarka sewer death incident, moved several people who poured in financial assistance for the aggrieved family. However, it has now come to light that the deceased was not the boy's father.
The deceased, Anil, died on September 14 after he slipped when descending into the 20-feet deep sewer at a residential apartment in Dwarka area as the rope tied around his waist snapped and he went into a free fall.
In the photograph shared widely by social media users, the boy, believed to be Anil's son, was seen grieving next to his body. The photograph moved netizens and NGO Uday Foundation launched a campaign to help Anil's family. The NGO raised over Rs 57 lakh to help the 27-year-old man's immediate family.
However, Anil's sister later revealed that the boy was not Anil's biological son as he had never married. The deceased was in a live-in relationship with his mausi (maternal aunt). According to her, the boy in the photograph is her aunt's son.
"There is some foul play in his death. The woman who claims to be his wife is actually our mausi. Her husband lives in Mumbai and Anil had been living with her for close to three years. He was never married but used to treat her kids as his own children," Geeta said.
Anil and his maternal aunt had a biological son who died of pneumonia four months ago, a member of the NGO said.
"We are deeply pained. The children were adopted by Anil and he had raised them as his own. The children are in a vulnerable condition. We will take a collective decision on the funds raised through the social media campaign," said Yashwant Deshmukh, one of the founding members of the foundation.
(With inputs from PTI)
| Edited by: Sumedha Kirti
Read full article