Delhi Air Quality Plunges to 'Severe' Category, Cracker Ban Goes Up in Smoke on Diwali Despite Pandemic Fears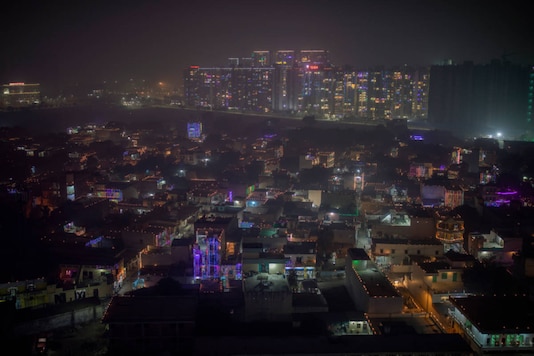 A layer of smog envelops the skyline as residential buildings are decorated with colourful lights during Diwali, on the outskirts of New Delhi, on November 14, 2020. (AP Photo/Altaf Qadri)
Smog-shrouded New Delhi banned firecrackers because of sky-high pollution levels, but violations were reported from across the capital and NCR areas as crackers could be heard going off late into the night.
News18.com New Delhi
Last Updated: November 15, 2020, 7:14 IST
FOLLOW US ON:
More than a billion Indians celebrated Diwali on Saturday amid twin concerns of a resurgence in coronavirus

infections and rising air pollution that is enveloping the country's north in a cloud of thick toxic smog.
Smog-shrouded New Delhi banned firecrackers because of sky-high pollution levels, but violations were reported from across the capital and NCR areas as crackers could be heard going off late into the night.
Despite the cracker ban, Delhi recorded "severe" air quality on Saturday night. The level of PM2.5, which is about 3% the diameter of a human hair and can lead to premature deaths from heart and lung diseases, was 331 microgram per cubic metre (g/m3) in Delhi-NCR at 10 pm, above the emergency threshold of 300 g/m3. The safe limit is 60 g/m3.
The PM10 level stood at 494 g/m3 at 10 pm, precariously close to the emergency threshold of 500 g/m3, according to Central Pollution Control Board (CPCB) data. PM10 levels below 100 g/m3 are considered safe in India.
According to the Graded Response Action Plan (GRAP), the air quality is considered in the "severe plus" or "emergency" category if PM2.5 and PM10 levels persist above 300 g/m3 and 500 g/m3, respectively, for more than 48 hours.
The air quality in Ghaziabad and Noida deteriorated to 'severe' category and remained "very poor" in Greater Noida, Faridabad and Gurgaon of the National Capital Region (NCR). According to the air quality index (AQI) maintained by the Central Pollution Control Board (CPCB), an AQI between zero and 50 is considered 'good', 51 and 100 'satisfactory', 101 and 200 'moderate', 201 and 300 'poor', 301 and 400 'very poor', and 401 and 500 'severe'. The average 24-hour AQI till 4 pm on Saturday was 456 in Ghaziabad, 425 in Noida, 394 in Greater Noida, 378 in Faridabad and 358 in Gurgaon.
The Delhi Police arrested 10 people and registered 12 cases for sale of firecrackers in the national capital in violation of the ban. Police also registered 14 cases for bursting firecrackers -- four in east, seven in northeast and three in northwest districts -- during the day and 12 people were arrested, Additional PRO (Delhi Police) Anil Mittal said.
On Saturday, many temples across the country streamed prayer sessions online to avoid large gatherings. In New Delhi, worried residents opted for low-key celebrations. Some even stayed home and didn't visit friends or relatives.
"It's not the usual Diwali," said Vishwas Malik, 47, a professor in New Delhi. "The exchange of gifts is less and we have not interacted with people. We have not visited people's homes because of the fear of the coronavirus

."
In a bid to encourage people to stay home, Delhi chief minister Arvind Kejriwal and some of his ministers held a prayer ceremony at a grand temple. The prayers were broadcast on television and social media.
Kejriwal said last week that the pandemic was spreading fast in the capital due to the rising air pollution. He appealed to people to not burst firecrackers on Diwali, in hopes of mitigating the harmful effect of toxic air on those who are more vulnerable during the pandemic.
The link between air pollution and worsening Covid-19

cases remains mostly theoretical at the moment. But several researchers have said that in addition to factors such as mask wearing, social distancing, population density and temperature, dirty air should also be considered a key element in coronavirus

outbreaks.
India has confirmed 8.7 million cases of the coronavirus

, including 129,000 deaths. While it is second in the world in total cases behind the US, daily infections have been on the decline since the middle of September.
Shoppers in New Delhi had been packing markets across the country, prompting concerns among health experts who warned that crowded celebrations could cause a virus resurgence that could batter India's healthcare system. But ahead of Diwali, messages encouraging people to stay home during the festival whizzed around the city via WhatsApp. "This Diwali is more about survival. It is about being grateful that we are still able to breathe and be alive for this day. Please stay home," read one such message.
With inputs from PTI and Associated Press
First Published: November 14, 2020, 17:10 IST
Next Story