Delhi's Loss is UP, Haryana's Gain: Commuters Stuck as Petrol Pumps Shut, Cab Fares Surge
In comparison to Delhi, fuel rates in bordering states like Uttar Pradesh and Haryana are cheaper, he said.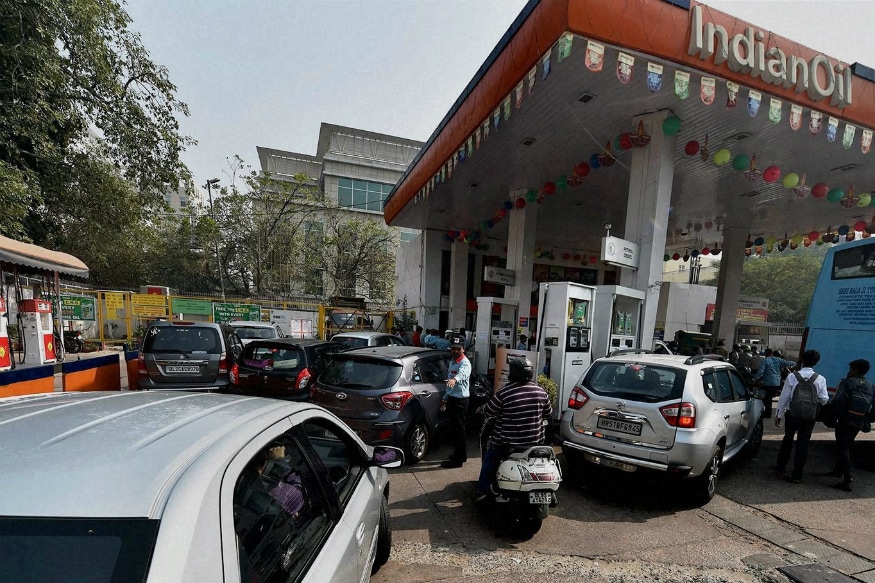 Representative image
New Delhi: The double strike by petrol pump owners and auto rickshaw drivers in Delhi on Monday meant that commuters had a harrowing time on road commute in the city.
Private vehicle owners are detouring to Uttar Pradesh (UP) and Haryana to refill their vehicle tanks. Those opting for cabs are having to pay surge charges with a high wait-time, given the heavy demand. Additionally, cabs are also mostly accepting UP and Haryana-bound rides so they can refill on their way.
Most commuters are left with the option of taking a metro thus exponentially increasing the footfalls on metro stations. A back of the envelope estimation by Delhi Metro Rail Corp (DMRC) employee stationed in Rajeev Chowk said that the number of commuters is expected to increase by three times on Monday.
"Monday morning office meet has gone for a toss. Three cabs have cancelled, metro station is brimming over and autos are nowhere to be found," said Aritra Das, a resident of CR Park, in New Delhi.
While Delhi is facing the flak, petrol pump owners in Uttar Pradesh and Haryana, especially on the border areas of Delhi are having a good time. "Today morning onwards we have not been free. Vehicles are coming over from Delhi to refill their tanks. Revenues will shot up for sure," said Vikas Goyal, manager of a petrol pump in Noida Sector 62.
There are about 400 petrol pumps in Delhi which also have CNG stations and all of them will remain closed for nearly 24 hours in protest from 6 am onwards on October 22 and remain closed till 5 am on October 23.
Delhi Petrol Dealers Association (DPDA) president Nischal Singhania said, "The central government had slashed the rate of petrol and diesel by Rs 2.50 per litre each on September 4. This was followed by reduction of VAT (value added tax) by various states, including neighbouring Haryana and Uttar Pradesh, bringing relief to their residents.
"But, the Delhi government refused to reduce VAT on fuel both petrol and diesel resulting in fuel becoming more expensive than bordering Haryana and Uttar Pradesh."
In comparison to Delhi, fuel rates in bordering states like Uttar Pradesh and Haryana are cheaper, he said.
Because of high price in Delhi and low prices in states like UP and Haryana, customers are deserting the petrol pumps in Delhi leading to huge drop in sales, Singhania said.
Due to difference in prices, there has been a sharp drop of 50-60 percent in sale of diesel in Delhi and 25 percent in petrol in this quarter, the DPDA president said, adding that on Monday, all the 400 pumps of Delhi will neither purchase nor sell petrol, diesel and CNG.
He said the festival season is peak season for the sale of fuel due to social travelling by residents. "DPDA urges the Delhi government to immediately reduce VAT on petrol and diesel and encourage commuters to buy euro VI fuel and save the livelihood of employees and owners of petrol pumps of Delhi and also save state's revenue loss," the statement said.
The Sanyukt Sangharsh Samiti, one of the major auto-taxi unions in Delhi also called for a one-day strike to protest against the Delhi government's policies on cab aggregators Uber and Ola, and the Centre's rule on speed governors.
Meanwhile, the political circles also warmed up as a result of the strike.
In two tweets, Arvind Kejriwal came down heavily on the BJP over the petrol pump strike. In a tweet in Hindi, he said that the BJP threatened income tax raids on those who refused to participate in the strikes.
"Oil companies have also threatened strict action against those not participating in the strike," Arvind Kejriwal said in a tweet.
BJP, on the other hand, also took to Twitter and said, "It is regrettable that due to the obstinate attitude of Kejriwal Government, today the people of Delhi, have to purchase Petrol-Diesel from the neighbouring states as Petrol-Diesel is more costly in Delhi. Mr. Kejriwal is fully responsible for the mess Delhi is facing today."
| Edited by: Ashutosh Tripathi
Read full article
Countdown To
Elections Results
To Assembly Elections 2018 Results