'Despite Assuring Not to Kill My Son, They Shot Him': Families of 3 Martyred Cops Recall Friday Horror
Mother and wife of martyred police officer Firdous Ahmad Kuchay say that they "touched militants' feet" and "begged to leave him" but the gunmen assured they will not harm him. However, later in the say, the three special police officers lay dead near a stream in Shopian with blood oozing from their bullet wounds.
Villagers gathered to have the last glimpses of the martyred constable Nisar Ahmad. (Aakash Hassan/News18)
Shopian: Before the dawn had cracked, Firdous Ahmad Kuchay and his wife Rukhsana Akhter, woke up for the Fajr—early morning prayers. Both offered Namaz in their room, side by side. The birds had begun chirping but the couple went for a nap again, as usual.
An hour or so later, there were clamours.
"At around quarter to six, gunmen barged inside our house and asked for my husband, calling his name," says Rukhsana.
They had tried to take his younger brother but Firdous intervened and revealed his identity.
"Three to four gunmen were inside and around the same number of men with guns were surrounding our house," says Rukhsana.
Kuchay was a Jammu and Kashmir police constable posted at Kakpora Railway station in nearby Pulwama district, around 20 miles away. He was taken away by the militants. Family resisted but they didn't listen.
Mother and wife of Kuchay say that they "touched their feet" and "begged to leave him" but the gunmen assured they will not harm him.
The dawn in the twin villages of Kapren and Batgund, 11 kilometers from Shopian and over 60 kilometers from Srinagar, was not going to be same.
At a stone's throw from Kuchay's house, around same time, gunmen barged into the house of Kulwant Singh.
Singh, 38, a police constable posted in nearby Kulgam district was sleeping in his room. At his house was his elderly mother, Pushpa Devi and two children — a 13-year-old son and a 10-year-old daughter.
Devi also gave the same description of the gunmen. "I was preparing breakfast when the gunmen barged into the kitchen. Some of them were wearing army fatigues," she recalls. "I pleaded them not to take my son, assuring them he will resign from the job today afternoon."
"They were eight to ten in number. Three were wearing facemasks. They spoke in Kashmiri and directed me to stay inside with an assurance that he will not be killed."
Kuldeep Singh was also taken along.
Singh's family is a Rajput and the only non-Muslims in the village. Their ancestors had migrated to Kashmir before India-Pakistan partition.
Five hundred meters away, on a similar pattern, Nisar Ahmad, also a police constable in the Jammu and Kashmir Police, was kidnapped.
Meters away in another house of a policeman, gunmen had abducted his brother.
By the time the sky was lit in the golden light—pricing through the dense apple orchards, ripe with the fruits—the melody of birds was taken over by the wails.
The twin villages had gathered and begun searching for the four people. After three hours gunshots were heard.
"We ran towards the area from where gunshots came in. Near a stream all the three were lying dead, blood oozing from their bullet wounds," said Vikar Ahmad, a villager.
The brother of the policeman was set free minutes before the killing.
The Shopian district of south Kashmir is a militant hotbed but in these twin villages, locals say, no one is an active militant.
Police said that Hizbul Mujahideen militants were behind these killings.
Devastated Families
Constable Nisar Ahmad, 45, was working in the police department from over two decades. He was posted in the Reasi area of Jammu for five years and was transferred to Srinagar in June this year. Since then he would visit home regularly, almost every day.
Nisar was the only son of his parents and the breadwinner. He is survived by two children, a son and a daughter. His son Tabin (14) and daughter Insha (19) are inconsolable.
"My father had never done harm to anyone why was he killed," Insha utters in wails. Her head is draped by plural pattern scarf. She is surrounded by her friends and relatives. They are trying to pacify her but her cries reverberate—Papa—and then she, and everyone around is moist.
Insha's mother Rukhsana recalls the moment Nisar was kidnapped.
"When I tried to resist one of the gunmen, who looked their senior, he said: I swear by the gun we will not kill him," said Rukhsana, who is in mid-forties.
Around five hundred meters away is the house of Firdous Ahmad Kuchay.
Hundreds of people have poured in to have the last glimpses of the slain cop.
Firdous was also the lone breadwinner of his family and is survived by an old mother, wife and two children—six-year-old daughter and a year-old son. He was working in the police for over six years, first as a Special Police Officer (SPO) and then was regularised three years ago.
His mother, Fata Begum, keeps wailing and asking: Why was he killed. "He was posted at a railway station. How was he harming anyone," she says amid sobs, as other women try to console her.
Just fifty meters away is the house of Kulwant Singh. He is also survived by two children, wife and elderly parents.
The body of Kuldeep is lying on a charpoy. His thirteen-year-old son, Yudveer Singh, is sitting on its edge and occasionally moves his hand over the face of his lifeless father. It has been four hours and he is sitting there.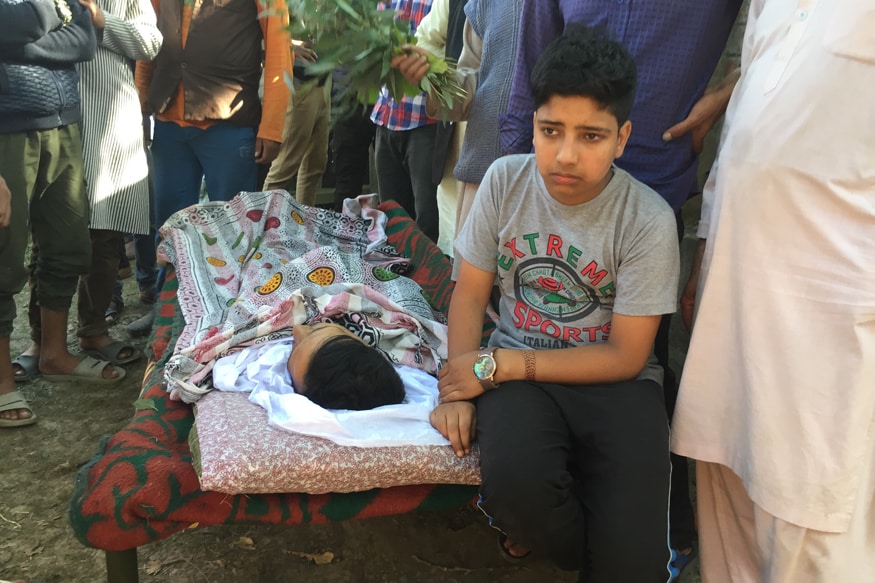 13-year-old son of martyred Kuldeep Singh occasionally moving his hand over the face of his father. Picture: Aakash Hassan/News18
The family is waiting for the wife, brother and father of Kulwant. They had gone to Jammu to see an ailing relative.
"I was sleeping,"— says Yudveer— "when I heard my grandmother pleading before someone. As I came out of the room, my grandmother was crying and with folded hands. My father was in the grip of men who had guns slinging."
Kulwant's mother, Pushpa Devi (70) said that looking at the situation around, he was planning to retire from the service.
"My son had recently opened a cosmetic shop in the village and he was going to expand it and work there," says Pushpa Devi.
In the 1990's, when militancy was at its peak and most of the Pandits and other Rajput families left the valley, Pushpa Devi's family took the hard decision to stay.
"It was a tough decision for us. We stayed here after our neighbours and other villagers' empathetic behavior. They promised us that we will not be harmed," she says. "Our villagers stood by their promise and we never faced any problem. Not even from the militants or army."
"But we never thought this would happen. We are devastated," she says.
Worsening Conflict
Earlier militants had abducted relatives of eleven policemen from various places in south Kashmir and later released them. The militants released the videos and termed these kidnapping a revenge for the harassment and detonation of their families.
This year over twenty policemen has been killed by militants, mostly in south Kashmir. Also, the local militant recruitment has surged.
The battle between the Jammu and Kashmir police is becoming uglier.
Following the increased attacks on the policemen and their families, a number of officers have allegedly resigned. Government and police department deny that local policemen have resigned. However, dozens of police personnel have announced their resignation.
After the Friday's attack, a number of videos started pouring in which police personnel stated that they have resigned from the police force.
Nawaz Ahmad Lone, SPO from Tengam village of Kulgam posted a video on social media, stating that he has resigned from the police force.
"I have no association with the police from today," he said in the video. Nawaz confirmed his resignation to News18.
"After the news of the killing of three police personnel broke, my mother was perturbed," he told News18. "Given the situation, my family doesn't want me to serve in the police force."
A special police officer (SPO) is the lowest rank police cop in Jammu and Kashmir. They are engaged at district levels and later regularised as per their performance. Earlier, an SPO would get a monthly salary of Rs 3,000. Now that has been increased to Rs 5,500.
There are over thirty-thousand SPOs in the Jammu and Kashmir police force.
| Edited by: Sumedha Kirti
Read full article