Did Juhi Parmar deserve to win 'Bigg Boss 5'?
Thanks to her bunch of friends, Juhi Parmar managed to stay away from nominations for very long.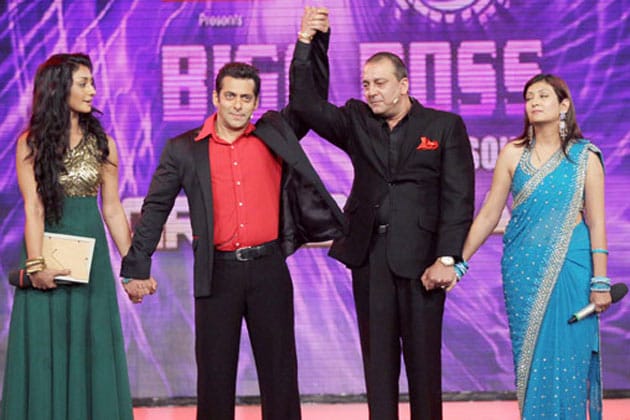 Thanks to her bunch of friends, Juhi Parmar managed to stay away from nominations for very long.
New Delhi: TV actress Juhi Parmar was announced the Bigg Boss 5 winner amidst a glittery ceremony held in Mumbai lately. Initially, many thought that Juhi will find it tough to adjust in the house and will be soon evicted. Mahek Chahal, Siddharth Bhardwaj, Akashdeep Saigal and Amar Upadhyay were the other finalists.
The final verdict didn't come out as a shocking surprise. Till now, none of the wild card entrants have ever won the show. Out of the five finalists, Juhi was the only contestant who was in the house from day one.
Amar who was really confident about winning the show, got the least amount of votes in the final battle. Amar's chances of winning the show almost died the day co-host Salman Khan called him 'spineless'. Later, Shonali, Juhi and Sunny accused him of making girls uncomfortable by physical proximity. His 'Mihir Virani' reputation was trashed by the blame game.
The official 'Dolly Bindra' of season 5, Akashdeep Saigal was the next one to be evicted. Though the controversies and arguments helped him survive on the show, but the audience didn't want to see him as the winner. After finishing her dance performance at the grand finale, Malaika Arora said that out of the five finalists, she dislikes Sky. The eliminated lot of contestants too criticized him for his behaviour during the show.
As expected, Sky and Amar jumped with joy when Siddharth was evicted next. The gesture clearly shows their immaturity and lack of sporting spirit. After all it's just a game.
Thanks to her bunch of friends, Juhi Parmar managed to stay away from nominations for very long. While people like Mahek and Pooja Misrra were nominated almost every week, Juhi was just nominated thrice on the show. Though on rare cases but Juhi's dominating personality came out in the Bigg Boss house. Remember, once she provoked Sky so much against Bigg Boss that he was almost ready to pack his bags and leave the show. At innumerable times, Juhi blamed Bigg Boss of being partial.
Juhi tried to play peacemaker in the house in the initial days and stayed away from controversies. It was only towards the end of the show that she emerged as a smart player.
Bigg Boss was no cakewalk for Siddharth. The youngest Bigg Boss 5 contender often fought with others when they called him immature. His bonding with Sky didn't last very long and Sky made all possible efforts to trouble him after the fall out. All his friends right from Shonali, Mahek to Andrew Symonds made an exit from the show one after the other. Though Sid had some really crass fights in the Bigg Boss house, but he tried to change after a few warnings from hosts Salman Khan and Sanjay Dutt. Probably his quality to stand for what he believed in made him popular.
Shonali Nagrani and Laxmi Narayan lost it out to Mahek Chahal in the wild card entry race. Mahek stayed away from the group politics in the house and turned out to be a total entertainer.
Many people believe that Mahek and Sid were more deserving to win Bigg Boss 5. Social networking sites have been flooded with comments criticizing Juhi Parmar. While Amar and Juhi were ridding high on their daily soaps glory, Mahek and Sid were the favorites among youngsters.
Juhi has become the second female contestant to win Bigg Boss. Last year, Shweta Tiwari better known as Prerna of Kasautii Zindagii Kay, won the show. It's a clear win of small screen 'Bahu Brigade' over the young stars.
When compared to Juhi Parmar, Mahek and Sid faced more difficulties in the house. However, at the end it is a number game and Juhi 'Kumkum' Parmar proved her mettle as the 'telly bahu'.
Calling it the beginning of her second small screen innings, Juhi is extremely elated with her success. Let's wait and watch whether this winning streak of 'telly bahus' will continue in next season as well.
Get the best of News18 delivered to your inbox - subscribe to News18 Daybreak. Follow News18.com on Twitter, Instagram, Facebook, Telegram, TikTok and on YouTube, and stay in the know with what's happening in the world around you – in real time.
Read full article