Did Norway's Ex-PM Visit Kashmir, PoK to Clear Decks for Manmohan-Musharraf Formula With Govt's Blessing?
Former R&AW chief and Kashmir advisor to former Prime Minister Atal Behari Vajpayee, AS Dulat, said that the fact that Bondevik could travel all the way to Srinagar and meet Geelani meant that New Delhi was also on board.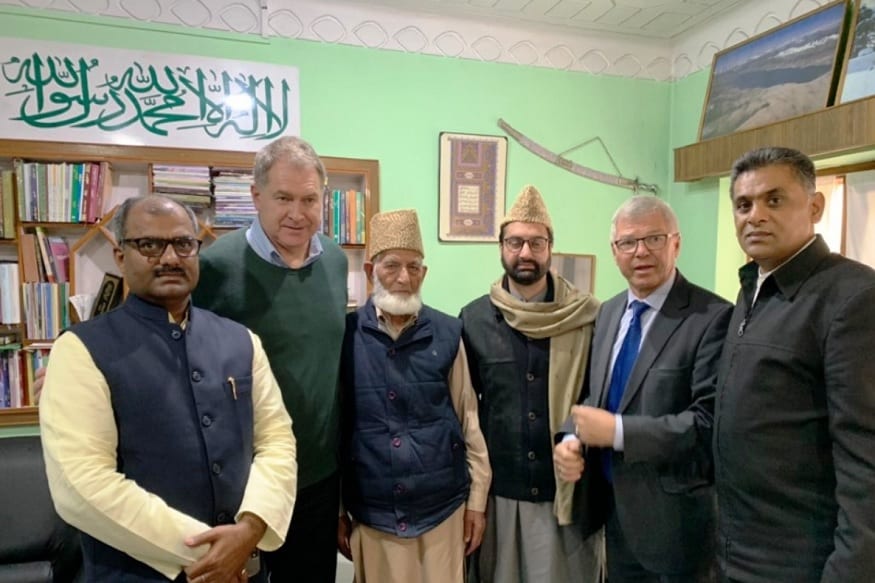 Ex-Norway PM Kjell Magne Bondevik (2nd from right) at the residence of Syed Ali Geelani.
New Delhi: The meeting of former Norwegian Prime Minister Kjell Magne Bondevik with Kashmiri separatists in Srinagar has drawn sharp reactions from former diplomats, security advisors and strategic thinkers, given India's declared policy on Kashmir of not allowing third-party mediation on the issue.
Of the experts whom News18 reached out to, some called the move - of bringing in an outsider apparently to mediate in the affairs of Kashmir - as "unfortunate" and a move "against India's national interest". A former diplomat even took a dig at Sri Sri Ravi Shankar, whose Art of Living (AoL) organised Bondevik's visit, saying that Shankar seemed to be under the illusion of being "a great peacemaker."
Bondevik, who heads the Oslo Center for Peace and Human Rights, visited Srinagar on November 25, where he met senior Hurriyat leaders, members of chamber of commerce and of the bar association. A week later he visited Pakistan occupied Kashmir (PoK) and met the local leaders there.
The move drew responses from several sections of the society including former Chief Minister of J&K, Omar Abdullah, who a day after the meeting tweeted 'What are the Norwegians up to in Kashmir? Would either @SushmaSwaraj ji or Doval ji care to put the visit of the former Norwegian PM to both sides of the divided state in the correct context or do we have to rely on rumours & conjecture?'
Reacting to the developments, seasoned diplomat and former Indian High Commissioner to Pakistan, G Parthasarathy told News18, "We have a bigger policy to deal with Pakistan. Our relations will be settled bilaterally. There is an agreement which we have to always observe—the Shimla agreement."
He added that there was a need to look "seriously" on the issue of Bondevik meeting Hurriyat leaders, and the manner in which this development came about. This was not the right way to negotiate. Bondevik at the time had said, "There are channels of communications open with Pakistan and backchannel talks that are never made public".
Kanwal Sibal, former foreign secretary termed the meeting between Bondevik and separatists as "unfortunate".
"It is very unfortunate that the sense was not shown by such people by interfering in very delicate foreign policy issues which goes against India's national interest," Sibal said.
Taking a dig at Sri Sri Ravi Shankar, Sibal said, "He has illusion about being a great peacemaker internationally."
Shankar had organised a peace meet in Srinagar earlier in March this year as well. The event ran into controversy after a section of the audience reportedly left the venue before the spiritual leader could finish his address. Some local dailies quoted several attendees complaining they had been "tricked" into attending with promised gifts of cricket kits, sewing machines and bank loan waivers. AOL representatives had denied the reports.
On the question that how it could have been possible for Bondevik to travel to Kashmir without permission of the government, Sibal said, foreign diplomats visit Kashmir and there is no bar.
"This was not advisable and that this was touching upon very core national security sensitivities of India reliable to complications in the bilateral relationship," he said.
Sibal says that the Norwegian ambassador to India should not have allowed this to happen.
"I think this is part of loose approach against the separatists. This is not a happy development at all because it creates confusion about our foreign policy," Sibal said.
Sources say there might be more meetings between Hurriyat and representatives from AoL.
"There are general elections ahead. We will have to be a bit patient. Developments can take place only after the new government is formed," said a person involved with AoL's events in Kashmir.
However contrary opinions, hailing the initiative, were also expressed. Among those who welcomed the move was former R&AW chief and Kashmir advisor to former Prime Minister Atal Behari Vajpayee, AS Dulat.
Dulat said that the fact that Bondevik could travel all the way to Srinagar and meet Geelani meant that New Delhi was also on board.
He said that "there is no option but to talk". He expressed optimism about Bondevik's meeting saying "Scandinavians are masters" in settling disputes.
"They are masters of negotiations. They have always remained neutral and are very good at talking," Dulat said referring to Irish settlement and other negotiations. "This is not a big development but certainly a positive one. Now we will have to see Mr Bondevik's follow-up on this."
According to some sources who were privy to the half-hour long discussion that happened between Geelani and Bondevik at the former's residence, the "follow-up" on the meeting is likely to be with the "four-point" formula in the agenda.
Also known as the Musharraf formula or the Manmohan-Musharraf formula, the four-point formula is basically an idea of demilitarization, maximum autonomy, making border irrelevant, and joint management of the region.
It was the basis on this formula that the former Indian Prime Minister Manmohan Singh had said, according to a leaked diplomatic cable, that the two sides had come quite close to resolving the Kashmir dispute. A final draft in keeping with the four-point template was reportedly being worked upon by the "back-channels".
Most leaders in Kashmir, when the four-point formula was being touted as the key to resolving Kashmir dispute, including Abdullah and Mirwaiz, had shown willingness to work on it. But Geelani had been its most severe critic.
When asked about the reports that talks may be headed in the direction of the four-point formula, Dulat said, "It is the best point to start at." "All the people including the separatists accept it. You might end at two points or two-and-a-half but it is the best point to start talks."
(The author is a Kashmir-based freelance freelance writer)
Read full article
Countdown To
Elections Results
To Assembly Elections 2018 Results