Does Varun Gandhi's Tribute to Indira Reflect His Growing Proximity to Congress?
Rahul tweeted early morning, "I remember you Dadi with so much love and happiness. You are my mentor and guide. You give me strength."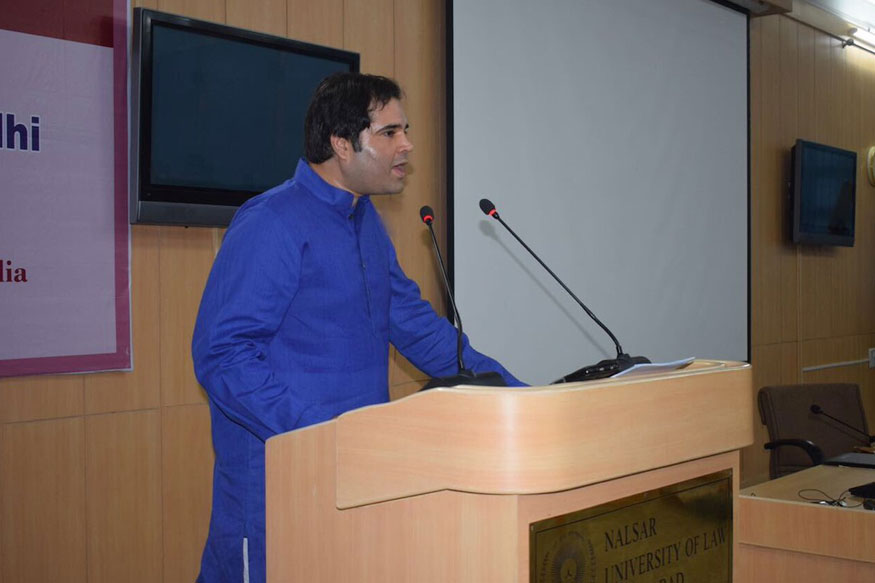 BJP MP Varun Gandhi speaking on the issue of 'systemic political reform in India' at NALSAR University of Law in Hyderabad. (Image: Varun Gandhi/Twitter)
Indira Gandhi's 100th anniversary has thrown up interesting changing political equations. It also reiterated the fact that blood is thicker than water.
Rahul tweeted early morning, "I remember you Dadi with so much love and happiness. You are my mentor and guide. You give me strength."
Cousin Varun Gandhi tweeted: "Courage is the most important of all the virtues because without courage, you cant practice any other virtue consistently. To a lady that was a mother to this nation. Miss you Dadi... I know you always watch over us."
Note the similarity in the wording of tweets where both talk about dadi being their pillar of strength. It's been a while since Varun tweeted about his grandmother, and considering his party has underplayed the importance and contribution of the former prime minister, Varun's tweet is perhaps an indication of his growing distance from the BJP and proximity to the Congress.
Interesting also is the similarity in the speech of Sonia Gandhi and Varun's tweet. Sonia said, "She faced them all with courage, fortified by her dedication to making India strong, united and prosperous."
News18 had, earlier, reported that many within the Congress believe that a Rahul-Priyanka-Varun troika could work in 2019. Varun's liberal writings, often questioning his own government's policies and raising social issues, are signs of his growing impatience with the BJP. Sources close to him say that "Varun doesn't suite the BJP's style of politics. He has the Gandhi streak in him and he is rebellious by nature".
A sign of the rebellion was seen during the UP polls when Varun refused to campaign for his party as he felt sidelined. Sources say Varun's interaction with the BJP is at a bare minimum and many within the Congress are in touch with him.
A sense in the Congress is that the articulate and politically savvy Varun would be an asset to the Congress, apart from being a blow to the BJP if one of their sitting MPs shifts to congress. But then the worry also is that Varun may not be ready to play second fiddle to Rahul. After all, he, too, is a blue-blooded Nehru Gandhi.
Get the best of News18 delivered to your inbox - subscribe to News18 Daybreak. Follow News18.com on Twitter, Instagram, Facebook, Telegram, TikTok and on YouTube, and stay in the know with what's happening in the world around you – in real time.
| Edited by: Mirza Arif Beg
Read full article