GET Stock

Quotes


Donald Trump's Repeal of DACA Puts 20,000 Indian-Americans at Risk of Deportation
"Over 27,000 Asian Americans, including 5,500 Indians and Pakistanis, have already received DACA. An additional estimated 17,000 individuals from India and 6,000 Pakistan respectively are eligible for DACA," the South Asian Americans Leading Together (SAALT) said in a statement.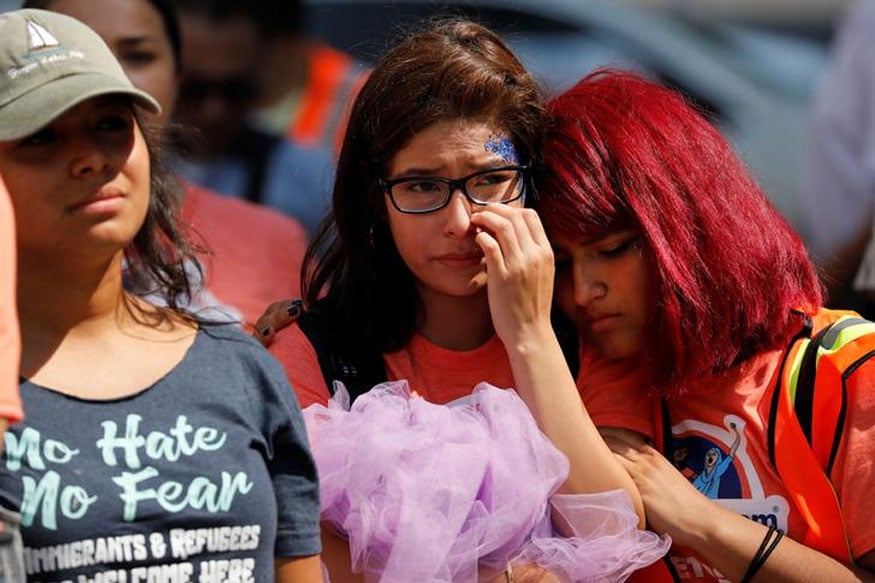 Protestors gather outside the Trump Hotel to protest President Donald Trump's plan to repeal DACA in Washington, U.S., September 5, 2017. REUTERS/Aaron P. Bernstein
New Delhi:
US President Donald Trump's latest move in rolling back pro-immigration policy in America was rescinding the Deferred Action for Childhood Arrivals (DACA). This puts more than 20,000 Indian-Americans at risk of immediate deportation, placing India in the top ten countries for DACA eligibility.​
"Over 27,000 Asian Americans, including 5,500 Indians and Pakistanis, have already received DACA. An additional estimated 17,000 individuals from India and 6,000 Pakistan respectively are eligible for DACA," the South Asian Americans Leading Together (SAALT) said in a statement.
US Attorney General Jeff Sessions announced the destructive change, citing DACA's executive overreach as the main source of critique, reflecting this administration's amnesia and its unconstitutional actions to date, not the least of which include the "Muslim Ban."
SAALT said that the President's decision to terminate DACA puts "800,000 individuals at risk of deportation from the only country they've ever called home".
But just what is DACA? News18 brings you this explainer, put together from the digital news site Vox.
DACA was an attempt to guarantee protection from deportation for some "low-priority" immigrants. DACA was designed to help a generation of immigrants known as "DREAMers," after the DREAM Act, a recurring proposal to allow unauthorised immigrants who grew up in the US to gain legal status and eventually apply for citizenship.
The DREAM Act has been bouncing around Congress since 2001 (many of the immigrants who would have been helped by it then are too old even to be eligible for DACA today), but the most serious attempt to pass it came in December 2010, when it passed the House but failed to get the 60 votes needed in the Senate.
At the time, President Obama claimed that the immigrants who would be eligible for legalisation under the DREAM Act weren't being deported anyway, since his administration was targeting "high-priority" immigrants (like those with criminal records) rather than "low-priority" immigrants who'd lived quietly in the US for years.
But federal immigration agents were still deporting "low-priority" immigrants, including DREAMers — Obama's words were proven empty by his administration's deeds. So in summer 2012, rather than relying on Immigration and Customs Enforcement agents to passively protect immigrants by declining to deport them, the administration decided to allow DREAMers to apply proactively for protection from deportation themselves.
DACA used a pretty standard executive power in an untraditional way
DACA wasn't a legalisation program — technically speaking, immigrants who are "DACAmented" are lawfully present in the US, but don't have legal status. It's an important policy distinction. Having DACA doesn't give immigrants any path to becoming legal permanent residents or citizens.
Still, being lawfully present means that they're able to get drivers' licences even in states that don't usually allow unauthorized immigrants to drive legally.
But it's also a reflection of the line between the powers the executive branch has on immigration and the powers reserved for Congress.
The executive branch can't legalise anybody. But it's fairly for presidents to allow certain groups of immigrants to apply for temporary relief and grant those requests on a case-by-case basis. (In 2005, for example, the George W Bush administration allowed foreign students affected by Hurricane Katrina to apply for deferred action; in 2009, the Obama administration granted deferred action to widows and widowers of US citizens and their children.)
How DACA became controversial
In November 2014, President Obama announced he was building on DACA with new executive actions to protect groups of immigrants. He proposed loosening DACA's age restrictions, so that people who'd arrived in the US as older teenagers or who had been too old to qualify for DACA in 2012 could apply for protection. And he announced a similar, but much larger, program called Deferred Action for Parents of Americans — which would give the same protections as DACA to immigrants whose children were US citizens or permanent residents.
The new executive actions would expand the pool of unauthorised immigrants eligible for protection to 4.5 million — nearly half of the unauthorised population of the US. And Republicans were not pleased. A group of Republican state officials, led by the government of Texas, proceeded to sue to stop the expansion of DACA and the new DAPA program from going into effect — and succeeded. (The Supreme Court ultimately deadlocked on the issue in 2016, allowing the Fifth Circuit Court of Appeals' decision keeping the executive actions on hold to stand.)
Initially, the Republicans suing to stop the new executive actions were clear that they weren't trying to topple the existing DACA program. But over the course of the suit, it became hard to tell where criticisms of DAPA ended and criticisms of DACA began. Critics alleged that despite the Obama administration's claims, DACA wasn't really a "case-by-case" program, because anyone who met the stated criteria was getting approved. (Immigration lawyers have presented evidence that this wasn't true, but the Obama administration never really denied the claim.) That made it a "categorical" grant of relief, and therefore a violation of executive authority.
Meanwhile, the Republican Party had nominated a presidential candidate whose signature issue during the primary had been a hard line on immigration — and who promised, routinely, to reverse all of Obama's "unconstitutional executive orders" in his first 100 days in office. To immigration hawks, this was a clear reference to DACA. There was every reason, when Trump was elected, to believe that its demise was imminent.
Also Watch
| Edited by: Huma Tabassum
Read full article