Don't Politicise His Holiness The Dalai Lama's Visit, Says Kiren Rijiju
Seen here is Minister of state for HOme Kiren Rijiju welcoming His Holiness the Dalai Lama.
We in the state of Arunachal have grown up on stories of his holiness's 1959 trek to India from Tibet.
New Delhi: We in the state of Arunachal have grown up on stories of his holiness's 1959 trek to India from Tibet. It is part of the folklore. Every grown up person told us stories from back then, but I never really believed that I would get a chance to see him in flesh and blood till 1983. In 1983 His Holiness The Dalai Lama visited Arunachal Pradesh for the first time after 1959. I remember accompanying my father and rest of the family to get his darshan. I was 14 years old then, we had travelled from Bomdila – my home town - to neighbouring Dirang where he was preaching.
His aura, his mere presence left a mark. It was like seeing a living God. There was no one-to-one interaction, yet the feeling of seeing him is something which cannot be described in words.
Then in 1996 I travelled back from Delhi, where I was studying, to attend his second visit. Even at that point the meeting with His Holiness was not one-to-one.
My first direct interaction with him had to wait till I became an MP. I lead a parliamentary delegation to Edinburgh for the World Parliamentarian Conference on Tibet in 2005.
In 2007-2008 I again lead an MP delegation to Dharamshala and then in 2007 I was also part of his meeting with Indian parliamentarians on the occasion of his birthday. And then last year, I got my most valuable possession till date from His Holiness. I had lost both my brothers in a span of three months and His Holiness gave me this note which I treasure more than anything else.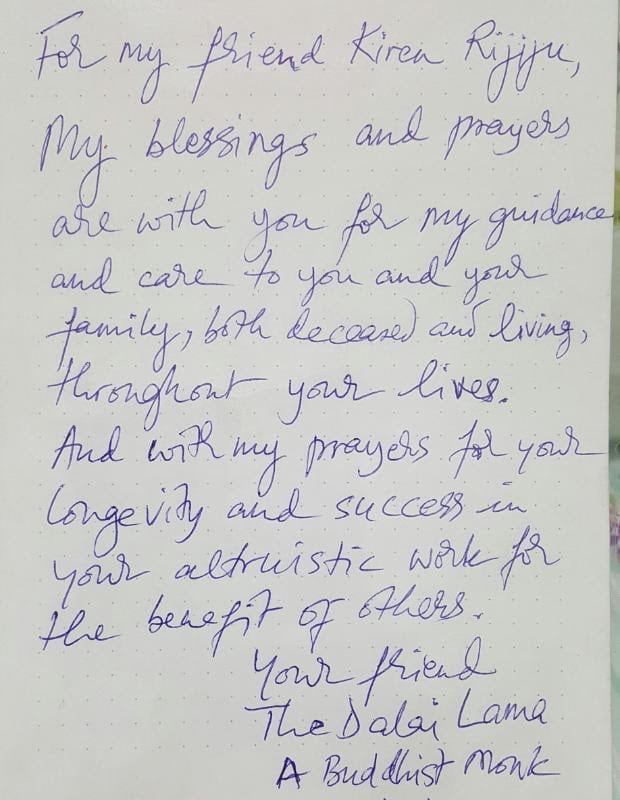 For a devotee there is no bigger blessing than to get something personal from His Holiness.
I am going to Arunachal to welcome him, not because I am a Minister of the Government of India but because I am an Arunachali. It is my duty as a son of that state. If I don't go, people will be upset with me for not doing what is expected of me. I am aware that China has objected to His Holiness' visit but this visit should be seen only as a religious visit and nothing else.
His Holiness is the spiritual and religious head of all Buddhists. The eagerness to see him in person is so much in Arunachal that state government from time to time has been requesting him to grant an audience to people of Arunachal. He has found the time only now. That the 6th Dalai Lama was from Tawang makes His Holiness' visit that much more significant. He lived in Tawang Monastery after his escape from Tibet. The place holds a special place in his heart. And he is very special to the people of Arunachal. His Holiness is ageing now. For most people this might be the last chance to see him, to seek his blessings, to soak in his teachings. Why should we deny them that opportunity?
Arunachal is an integral part of India; it is not disputed as some people are calling it. Yes, some border demarcation related issues regarding Mc Mohan line remains but the state is as Indian as UP, Bihar or Bengal. How can government stop movement of a religious leader in an Indian state? Dalai Lama's visit is always religious. China is trying to project him as a political person. They call him an extremist but for us he is our religious leader.
In 2009 also when His Holiness visited Arunachal Pradesh, China raised a lot of issues but I had said back then also that this visit is totally religious and no political angle should be given to this. I was not part of the government in 2009, I was not even a sitting MP but my position remains the same. Do not politicise this visit. You have to see the crowd for yourself to realise how much affection and respect people have for His Holiness. Because of bad weather his schedule has been altered. Now, he will take the road to travel from Bomdila to Dirang to Itanagar.
People would throng the road; his carcade may have to stop. He is scheduled to consecrate my village Gompa in Nafra. But even that may not happen if there is paucity of time. The point is Dalai Lama is visiting Arunachal because of the love and affection of the people. People for whom he is God. Treat it like a religious visit and do not play politics over the emotions of Arunachalis is my request.
(As told to CNN-News18's Arunima)
Next Story