Don't Rake Up Religion, Widow of Apple Manager Snubs Arvind Kejriwal Over 'He Was Hindu' Tweet
Tweeting a day after an Apple sales manager was shot dead by a UP constable, Delhi CM Arvind Kejriwal raked up his religion while taking a dig at the BJP.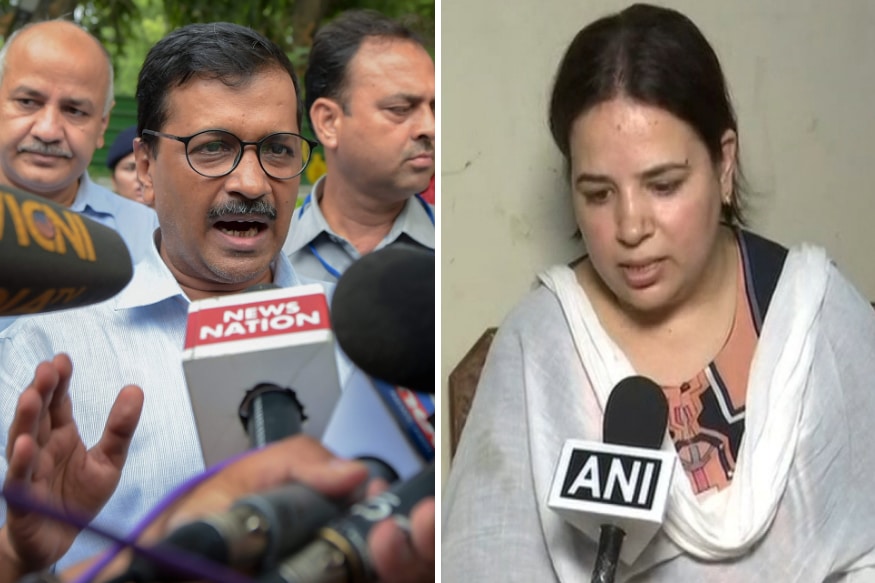 Delhi CM Arvind Kejriwal; Kalpana Tiwari, widow of Apple manager Vivek Tiwari
New Delhi: Delhi Chief Minister Arvind Kejriwal stirred a controversy on Sunday with his remarks on the murder of an Apple employee in Lucknow, inviting a scathing reply from the wife of the deceased.
Tweeting a day after Vivek Tiwari was shot dead by a constable of the UP Police, Kejriwal raked up the Apple sales manager religion while taking a dig at the BJP.
विवेक तिवारी तो हिंदू था? फिर उसको इन्होंने क्यों मारा? भाजपा के नेता पूरे देश में हिंदू लड़कियों का रेप करते घूमते हैं?अपनी आँखों से पर्दा हटाइए। भाजपा हिंदुओं की हितैषी नहीं है। सत्ता पाने के लिए अगर इन्हें सारे हिंदुओं का क़त्ल करना पड़े तो ये दो मिनट नहीं सोचेंगे https://t.co/A2LhxrVNpv

— Arvind Kejriwal (@ArvindKejriwal) September 30, 2018
In another tweet, the Aam Aadmi Party (AAP) chief said the BJP "does not protect the interests of Hindus".
No. Even though Vivek Tiwari was a Hindu. BJP does not protect the interests of Hindus. https://t.co/ecnhTK2cd8

— Arvind Kejriwal (@ArvindKejriwal) September 30, 2018
Hitting back at Kejriwal, Tiwari's widow Kalpana said the Delhi CM should not have posted the tweet. "He does not know what I am going through. No politics should be played over my husband's death. Please do not connect everything to faith and religion," she said.
Tiwari was shot dead in the wee hours of Saturday by a constable when he allegedly refused to stop his car Lucknow's posh Gomti Nagar neighbourhood. Two constables were arrested on the basis of an FIR lodged by the deceased's colleague, who was travelling with him.
Union Home Minister Rajnath Singh has asked Uttar Pradesh Chief Minister Yogi Adityanath to take effective action, while the opposition parties have demanded the CM's resignation. Hours after the 1:30 am shooting, Uttar Pradesh police chief OP Singh called it a criminal act and said the two constables will be dismissed from service.
The police have set up a special investigation team (SIT). In Gorakhpur, Adityanath said the guilty will not be spared and, if needed, the CBI will be asked to probe.
Senior Superintendent of Police Kalanidhi Naithani said the two policemen on patrol duty had asked Tiwari to stop the SUV, which had hit their motorcycle and injured them. Constable Prashant Chaudhary noticed "suspicious activity" and opened fire when the man allegedly tried to speed away. A bullet pierced the windscreen as the car rammed into a pillar, police said.
Tiwari's colleague Sana Khan told reporters that the constables came from the front on their motorcycle, and tried to force Tiwari to stop. "Sir did not stop the car and when we tried to move ahead, it hit the motorcycle, she said. But the constables had got down by then, she added, saying one of them then opened fire.
Tiwari is survived by his wife and two children.
| Edited by: Nitya Thirumalai
Read full article