Drama: All set to be released in September
Kannada film 'Drama' starring Yash and Radhika Pandit in the lead is directed by Yogaraj Bhat.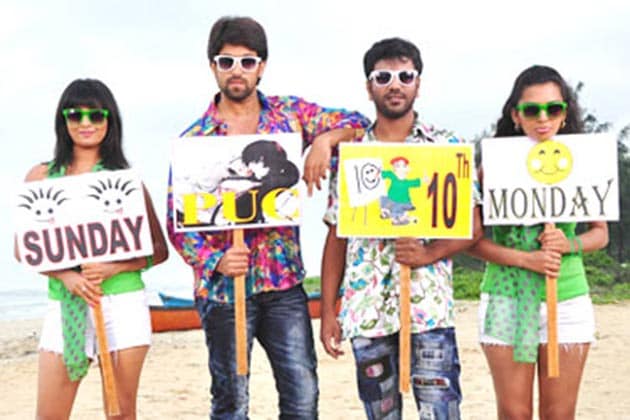 Kannada film 'Drama' starring Yash and Radhika Pandit in the lead is directed by Yogaraj Bhat.
The only one song left to be shot for Yogaraj Bhat film 'Drama' was shot in the late night settings starring Yash and Radhika Pandit by cameraman S Krishna. Yogaraj Bhat has finished the shooting for the film with this song.
'Chendutiya Pakkadalli thumba haththira Ninthu....' was shot in the peculiar colour set. At the Hong Kong bazaar, night time in Gandhinagar and Shivajinagar small lanes to get rugged feel was shot for this song. V Harikrishna is the music composer for 'Drama', the highly expected film of Jayanna Combines.
This is one of the important songs in 'Drama' sung by Sonu Nigam. Sonu had taken six hours to complete this song. He hopes that the film song will be top of the chart.
The youths of today are under the impression that they know everything but in reality they don't know much of the realities and truth of life. We are touching upon 'Bombe Shastra' - that may look superstitious. The truth is tapped finally from the character. "The role of Ambarish is my favorite" says Yogaraj Bhat.
Yash and Radhika Pandit are leading, there is Ambaish, Satish Ninasam, Malavika, Rajasekhar Naidu, Mysore Balanna, RGV, Sangeetha, Naveen, Hamsa Pratap, Kruthi Bettad, Bengaluru Nagesh, Chetan, Jaiker, Raaghu, Ashok, Shyam, Ranjan, Kumar Arase Gowda, Ravi Santhehakku in the supporting cast.
There are six assistant directors with Yogaraj Bhat for this 'Drama'. Veerendra, Mahesh, Raj Patthipati, Manjunath, Hanif and Rajasekhar Patil are assistant directors. For DOP S Krishna, Karunakar, Nataraj, Nilakanta Swami, Sandy, Harsha and Swamy are assistants.
Get the best of News18 delivered to your inbox - subscribe to News18 Daybreak. Follow News18.com on Twitter, Instagram, Facebook, Telegram, TikTok and on YouTube, and stay in the know with what's happening in the world around you – in real time.
Read full article