DU Admissions 2018: Guidance Counsellor Priyanka Ramesh On New Specialised Courses, Options For Students With Low Score And Ways To Deals With Stress
News 18.com spoke to Priyanka Ramesh, Guidance Counsellor and Assistant Professor at Trinity Institute of Professional Studies, IP University about the ever-expanding realm of education and how students can deal with the stress of shortlisting colleges if admissions are keeping them up at night.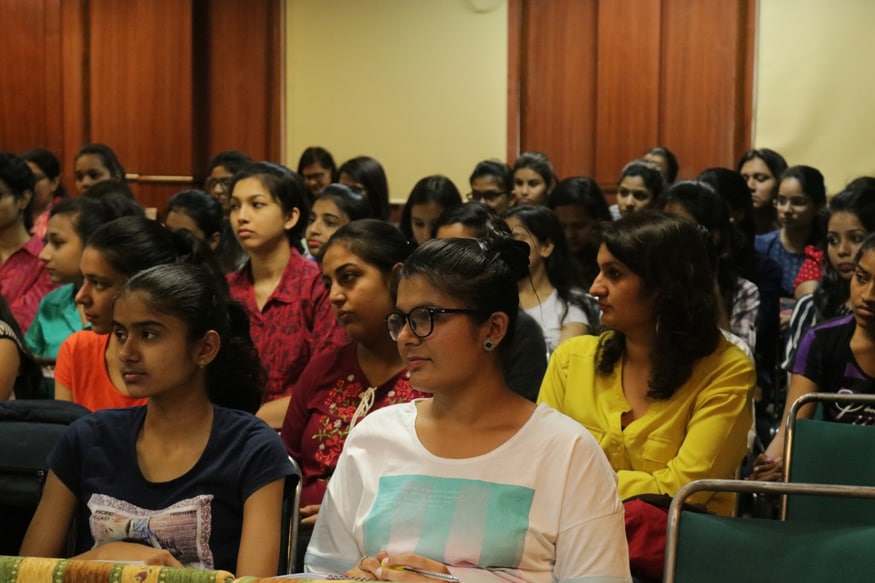 Representative image
The admission process across most colleges has kicked off and students have to make career-defining decisions regarding their course and college. With the daunting task of making the right choice, stress is inevitable. News 18.com spoke to Priyanka Ramesh, Guidance Counsellor and Assistant Professor at Trinity Institute of Professional Studies, IP University about the ever-expanding realm of education, how students can deal with the stress of shortlisting colleges.


IP and DU have begun their admission process, what advice would you give to students who haven't been able to make it to their desired colleges?

I would suggest that options are endless when it comes to education. Colleges have opened up a variety of courses for students. If they're not able to get their desired course, there are alternative options. If they have a diploma in their subjects, they could do a short term course and also apply to colleges in the meantime.



How accurate are the online tests that have been designed to help students select a stream in class XI and XII and decide their career path?

Those online tests are based on analysis and psychoanalytic tests. They are well designed at times, but cannot generate exactly what you need. I have met many students who don't know what their passion is or what they should pursue further. After completing class X, students usually choose a stream under parental pressure and when they take these online tests, they believe what the internet says. But you are much more than what an online test tells you. I wouldn't advice students to take such tests to determine what is good for them. Instead, talk to someone in person who can help you figure things out, who can talk about your history and background and so many other things, that's what counsellors are for. The results are ambiguous. Let me clarify, I'm not an anti-online test person. I do suggest people to take them as they help me understand them better because it also indicates their personality traits. However, you don't have to pay and find these answers online because it's the algorithm talking [in online tests]. Nobody is talking about what you exactly want.



What should be one's criteria while selecting/shortlisting colleges?

I'd recommend students to opt for traditional way of choosing colleges. You should know what you're supposed to do. You should know the career prospects, where you see yourself after graduation because that's the most important part. We'll go to a certain college because it has 100% placements'' is just a false perception among students. But that's not always true and is misinterpreted. The first thing that I tell students is that the college will provide a platform to make you industry-ready and impart necessary skills, but that does not translate into 100% placements. If you take a course, you have to make sure that this is something you can do, because doing it for 6 semesters is not easy. It's tough because that's going to be your identity from the time you take admission. If you can connect with it, then you choose a college. Other than that, there are other factors involved. You might choose a college based on the area or faculty. Sometimes students prefer DU over IP (or vice-versa) because the college is near their home. Many have come to me for counselling saying they want a college near their residence. So, you cannot create your own limitations for studying something. For instance, JIMS (Jagannath International Management School) in Vasant Kunj has excellent B.Com and BBA programmes, but you'll have to go there even if you stay in Greater Noida because that's your best option. So, sacrifice a little and don't be choosy about it.



In today's competitive scenario, options seem to be severely limited for students who score below 80%. What options do they have?

Depends on the subjects they are taking up. For example, students from the science stream- medical and engineering - have alternatives. They can opt for a diploma and give another try for their exams. If you know what you want, you can always give it an attempt next year. Parents don't support gap year sometimes as we don't follow the western concept wherein one can give exam and get into college a few years later on the basis of the same result. Since we can't apply in advance as we follow traditional concept, go for a private college or a diploma. Private institutes are expensive which is why I hardly suggest them to students. If students get less than 80%, they opt to change their stream in college. If a student gets low marks, it's either because they were not able to give their best or they weren't passionate about their subjects. Hence, due to lack of interest, they didn't perform well in their exams.



Tell us more about the new specialized courses that are emerging and their scope?

Specialized courses, I would say are new and it's good because we are a progressing country right now and education is an exploding business. And when I say business, I mean in monetary terms. For example, in Amity University, you have courses like Forest Management and M.A. in culture and there are so many things that one cannot imagine. And these courses are helping students to pursue what they want, of course at a high cost, no doubt. And if we talk about trends, I've seen a sudden boom for journalism and mass communication because anyone can pursue it. I had a student doing B.Sc Chemistry from DU and he decided to do Masters in Mass Communication as he wanted to do something in Television and he was attracted to the world of media. And there is a silly notion among students that there is nothing to study in Mass Communication, so we can take this course because its popularity is booming. But that's not the case. There are many practical things to learn in it. So, specialized courses come at a cost because when it's a government college there are very few seats and if its private you'll have to pay at least 2 lakh per semester. Universities like Sharda and Amity come at a cost and the recent courses such as interior designing and architecture-engineering have become relatively obsolete. Architecture and Civil Engineering are becoming popular choices. If one is not able to become an architect, they can opt for Interior Designing.



What is the role of parents in the career decision making process of their children?

It depends on the child. If parents know that the child has no ambition, then they are bound to be insecure about his/her future. I would say parents should have an involvement of about 50% in their children's career decisions. There's a different school of thought - if students know what they have to do, their parents just need to give monetary support, so they can pursue what they want to. For the rest, who don't know what to do, their parents need to be a little concerned about what they should do. Parents should be involved in a student's admission because emotionally and financially, the students depends on them. They are choosing the course knowing they have a backup and their parents are going to pay the fee. Parents should also be as prepared as students.



How do students deal with the stress of the admission season?

You rush because you think the seat will be taken up, but that never happens. If you have a rank in a government college, your seat is not going anywhere, you just have to be present during counselling. If you go for a private college, they manipulate you. And under undue tension, you book a seat. You don't have to be stressed. Just get the documents, attest them and decide which college you wish to go to, what career you wish to pursue in the future. You don't need to think about anything else, because all the procedures are set. There is no reason to be stressed, it's just that the industry portrays it in such a way that you're made to feel like without all these colleges, students have no career.



What are some peculiar issues faced by students?

I meet students from the LGBTQ community and they often ask me whether the conditions are right for them in colleges and I counsel them about what they should and shouldn't do because most places of higher education don't welcome them. I once counselled a transgender woman who wanted to pursue a course, but could not find a welcoming college so she ultimately opted for a private college.


Read full article
Countdown To
Elections Results
To Assembly Elections 2018 Results