DU Admissions 2018: All You Need To Know About Economics (Honours)
To clear the air around one of the most coveted courses in Delhi University, News 18.com spoke with Mr Ashwani Kumar, Assistant Professor of Economics at Shri Ram College of Commerce about the importance, prospects and scope of B.A. Economics (Hons.).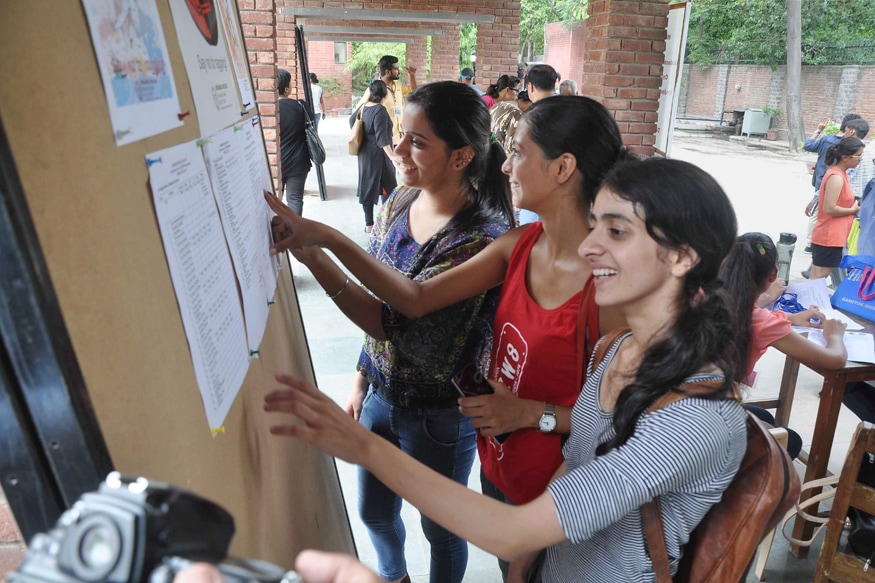 Image for representational purpose only.
Delhi University has released its first cut-off list for merit-based undergraduate courses in the 2018-19 academic year. And as expected, aspirants are making every effort to understand the significance of the most coveted courses in Delhi University. News18.com spoke to Ashwani Kumar, Assistant Professor of Economics at Shri Ram College of Commerce about the importance, prospects and scope of B.A. Economics (Hons.) Excerpts from his interview.
Can students opt for any particular stream in Class 12 to make it easier for them to take up Economics (Hons.) in college?
It's better for science students because an understanding of maths and physics makes it easier for them. About 5-6 years back, when colleges were allowed to set their own criteria, SRCC gave some advantage to science students. For instance, if the commerce cut-off was 98%, it was 96% for science students. In fact, this year St. Stephen's Economics (Hons.) cutoff is less for science students compared to commerce. But as of now, everything is decided by the university so we do not set our own criteria.
How important is Economics base in college? If one does not opt for Economics at the 10+2 level, how will it affect them in college?
I think initially it will be difficult for them, but if they have a strong foundation of Maths, they'll be able to cope with it. However, as per university guidelines, if you don't have Economics at the plus two level, then 2.5% will be deducted from your best of four if you want to go for Economics (Hons.). For example, if you have studied Economics as an additional subject with PCM, then no marks will be deducted but if you didn't, there will be a deduction of 2.5%. After deducting 2.5%, one cannot get admission in SRCC.
What are the prospects and scope of Economics (Hons.) after graduation?
About a quarter of students prefer to go for M.A. Economics. For masters, they prefer Delhi School of Economics (DSE), JNU, Gokhale Institute in Pune and others. A few prefer to do an MBA. The rest go for placement in fields like finance and consulting. In consultancy, there is a great demand for Economics graduates, in companies such as Bain and McKinsey.
Do you think doing Economics (Hons.) is best for students who want to do an MBA?
Economics will help them to develop logical thinking, so it will always be better for such students to go for courses like MBA. In that sense, they have some advantage over other courses. In MBA, there is a great deal of concentration on mathematics, mathematical economics, statistical tools and now because of big data analysis, you require mathematical skills, so there will be an added advantage for economics students.
Maths (Hons) is similar to Economics (Hons.) - truth or myth?
Not at all. Both are completely different. In Maths (Hons.), there's more of theory. In Economics (Hons.), maths is used, but only for the application of concepts. So, application is important here because in economics when you analyse things you take the help of statistics and maths.
If someone has an inclination towards Maths but not towards arts, should they go for Economics (Hons.)? What if it's the opposite i.e. they have an inclination towards humanities but not Maths?
If they studied economics at the 10+2 level, they obviously have a taste of economics, and mathematical ability and analytical skills will help them achieve greater things in economics. These skills complement economics well. But if a student is good at arts but not good at Maths they should not pursue economics because a great deal of mathematics will be required. They may choose some other optional papers but it will be difficult in masters as well. In Bachelors, it is possible to adjust without good mathematical skills but in Masters, it won't be possible to do so.
What are some preconceived notions that your students hold about the course, that are dispelled when they attend college?
In the first year, there will be less economics- just introductory microeconomics and introductory macroeconomics, so there are just two papers of economics. Sometimes students may think that there is no economics at all or that it is pretty easy in the first year. But that is just the foundation- in the second year, one studies real world economics- microeconomics, macroeconomics; and international economics in the third year.
Are B.Com(Hons.) and Economics (Hons.) comparable?
No, different skill set is required. For B.Com (Hons.), most of the students here at SRCC want to go into areas like finance, marketing, human resources etc. Some students here prefer B.Com (Hons.) to pursue additional courses like CA or CS. In Economics (Hons.), most students prefer higher studies or consultancy firms only. Here, requirement of analytical skills is different in comparison to B.Com subjects like accountancy. Economics students go for policy-making, strategy because of game-theory and maths, or analytics. Some students prefer civil services as they are involved in policy-making. The scope of B.Com (Hons.) is wider.
In your words, why should someone opt for Economics (Hons.)?
I think to pursue economics, mathematical ability and analytical skills are required, so if students have these skills, they should go for Economics (Hons.). Second, if you want to go for policy-making or some analytical jobs. Third, if you like economics, then go for it.
Any advice for the incoming batch?
Students should choose course over college. They should go for the course they like because if they don't, they may end up regretting their decision after 3 years. These 3 years are crucial in determining the direction your life takes.
Get the best of News18 delivered to your inbox - subscribe to News18 Daybreak. Follow News18.com on Twitter, Instagram, Facebook, Telegram, TikTok and on YouTube, and stay in the know with what's happening in the world around you – in real time.
Read full article