Mumbai attackers could be Pakistanis: Pak NSA
Pakistan's National Security Advisor says Kasab could be a Pakistani.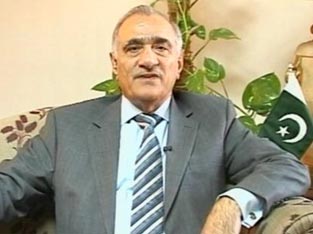 Pakistan's National Security Advisor says Kasab could be a Pakistani.
New Delhi: Pakistan on Tuesday for the first time seems to have admitted that its citizens could be involved in the 26/11 Mumbai terror attacks.
Pakistan's National Security Advisor Mahmud Ali Durrani has said he cannot rule out that Mohammad Ajmal Amir Kasab, the lone terrorist captured alive during the Mumbai terror attacks, is of Pakistani nationality.
Durrani made the admission speaking to CNN-IBN's Deputy Foreign Affairs Editor Suhasini Haidar.
When asked if some of the Mumbai attackers including Kasab could from Pakistan, Durrani replied, "Could be. I am not saying more than that because we don't have... I hate to say this we don't have proof."
But he also said that India should let the investigations into the attacks finish first.
Durrani, however, added that till now there is no evidence of involvement of Pakistan and also stressed that Pakistan was also a victim of terror just like India.
Suhasini reports that there seems to be a general softening of Pakistani stand on the Mumbai terror attacks and points out that the war rhetoric too has come down.
Durrani said in the interview that Pakistani government was looking at the letter written by Kasab in which he requested consular access, and also wanted to meet the Pakistani High Commissioner in India.
Kasab has also asked for for legal aid from Pakistan in the same letter.
Durrani said Pakistan was looking at the letter from Kasab and trying to formulate its response.
Pakistan has been till now denying that there was any Pakistani link to Mumbai terror attacks.
Earlier, on Sunday (December 28) a Pakistani official had hinted that they may seek consular access to Kasab to determine if he is a Pakistani.
Get the best of News18 delivered to your inbox - subscribe to News18 Daybreak. Follow News18.com on Twitter, Instagram, Facebook, Telegram, TikTok and on YouTube, and stay in the know with what's happening in the world around you – in real time.
Read full article