E-Learning Provides Hope as Colleges Struggle to Update Courses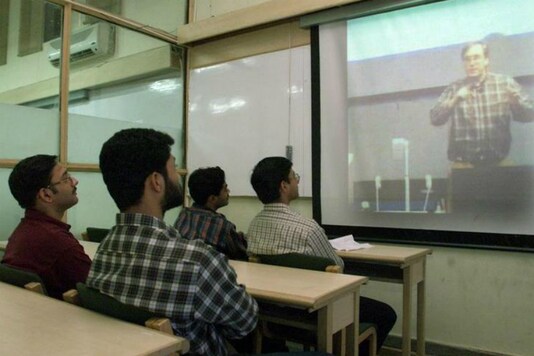 Image for Representation. (Image: Reuters)
Multiple recruitment agencies News18 spoke to identify the trend of online degrees being recognized by an increasing number of recruiters.
Last Updated: June 26, 2018, 11:51 IST
FOLLOW US ON:
New Delhi: With automation-related jobs fast becoming top employment providers in India and regular colleges struggling to offer enough courses, online learning portals seem to be the only respite for those looking to make a career in these advanced subjects.
Shubham Agarwal, a New Delhi based student of class 10, realized the importance of automation early. The 16-year-old took up a course in artificial intelligence with online learning portal Udacity only to delve deeper in the field after completion of his first programme. The young coder has now taken up machine learning, introduction to programming and deep learning as additions.
"The modules have helped me to learn coding with ease and in depth," he writes in his blog for Udacity.
The adoption of these courses is not restricted to youngsters only. With more than fifteen years of business management experience, Akshai G, now working as associate director for Claims Management in the business intelligence space in Hyderabad, decided to take up post graduate programme in big data and machine learning with online course provider Great Learning.
"I wanted to make the shift earlier but there is a dearth of regular Indian colleges providing these courses. It will take time for the Indian educational setup to ramp up their courses. Till then the tech space would have moved further," he said.
Multiple recruitment agencies News18 spoke to identify the trend of online degrees being recognized by an increasing number of recruiters. They also observed rising remuneration for those affiliated to these courses.
The lag in traditional colleges offering these courses can be understood from the fact that barring ten states, rest of India has not offered any new courses in automation in the last five years.
The increase in courses is concentrated only in ten states, namely, Andhra Pradesh, Goa, Gujarat, Karnataka, Kerala, Madhya Pradesh, Maharashtra, Punjab, Tamil Nadu and Telangana.
"Time," Atif Hussian feels is also one of the major reasons why an increasing number of individuals are taking up degrees available online. Hussian is an IIM Bangalore graduate and worked as a consultant for five years before taking up self driving car engineering nanodegree programme with Udacity. He is now an autonomous vehicle engineer working as a team leader at Hi-tech Robotic Systemz Ltd.
"Traditional courses take time. Online degrees on the other hand can be swiftly done with and gets you on field immediately. The catch with fast hanging technologies is that you need to begin work as soon as possible before the latest tech changes again," said Hussain.
Hussian also feels that automation will not take away jobs but instead re-skill people for better quality jobs.
India has witnessed widespread job losses in the recent past owing to automation. According to a joint report by FICCI, Nasscom and EY Indian industries will need 54 lakh less employees in the next two years.
In order to address the problem of India's low strike rate in automation jobs, AICTE in consultation with ministry of electronics and information technology is working on new syllabi for technical colleges in order to accommodate the modern day features.
"College education is of course necessary and is for the student to decide how he or she wants to take it forward, however, traditional setups take time to adapt to new things. It is a matter of academicians getting the training and deciding to teach. Till that happens, online courses are an easy answer," said Ishan Gupta, Managing Director of Udacity India.
(The story is part of News18's special series #onthejob
The next story talks about how teachers went back to classes to update themselves on automation)
Next Story