Eating a Rat for Breakfast, Lunch and Dinner in 21st Century India
For Musahrs, a marginalised community in Jharkhand, hunger has always been a constant companion besides the lack of shelter and respect.
Jharkhand: Budhia's eyes glowed with joy as she held her catch of the day, a big fat rat, close to herself. Dressed in a pink shimmery gown that she was gifted for performing at a wedding, the seven-year-old didn't leave her catch for a moment while she continued to blow smoke and fire into the freshly dug ground.
She would not be sleeping hungry today.
For Musahrs, besides the lack of shelter and respect, hunger has always been a constant companion.
Budhia's fragile frame and undernourished limbs could make anyone believe that she would not be more than three years old. Her best friend has been the long standing Mahua tree next to her home. If only the Mahua tree could give her some food, all of Budhia's troubles would be solved.
Close to Garhwa, just about 200 kilometers from Ranchi, they have turned a small grass patch beside the primary government school into their home.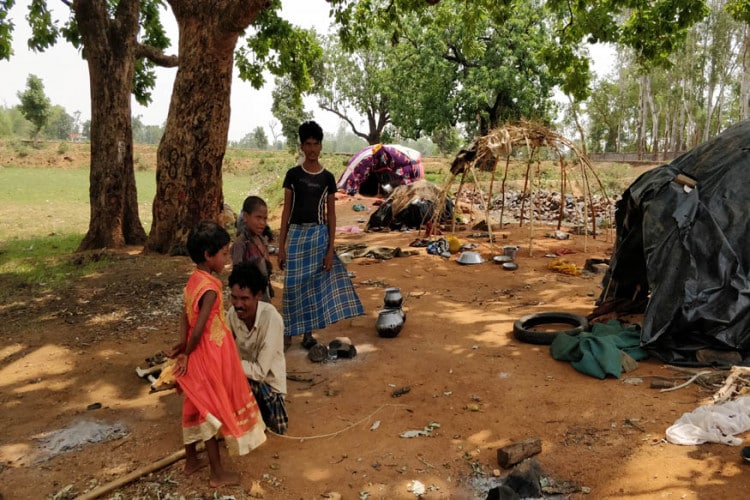 Musahr, a community living under the shadow of caste hierarchies have been denied not only food but also a proper roof over their head.
Around 10 families reside in the area with close to 100 members. A solid shelter has always been a distant dream for the Musahrs, the most discriminated caste in Jharkhand.
Also Read: Hunger Haunts Jharkhand, But Govt Unable to Digest Bitter Truth of Starvation Deaths
After finishing a meal of stale rice and salt, Hari got busy tying the loose ends of the plastic sheet holding their home together.
"It's a great day if we get some rice and salt," Hari said. However, most days, the families in the Musahr community just glug down some locally brewed liquor, popularly known as Mahua, to get over the dreary act of trying to catch rats. "But sometimes rats are very difficult to eat, once you catch them, even after it's boiled, the skin is difficult to get rid of," said Hari.
While most of them depend on the villagers for food, the discrimination makes it difficult for them to beg beyond a point.
"Only one among us has an Aadhaar card even though we have been staying here close to 16 years. It feels like we are invisible," said Hari's wife Manjari.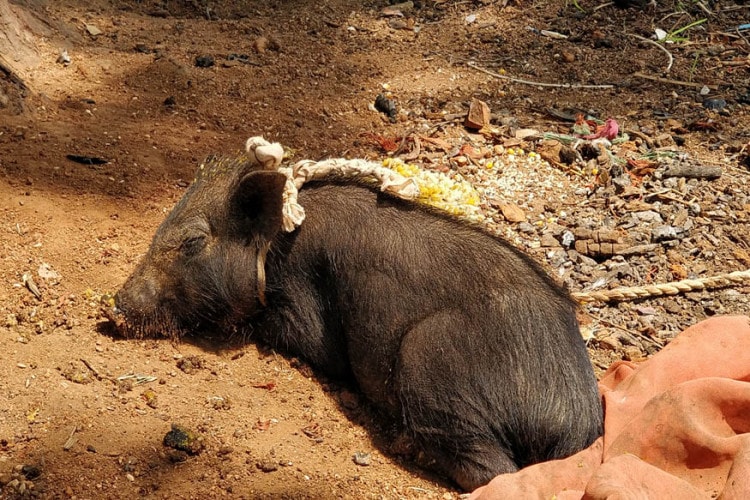 It's not just rat. Musahrs are also known for raising wild pigs and slaughtering them for occasions when needed.
Musahr as a community made to newspapers very recently only after one of their members, Meena Musahr, succumbed to hunger under a tree in Chatra district. With neighbours avoiding them owing to class barriers, Meena died begging for food.
However, the government had denied it was a case of hunger death and the government doctor who treated her had pinned the blame on Meena's "jungle diet" for the reason of her death.
Musahr as a community in Jharkhand mostly thrives in Garhwa and Palamu. "Garhwa has about 10,000 Musahrs of which most of whom live in jungles to be able to collect honey from beehives or easily catch rats. Even Palamu has a large number of Musahrs along with parts of Latehar too," said Birendra Chaudhury, a local CPIM leader and a member of the Right to Food Campaign.
Budhia was around six years old when she gave up using a blanket. The 4x4' tattered piece of cloth could now only accommodate her younger brother and mother. She now sleeps with her four siblings, bared bodied and without a shelter.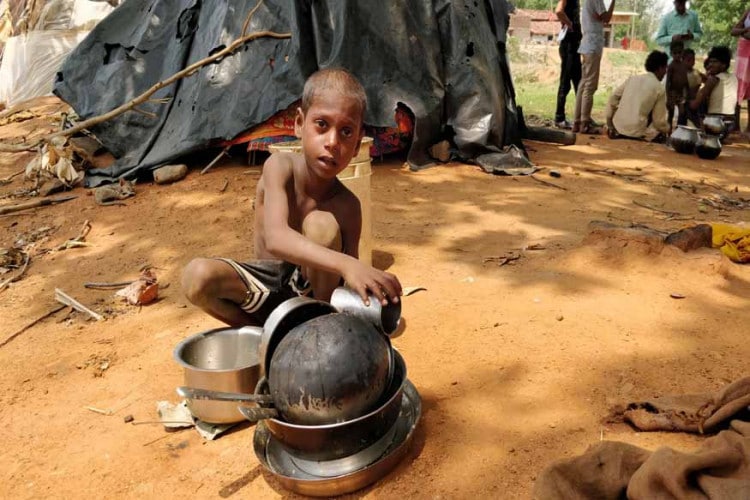 Munna,4, ensures he washes all the utensils at home while his mother roams around the village begging for some rice and salt.
Whenever Budhia sees children eating a good meal of rice and dal at school, it bothers her. "Woh toh sarkari hai, humein bhi thoda dedo (that's government food right, give us also some.)"
The only reason why the Musahrs often select lands beside government schools is to avail an easy access to drinking water, and leftovers from the government mid-day meals.
Also Read: Six Months After First Hunger Death, Workers in Jharkhand's Coal Mining Hub Fear They May Be Next
The Musahrs were originally rat catchers and are categorized as Dalits in the caste census. Their caste name too emanated from 'Muh', which meant rats. According to legends, when Lord Brahma gave a man a horse to ride, he dug holes in the belly of the horse to fix his feet as he rode. This offended the God and he cursed him to earn his food by digging holes, in turn, making him a rat-catcher. This seems to be the story behind the origins of the Musahr community.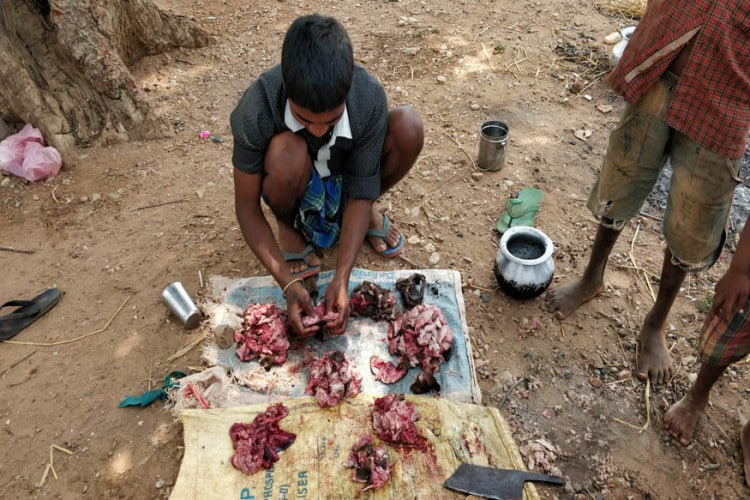 On a good day, Hari manages to catch multiple rats and it's a 'feast' for the community.
Devi, who cleans the government-built toilets in a nearby village, said that often tries getting inside a local temple to eat the bhog, but she is usually stopped at the gate. Musahars, who belong to the Hindu scheduled caste, are not allowed to visit temples.
Also Read: Curious Case of a Jharkhand Village Where No One Has Ration Card
"We are not allowed to enter temples, or drink water from the local well. We are a complete outcaste. Then how do you think we can have a share in the ration system?" asked Budhia.
In Bihar, the community has been accorded the Maha Dalit status and are eligible to apply for government schemes and services. However, in Jharkhand, over one lakh Musahrs are still waiting to be recognized.
Rains pour fury on all the ten families that reside close to Garhwa, just about 200 kilometers from Ranchi.
In February last year, the Giridhi administration refused to take any steps for the housing arrangements of Musahrs living in Laturwa Tola of Nawadih village under the headquarters of Kaira block under Garhwa district. This was just after Block Development Officer, Asaf Ali, demolished the mud houses of Musahrs with bulldozers. Though the issue was raised by the local MLA Bhanu Pratap Shahi in the Assembly session, no action was taken.
While fighting for their rights, the Musahrs of Jharkhand are starving.
Images: Debayan Roy
(This story is the fourth and last part of a series by News18 on the starvation deaths in Jharkhand. The series will be compiled into a multimedia feature. Watch this space for more.)
| Edited by: Aakarshuk Sarna
Read full article