GET Stock

Quotes


Echoes of Karnataka Assembly Election Campaign Can be Heard in Washington, Tokyo
With Telangana Chief minister KCR and AIMIM's Owaisi backing JDS, The groundwork for a possible third front is being laid in Karnataka.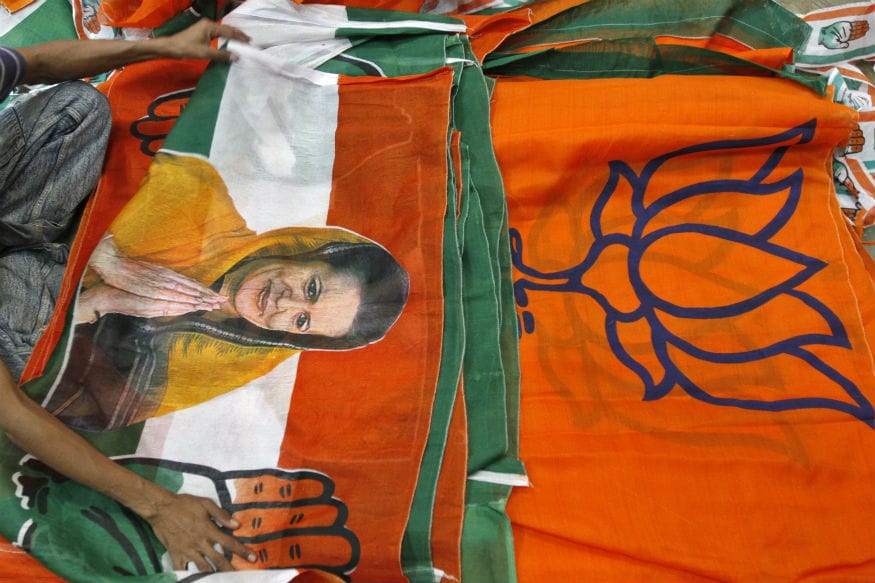 Congress party flag carrying a picture of Sonia Gandhi are kept next to flags of the BJP. (File photo/Reuters)
Bengaluru:
India's diaspora is the largest in the world, with over 16 million Indians living outside the country. Karnataka, home to India's silicon valley, sends thousands of Kannadigas to foreign countries annually.
Ashish Shenoy, a Seattle-based software developer at Amazon, says upcoming Karnataka elections have become part of the conversations among the state's diaspora abroad.
"Religion and caste don't play an important part of your identity here, but recently I and couple of friends ended up discussing the Lingayat-religion issue at a dinner party," he said, adding that his Lingayat friends opposed the idea of another religion.
While Siddaramaiah's Lingayat push may have garnered mixed feelings among the diaspora, there seems to be unanimous support for Karnataka government's pro-Kannada push.
"Hindi should not be made a superior language, regional languages are an integral part of our diversity," said Srinivas Kattimani, a Kalaburgi native, currently based in Tokyo.
US-based Shenoy said, "Kannada identity is the need of the hour, Hindi imposition is seen even when I am abroad."
"Developed South feeding a populated North' narrative has gained prominence leading up to the elections.
"I don't agree with that logic, people from South Karnataka pay more tax than North Karnataka, it doesn't mean more funds are allocated to the south," said Kattimani.
Siddaramaiah, Yeddyurappa and Kumaraswamy, in the race for the chief ministership, have ruled the state at least once over the past decade, but it seems the Congress government from 1999-2004 remains the gold standard among millennials.
"After SM Krishna's government it has only been downhill," said Shenoy, who moved to the US in 2016.
For over three decades, no government has been able to beat the anti-incumbency wave in the state.
"Kumaraswamy government did reasonably well, but Siddaramaiah has done nothing for Kalaburgi in the last four years," said Kattimani, highlighting the uphill task ahead for the Congress.
With Telangana Chief minister KCR and AIMIM's Owaisi backing JDS, The groundwork for a possible third front is being laid in Karnataka.
"A third front will lead to further instability in the country, at the Centre it can be only either Congress or BJP," said the Seattle- based software developer.
Not every non-resident Kannadiga may exercise his vote, but with the national political implications and increased media coverage, this Assembly election is going to be a state elections that no Karnataka born can ignore wherever they may reside.
| Edited by: Ashutosh Tripathi
Read full article
Countdown To
Elections Results
To Assembly Elections 2018 Results