Egypt assembly seeks to wrap up constitution
Two people have been killed and hundreds injured in countrywide protest set off by Mursi's decree.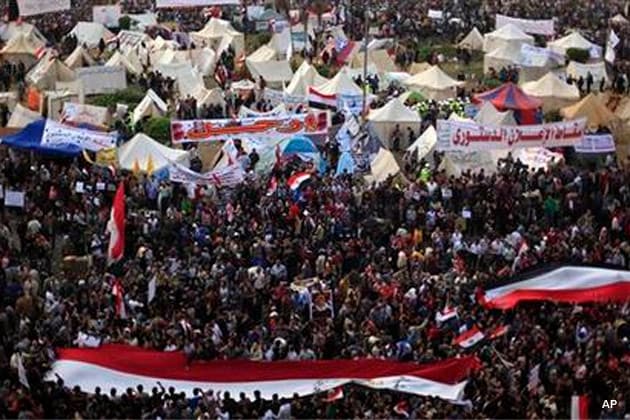 Two people have been killed and hundreds injured in countrywide protest set off by Mursi's decree.
Cairo: The assembly writing Egypt's constitution said it could wrap up a final draft later on Wednesday, a move the Muslim Brotherhood sees as a way out of a crisis over a decree by President Mohamed Mursi that protesters say gives him dictatorial powers.
But as Mursi's opponents staged a sixth day of protests in Tahrir Square, critics said the Islamist-dominated assembly's bid to finish the constitution quickly could make matters worse. Two people have been killed and hundreds injured in countrywide protest set off by Mursi's decree.
The Brotherhood hopes to end the crisis by replacing Mursi's controversial decree with an entirely new constitution that would need to be approved in a popular referendum, a Brotherhood official told Reuters.
It is a gamble based on the Islamists' belief that they can mobilise enough voters to win the referendum: they have won all elections held since Hosni Mubarak was toppled from power.
But the move seemed likely to deepen divisions that are being exposed in the street. The Muslim Brotherhood and its Islamist allies called for protests on Saturday in Tahrir Square, setting the stage for more confrontation with their opponents, who staged a mass rally there on Tuesday.
The constitution is one of the main reasons Mursi is at loggerheads with non-Islamist opponents. They are boycotting the 100-member constitutional assembly, saying the Islamists have tried to impose their vision for Egypt's future.
The assembly's legal legitimacy has been called into question by a series of court cases demanding its dissolution. Its popular legitimacy has been hit by the withdrawal of members including church representatives and liberals.
"We will start now and finish today, God willing," Hossam el-Gheriyani, the assembly speaker, said at the start of its latest session in Cairo, saying Thursday would be "a great day".
"If you are upset by the decree, nothing will stop it except a new constitution issued immediately," he said. Three other members of the assembly told Reuters there were plans to put the document to a vote on Thursday.
ENTRENCHING AUTHORITARIANISM
Just down the road from the meeting convened at the Shura Council, protesters were again clashing with riot police in Tahrir Square. Members of the assembly watched on television as they waited to go into session.
"The constitution is in its last phases and will be put to a referendum soon and God willing it will solve a lot of the problems in the street," said Talaat Marzouk, an assembly member from the Salafi Nour Party, as he watched the images.
But Wael Ghonim, a prominent activist whose online blogging helped ignite the anti-Mubarak uprising, said a constitution passed in such circumstances would "entrench authoritarianism".
The constitution is supposed to be the cornerstone of a new, democratic Egypt following Mubarak's three decades of autocratic rule. The assembly has been at work for six months. Mursi had extended its December 12 deadline by two months, extra time that Gheriyani said was not needed.
The constitution will determine the powers of the president and parliament and define the roles of the judiciary and a military establishment that had been at the heart of power for decades until Mubarak was toppled. It will also set out the role of Islamic law, or sharia.
The effort to conclude the text quickly marked an escalation, said Nathan Brown, a professor of political science at George Washington University in the United States.
"It may be regarded with hostility by a lot of state actors too, including the judiciary," he said.
Leading opposition and former Arab League chief figure Amr Moussa slammed the move. He walked out of the assembly earlier this month. "This is nonsensical and one of the steps that shouldn't be taken, given the background of anger and resentment to the current constitutional assembly," he told Reuters.
Once drafted, the constitution will go to Mursi for approval, and he must then put it to a referendum within 15 days, which could mean the vote would be held by mid-December.
COURTS DECLARE STRIKE
Deepening the crisis further on Wednesday, Egypt's Cassation and Appeals courts said they would suspend their work until the constitutional court rules on the decree.
The judiciary, largely unreformed since the popular uprising that unseated Mubarak, was seen as a major target in the decree issued last Thursday, which extended his powers and put his decisions temporarily beyond legal challenge.
"The president wants to create a new dictatorship," said 38-year-old Mohamed Sayyed Ahmed, an unemployed man, in Tahrir.
Showing the depth of distrust of Mursi in parts of the judiciary, a spokesman for the Supreme Constitutional Court, which earlier this year declared void the Islamist-led parliament, said it felt under attack by the president.
In a speech on Friday, Mursi praised the judiciary as a whole but referred to corrupt elements he aimed to weed out.
"The really sad thing that has pained the members of this court is when the president of the republic joined, in a painful surprise, the campaign of continuous attack on the Constitutional Court," said the spokesman Maher Samy.
Senior judges have been negotiating with Mursi about how to restrict his new powers.
Mursi's administration insists that his actions were aimed at breaking a political logjam to push Egypt more swiftly towards democracy, an assertion his opponents dismiss.
The West worries about turbulence in a nation that has a peace treaty with Israel and is now ruled by Islamists they long kept at arms length.
Trying to ease tensions with judges, Mursi said elements of his decree giving his decisions immunity applied only to matters of "sovereign" importance, a compromise suggested by the judges.
A constitution must be in place before a new parliament can be elected, and until that time Mursi holds both executive and legislative powers. An election could take place in early 2013.
Get the best of News18 delivered to your inbox - subscribe to News18 Daybreak. Follow News18.com on Twitter, Instagram, Facebook, Telegram, TikTok and on YouTube, and stay in the know with what's happening in the world around you – in real time.
Read full article