'Enter at Your Own Risk': Angry Farmers Warn BJP Leaders in UP
Days after thousands of farmers were stopped near the Delhi-UP border, residents of a village in Amroha district put-up a board warning BJP members to enter the hamlet at their own risk.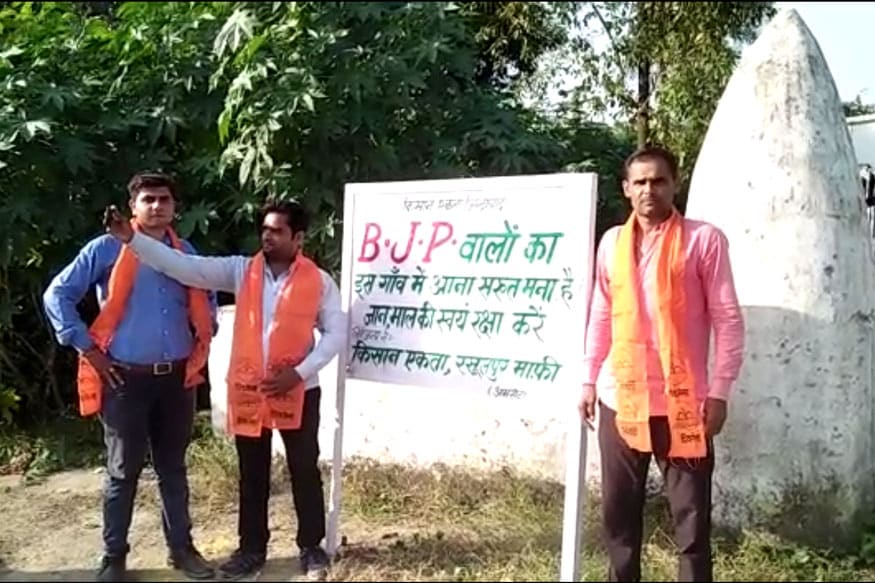 (Photo: News18)
Lucknow: Anguished by the recent lathi-charge on farmers on the UP-Delhi border, farmers of Rasulpur Mafi village in Amroha district have put up a signboard outside the hamlet warning BJP members to enter at their own risk.
The board, photos of which have been shared widely on social media, reads "Kisan Ekta Zindabad. BJP waalo ka is gaon me aana sakht mana hai. Jaan maal ki raksha swayam karen. Kisan Ekta Zindabad (Long Live Farmers' Unity. People from the BJP are strictly not allowed in this village. You are responsible for your safety. Long Live Farmers' Unity)"
Farmers from the adjoining area are also planning to put up a similar board to show solidarity with the protesting farmers who were beaten up by the police while trying to enter Delhi.
Reacting to the development, Shiv Sena member Vijay Mohan Gupta said, "I saw this board and I am really happy that people of this village have come up with it to protest the atrocities being committed against the farmers by the Union government."
He added that he too would follow suit by putting up a similar board in his village.
Earlier, hoardings had cropped up in Barabanki district during protests by upper-caste groups against the amendment in the SC/ST Act. Members of upper caste groups in the area put up posters in the village asking ministers to not come and ask for votes. "If anything unwanted happens in this village, then they themselves will be responsible for it," the posters read.​
Get the best of News18 delivered to your inbox - subscribe to News18 Daybreak. Follow News18.com on Twitter, Instagram, Facebook, Telegram, TikTok and on YouTube, and stay in the know with what's happening in the world around you – in real time.
| Edited by: Padmaja Venkataraman
Read full article