Ent Wrap: Man professes love for George Clooney
George Clooney has an ardent lover other than his lady love.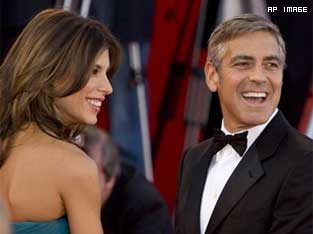 George Clooney has an ardent lover other than his lady love.
New Delhi: The Beatles remastered CD's are out while George Clooney has an ardent lover other than his lady love. From Beatlemania and Clooneymania to the GQ Men of the year awardees, find out all the details in CNN-IBN's entertainment wrap.
CLOONEYMANIA
Actor George Clooney stepped out in style with his new girfriend Italian TV presenter Elisabetta Canalis for the premire of his film The Men Who Stare at Goats on Tuesday at the ongoing Venice Film Festival.
Canalis looked ethereal in a her strapless teal floor-length gown and black peep-toe heels and Clooney didnt let the bandage on his palm interfere with his suave presence on the red carpet. But flaunting his latest lady love on his arm did not stop an ardent male lover from propositioning the star in public.
Clearly, Clooneymania stole the limelight from co-actor Ewan Mc Gregor and director Grant Heslov who were also there to promote the film
GQ MEN OF THE YEAR AWARDS
The stage was set for the 12th annual GQ Men of the Year Awards at London's Royal Opera House on Tuesday night. Ironically it was a night when the women tried every trick in the book to grab the limelight, unknowingly of course.
First actress Eva Mendes stated the obvious, saying she was "nervous". Then she acted like a novice saying, "I am going to read from this because I am not going to look up and have eye contact because I will faint."
Model Kate Moss decided to be honest about her writing disability. "I told Kelly's publicist to write something," she said.
And Lilly Allen decided not be modest just this once, saying, "It's a great comfort for me to know that I am the best, so thank you for making it official."
To add to it, they all looked disastrous in the outfits they had chosen.
However, Slumdog Millionaire star Freida Pinto did not dissapoint and looked chic in a sheer black dress
As for the winners, Guy Ritchie was declared the Filmmaker of the Year, Michael Sheen the Actor of the Year and Mickey Rourke the International Man of the Year among many other awards.
BEATLEMANIA
Beatlemania is back and how!
Remastered versions of The Beatles original studio albums that were released more than 20 years ago will hit the stands from September 9.
Along with the CD'S The Beatles: Rock Band video game that features the awesome foursome will also be available for fans to pick up.
The Beatles admirers have more coming their way as there is a coffee table book with every set of these CD's which delivers each album's artwork in its original size.
Get the best of News18 delivered to your inbox - subscribe to News18 Daybreak. Follow News18.com on Twitter, Instagram, Facebook, Telegram, TikTok and on YouTube, and stay in the know with what's happening in the world around you – in real time.
Read full article