Ethiopian plane crashes in sea, bodies found
The plane disappeared off the radar shortly after takeoff.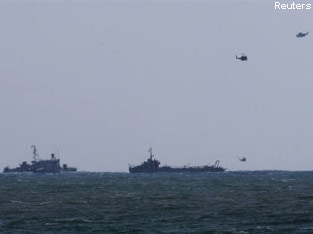 The plane disappeared off the radar shortly after takeoff.
Beirut: An Ethiopian Airlines plane with 90 people on board crashed into the sea shortly after taking off from Beirut in bad weather early on Monday. Nine bodies were recovered as a search for survivors began.
The Boeing 737-800, heading for Addis Ababa, disappeared off the radar some five minutes after taking off at 2:37 a.m. (0037 GMT) during a thunder storm and heavy rain. Lebanese President Michel Suleiman said he did not think the plane had been brought down deliberately.
"As of now, a sabotage act is unlikely. The investigation will uncover the cause," Suleiman told a news conference.
Eighty-three passengers and seven crew were on the flight, Lebanese Transport Minister Ghazi al-Aridi told reporters at the airport where relatives of the passengers gathered to wait for news of survivors.
"(The crash) site has been identified three-and-a-half km (two miles) west of the (coastal) village of Na'ameh," he said.
Fifty-four of those on board were Lebanese, 22 were Ethiopian, two were British and there were also Canadian, Russian, French, Iraqi and Syrian nationals.
Marla Pietton, wife of the French ambassador to Lebanon Denis Pietton, was on the plane, the French embassy said.
The Lebanese government declared a day of mourning.
"Ball of fire"
Lebanese army patrol boats and helicopters were searching a small area off Na'ameh, 10 km (six miles) south of Beirut.
The military spokesman for UN peacekeepers in Lebanon, Colonel Diego Fulco, said two ships from its maritime task force were at the crash site and a third was on its way. Two UN helicopters were also at the scene, he said.
A Cypriot police helicopter and another from the British military stationed in Cyprus were also involved in the search.
According to one source, residents on the coast saw a "ball of fire" crashing off Na'ameh.
State-owned Ethiopian Airlines, which confirmed the crash, has positioned itself as a major player in international air traffic in Africa and has recently expanded its Asian network.
It has regular flights to Lebanon, catering for business clients and the hundreds of Ethiopians who work there as domestic helpers. Lebanese aviation sources said some of the passengers had been en route to Angola.
Last Friday the airline announced an order for 10 of Boeing's Next-Generation 737-800s for a total price of $767 million.
The last major incident involving Ethiopian Airlines was in November 1996 when 125 of the 175 passengers and crew died after a hijacked Boeing 767 crashed into the sea off the Comoros Islands.
Get the best of News18 delivered to your inbox - subscribe to News18 Daybreak. Follow News18.com on Twitter, Instagram, Facebook, Telegram, TikTok and on YouTube, and stay in the know with what's happening in the world around you – in real time.
Read full article