New Delhi:
Out of the 182 candidates elected to the Gujarat assembly on Tuesday, as many as 47 have criminal cases registered against them, data released by Gujarat Election Watch and Association for Democratic Reforms (ADR) has revealed.
This means that close to 26 per cent, or every fourth MLA, faces a criminal case, showing a dip in comparison to the assembly elected in 2012, when 57 (31%) MLAs had declared criminal cases against themselves.
ADR, along with Gujarat Election Watch, had analysed the self-sworn affidavits of all 182 newly elected MLAs.
The affidavits submitted to the Election Commission of India (ECI) showed that 33 of the 182 MLAs faced serious criminal charges such as murder, attempt to murder, kidnapping, and crime against women against them. This is a five per cent increase from last time, when 24 MLAs – 18 percent of the total – had declared serious criminal cases.
Two MLAs – Maheshbhai Chottubhai Vasava (Bhartiya Tribal Party) and Katara Bhaveshbhai Babubhai (INC) – have cases related to murder against them.
Vasava is also the MLA with most number of criminal cases registered against him. He is named in 24 criminal cases, including two of murder and one of attempt to murder.
He is the president of the newly formed Bharatiya Tribal Party, which allied with the Congress and won two seats. Vasava won the Dediapada seat by over 83,026 votes on Monday.
Six MLAs have cases related to attempt to murder against them. One MLA, Ahir (Bharwad) Jethabhai Ghelabhai, has a case related to rape filed against him under the IPC Section 376. Ghelabhai, who is 67, is a member of BJP from Shehra constituency.
Congress Leads in Criminal Cases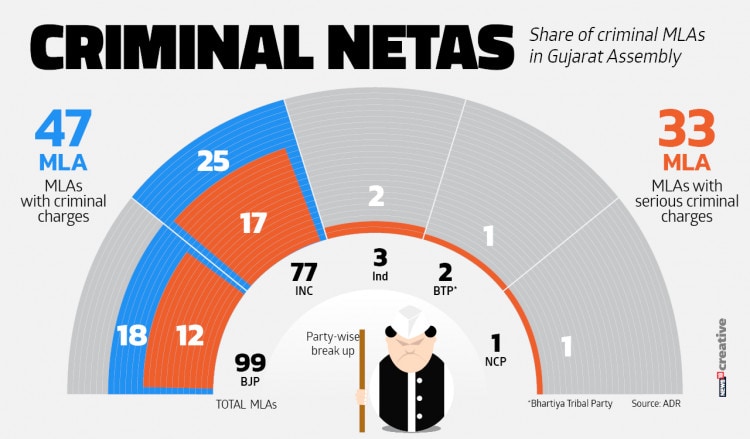 Congress has the most number of MLAs who have criminal cases against them. Out of the 77 elected representatives, 25 (32%) declared criminal cases in their affidavits. The number of MLAs from BJP who have criminal cases registered against them is 18.
One MLA from Bhartiya Tribal Party, one from National Congress Party (NCP) and two Independent MLAs also have declared criminal cases registered against themselves.
Congress candidate Kiritkumar Patel, who faces 12 criminal cases, won from Patan constituency. NCP's Kadhalbhai Jadeja has 11 criminal cases against him. He won from Kutiyana. BJP leader Shailesh Mehta, who is named in 11 criminal cases, won from Dabhoi.
The Assembly of Crorepatis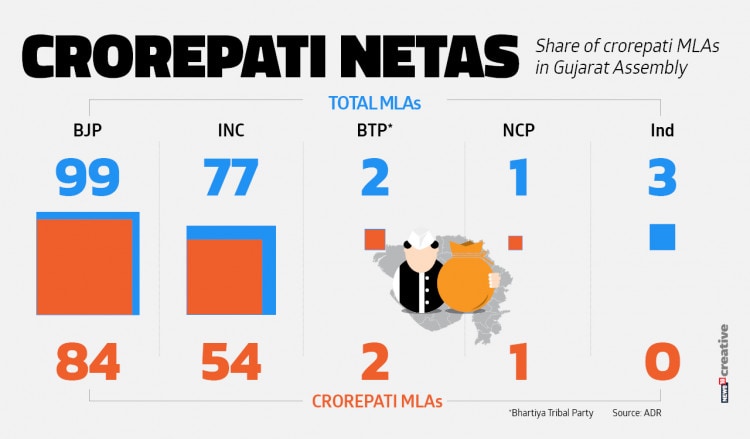 The average of assets per MLA in the Gujarat assembly is Rs 8.46 crore.
Out of the 182 newly elected MLAs, 141 (77%) are crorepatis. 84 out of 99 MLAs from BJP, 54 out of 77 MLAs from INC, 2 MLAs from BTP and 1MLA from NCP have declared assets valued at more than Rs 1 crore.
Saurabh Yashvantbhai Dalal Patel, who won from the Botad constituency from a BJP ticket, is the richest MLA in the Gujarat assembly. His total assets are worth Rs 123 crore.
Jigneshkumar Mevani, who ran as independent candidate from Vadgam constituency, has the lowest declared assets. His total assets are worth just Rs 10 lakh.