GET Stock

Quotes


Exodus Politics Back in UP? Ahead of Kairana Bypoll, Yogi Seeks Info on 'Displacement'
The officers have been asked to submit details of families displaced till February 2017, till the BJP government did not come in power.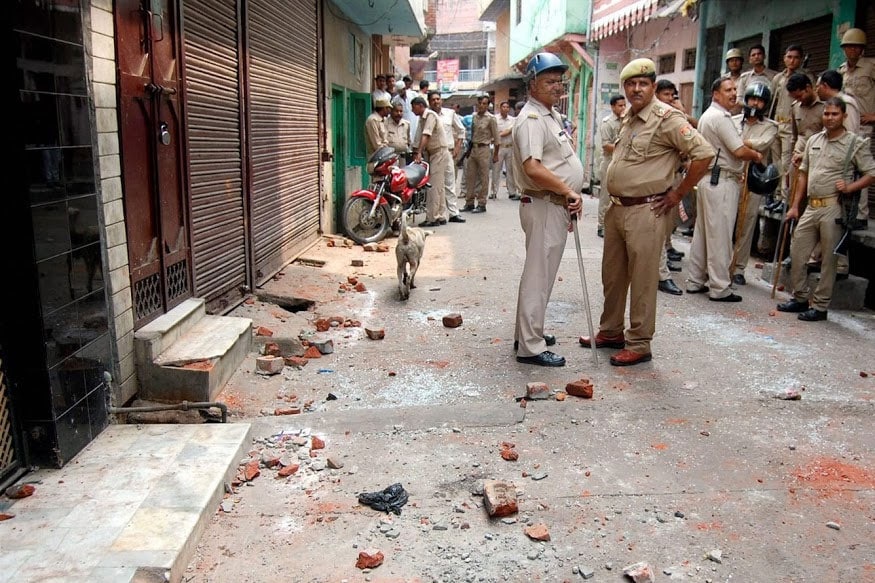 File photo: Policemen at guard after clashes in UP. (PTI Photo)
Lucknow:
Ahead of the crucial Kairana Lok Sabha elections, the home department of Uttar Pradesh government has sent a letter to all divisional commissioners and DGP seeking details of the exodus in the state, which occurred due to 'communal tension'.
The officers have been asked to submit details of families displaced till February 2017, till the BJP government did not come into power.
In a confidential letter, dated March 21, UP home secretary Bhagwan Swaroop has asked the officers concerned to collect the figures of their respective districts and submit it to the government at the "earliest".
Though the letter (copy of which is with News18) does not mention any particular religion, it specifically says "exodus due to communal tension".
A top bureaucrat, however, said that it's a "routine matter" and a mere "reminder" to the officers as many districts have yet not submitted their report after communal flare-up engulfed western Uttar Pradesh in 2016.
Interestingly, the alleged exodus of 250 Hindu families from Kairana in Shamli district was first raked up by late BJP MP Hukum Singh in June 2016, which was later validated by National Human Rights Commission (NHRC).
Singh had claimed that "harassment" from the Muslim population had led to a Hindu exodus from Muslim-majority Kairana. To substantiate this claim, he produced a list of over 300 Hindu families who had apparently left the town.
The saffron party had then made the 'Kairana exodus' one of the key issues ahead of Uttar Pradesh Assembly elections last year, with CM Yogi Adityanath saying at party campaigns that he will not let western Uttar Pradesh turn into another Kashmir, a reference to the forced migration of Kashmiri Pandits from the Valley in the 1990s.
However, after the death of Hukum Singh, the vacant seat is likely to go to polls in the next few months, and this could be a real test for the BJP after its recent debacle in Gorakhpur and Phulpur.
It is, therefore, the timing of the letter which has raised several eyebrows.
Former Union minister and senior Congress leader Jitin Prasad said, "Both the BJP government in state and Centre have failed miserably. They have nothing to show on issues of development and growth, and hence they are returning to their communal agenda."
CPM's polit bureau member Subhashni Ali said, "On one hand the Yogi government is taking back cases from its riot accused leaders and on the other hand it wants exodus report. BJP's agenda is clear. They are back to their true communal colour."
Ali further said that UP government should also look into exodus of Muslim families following the 2013 Muzzafarnagar riots.
"The state government has failed to deliver. BJP is afraid of SP-BSP friendship and, therefore, it wants to shift to communal politics," said Samajwadi party MLC Udayvir singh.
BJP, however, has refuted the charges of any communal politics. Party spokesperson Anila Singh said, "Exodus has been a real issue. BJP has raised it in the past and seriously wants to address it."
When asked why the data of possible exodus during Yogi government's one year rule was not sought, the BJP spokesperson said, "Exodus has not taken place during our government. BJP works on the agenda of
sabka saath and sabka vikas
."
| Edited by: Sumedha Kirti
Read full article
Countdown To
Elections Results
To Assembly Elections 2018 Results