FAQs: What makes lead a silent killer in kids
Brighter the paint higher is the lead concentration in toys.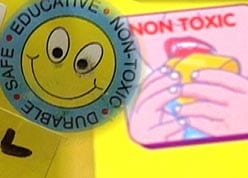 Brighter the paint higher is the lead concentration in toys.
Lead is added into toys primarily for following reasons:
Lead (Pb) is present in paint that is used to coat toys. Brighter the paint higher the lead concentration.
Toys made up of PVC (polyvinyl compound) also contain lead as it is used as stabilisers in PVC. PVC by nature is unstable as it auto-degrades due to the formation of Hydrochrolic Acid (HCL). Free chlorine and hydrogen radicals present in PVC react to form HCL. To prevent HCL from being formed lead is added into the PVC. Lead does not remain within the structure; rather it is leached out on the surface over a period of time due to climatic factors etc.
When children suck or chew on these toys it forms the exposure pathways for lead toxicity.
Lead is a known neuro-toxin.
In this backdrop, one should avoid toys made up of PVC (which has a typical curtain-shower smell) and toys of very bright colours like yellow, green, blue and red.
Having said so, it must be noted that only a regulation and strict monitoring by concerned ministry of the government can prevent children's immediate environment from becoming toxic.
(Courtesy Toxic Link)
Get the best of News18 delivered to your inbox - subscribe to News18 Daybreak. Follow News18.com on Twitter, Instagram, Facebook, Telegram, TikTok and on YouTube, and stay in the know with what's happening in the world around you – in real time.
Read full article